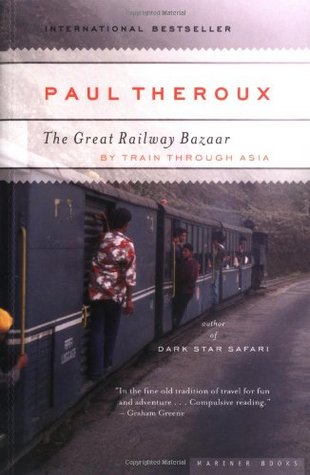 First published in 1975, Paul Theroux's strange, unique, and hugely entertaining railway odyssey has become a modern classic of travel literature. Here Theroux recounts his early adventures on an unusual grand continental tour. Asia's fabled trains -- the Orient Express, the Khyber Pass Local, the Frontier Mail, the Golden Arrow to Kuala Lumpur, the Mandalay Express, the T First published in 1975, Paul Theroux's strange, unique, and hugely entertaining railway odyssey has become a modern clas...
Title
:
The Great Railway Bazaar
Author
:
Paul Theroux
Rating
:
Genres
:
Travel
ISBN
:
The Great Railway Bazaar: By Train Through Asia
Edition Language
:

English

Format Type
:

Paperback

Number of Pages
:

342 pages

pages
The Great Railway Bazaar Reviews
I started out liking this book, but the author started to grate on my nerves. He took an amazing trip on trains from Europe to Turkey to Iran through Asia including Thailand, Japan, and Siberia. For a large portion of his journey, he is following the "hippie trail," popular in the 1960...

oh dear, yes, he's observant and turns a pretty phrase on every page, makes you laugh, etc. but he's so contemptuous of everyone he comes across i lost interest. skipped all the trains between india and the soviet union. he really loses it at the end and addresses all the russians he m...

Just so we're clear from the beginning, Paul Theroux is a dick. Or a misanthrope or whatever else you want to call him. Now that we've got that behind us, this is one of the best books (and especially best travelogues) I have read. Written in 1975, Theroux traveled for four months by t...

This book portrays how I feel about travel better than I can articulate. It shows all the effort, the trouble, the fear, the discomfort, the cost, the worry - all the unpleasantness about travel - but at the same time shows why people want to travel despite it all. Not that I would tra...

I love Paul Theroux and this, one his first is the one which set me off. I wanted to re-read it before reading his new book about taking the same trip across Europe and Asia some thirty years later. In the early 70s which he writes about in this book there were no railways in Afghanis...

So Paul Theroux takes a trip from Paris to Japan and back, all on the railroad (with some minor air and sea deviations), seeing the world in all its sundry chaos on the way. I couldn't have been more excited to start this book when I did, being a lover of train travel (mostly without t...

From my February 5, 2007 blog http://blogs.sun.com/katysblog/entry/... The Great Railway Bazaar (by Paul Theroux) I finished one book on the drive home and had to go to Border's for a new book to get me through dinner. I thus interrupted my current naval reading theme with the q...

Paul Theroux...you are a miserable bastard. On every excruciating page of this around Europe and Asia whine-fest, I wanted to shake your self-righteous little New England prick shoulders and beat some enjoyment into your crabby-bastardness. The trains are late or crowded or smel...

Whereas this appears on the surface to be the story of one man taking trains around Asia, it is more an exploration of Theroux's own internal wanderlust. It is also fascinating to today's readers since it was written in 1975 and so much has changed since then, though perhaps most insis...

A great read -- no review here, but will comment when I've read (soon) Ghost Train..., which is The Great Railway Bazaar redux, 30 years later. ...

In theory nothing is more romantic than a long voyage aboard a train. In reality you tend to get yourself into strange situations, meet questionable characters, occasionally starve, and be left to your own devices and demons for days at a time, while you bob gently in solitude alon...

I really want to take this exact 1975 series of train journeys - I mean who wouldn't - The Orient Express , The Golden Arrow , The Trans-Siberian but I can't even make it out of France with this obnoxious, Eurocentric, Chablis swilling, ..... I know its a travel classic but its terr...

To Asia by Train ? and Back Again 9 January 2019 Theroux opens this book by suggesting that when he grew up in Maine trains would regularly go by, and when they did he would always dream about being on them. Well, by the end of this book, after spending four months travelling to...

The book is an account of a journey through Europe and Asia by train. The concept is good, and the author made a great journey, and has the gift of story telling. But the author himself comes across as a stupid, rude and horrible person who abuses random people, makes snide remarks, pl...

I?ve been hearing about Theroux for years and yet had never read one of books. The idea of reading about a man journeying alone was something I couldn?t quite settle to. Would it be tedious and repetitious? Perhaps it?d be like delving into one of those dry guidebooks we?ve all...

Theroux, Trains and white male shitfuckery I?ve never read Paul Theroux before. I?ve heard of him. Everyone has heard of him. He is one of the most famous authors of his time, and my dushen?ka is also quite fond of him. I didn?t know that though. I picked this book up beca...

Penso (pensava) que viajar é algo para viver, năo para ler ou ouvir contar; por isso nunca me interessei por literatura de viagens. Mas como tenho um fraquinho por comboios, e muitos dos livros do Paul Theroux têm comboios nas capas, decidi escolher um para experimentar: O Grande Ba...

The travelogue of a drunk, imperialist, chauvinist, self-righteous, elitist travelling in first class, flaunting rules and baksheesh in equal measure, and generally getting on everybody's nerves and goodwill. With that as the base, the rest of the book is engaging enough, especially th...

This is the book that began a sub-genre of travel writing, or so it seems. While there are many varieties of travel narratives, Paul Theroux in The Great Railway Bazaar takes the reader in a somewhat different direction, for this author's travel books are in many ways more self-reflect...

Writer Paul Theroux goes on a rail journey that must be at least five times longer than the one I just completed. He starts in London and travels through Europe, Turkey, the Middle East, India, China, Japan and Russia. I disagree with Theroux's travel style, which seems to consist of t...

Show Dont Tell. There are descriptions instead of conversations, there is scorn (and racism maybe) instead of understanding, acidic snobbery instead of empathy and a lot of whining. Even Naipaul was harsh in his criticism, but here the criticism extends to making fun of people's appea...

Less a travel book and more a book about the physical act of travelling. Theroux has a refreshing lack of romance about the journey and the places he visits; most places are dirty, dull, unbearably hot or cold, and full of locals whose sole aim seems to be to rip him off. And although ...

This is perhaps the dullest travelogue that I've ever read. Imagine cruising from London through Paris, Turkey, Iran, Afghanistan, Pakistan, India, Thailand, Japan, Siberia and back to London on nothing but trains for commute - long journeys punctuated with local food, local people, lo...

Aqui está um pequeno mundo dentro de um livro. Um mundo em movimento e parado ao mesmo tempo, como uma viagem de combóio. É um sonho viajar e esta aparenta, a mim pelo menos, ser uma viagem de sonho, mas concretiza-nos ao ponto de nos sentirmos como parte da bagagem. Foi uma experi?...

Kiedy patrz? na dat? rozpocz?cia czytania przeze mnie tej ksi?zki (czerwiec 2017), nie dziwi? si?, czemu zaj??o mi to tyle czasu. Ksi??ka napisana jest w taki sposób, ?e po niespe?na rocznej przerwie, otwieram j? w po?owie i mog? czyta? dalej. Jest ciekawym do?wiadcze...

It took me over 40 days to complete this book and I was so glad when it ended. Not because I didn't like it, it just got very exhausting by the end. Also, because I was frustrated I was taking so much time and I hadn't finished any book in 2016. I loved the India and Vietnam chapters, ...

*Review B?n Ti?ng Vi?t* Du Kí - Cá tính c?a nh?ng hành tŕnh "M?i chuy?n du hành, rong ru?i, thám hi?m ??u là m?t th?c th? riêng, ch?ng chuy?n ?i nào gi?ng chuy?n ?i nào. Chúng có cá tính, tính cách, s? cá bi?t, s? ?...

Not seldom have I read a book that made me want to go new places. But, Theroux impersonates the saying that "the journey is the destination" in a way that almost urges me to catch the first train to wherever. He is taking you on a train-acid-trip that is hard to topple, harshly disti...

In this 1975 bestseller, Paul Theroux, an American author, recounts his four-month journey by train in 1973 from London through Europe, the Middle East, the Indian subcontinent, Southeast Asia, ending in the Soviet Union. He mentions taking detailed notes in his journal, but there are ...

Anno 1973. Il giro dell'Asia in treno, senza passare dalla Cina, partendo da Londra. Da Parigi a Istanbul si va con l'Orient Express (esisteva ancora, anche se molto scalcagnato), poi Turchia, Iran, Afghanistan, Pakistan, India (compresa Ceylon), Birmania, Thailandia, Malesia, Cambogia...