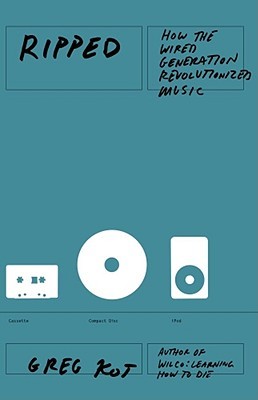 A decade ago the vast majority of mainstream music was funneled through a handful of media conglomerates. Now, more people are listening to more music from a greater variety of sources than at any time in history. And big corporations such as Viacom, Clear Channel, and Sony are no longer the sole gatekeepers and distributors, their monopoly busted by a revolution -- an upr A decade ago the vast majority of mainstream music was funneled through a handful of media conglomerates. Now, more peopl...
Title
:
Ripped: How the Wired Generation Revolutionized Music
Author
:
Greg Kot
Rating
:
Genres
:
Music
ISBN
:
Ripped: How the Wired Generation Revolutionized Music
Edition Language
:

English

Format Type
:

Hardcover

Number of Pages
:

262 pages

pages
Ripped: How the Wired Generation Revolutionized Music Reviews
Kot examines the influence of the internet on the music industry, portraying the behemoth record companies as the Goliath that have fallen against the stones of the artists and fans that have harnessed the power of the internet to transform the way music is made and distributed. Specif...

The music critic for the Chicago Tribune writes about how the music business has changed with the advent of internet file sharing/free music downloads. He examines in detail how some artists have been able to adjust pricing, distribution and/or revenue sharing models so that they can c...

If you are considering reading this book and you are not an immediate part of the music industry, then you should. Most likely you will learn something or find a new way to justify your method of finding the music you listen to. Greg Kot's book has done a great job of consolidating ...

2.5 Stars...mostly because I wanted (expected?) this book to be something a bit more interesting. It is a brief history of how the internet forced the music industry to change -- as seen through the experiences of Death Cab, Pitchfork, Saddle Creek, Wilco, Girl Talk, Arcade Fire, and o...

Greg Kot's new book examines the role of king maker as the music industry shifts from local radio to the age of Clear Channel to the MP3 era with a clear time-line, a mix of public knowledge and behind-the-scenes interviews, and an optimistic view of American music's future for a conci...

This gets an extra star for being in the $1 sale at Borders and being such an unexpectedly awesome book! When I saw that the author had written a book about Wilco I cringed. But, it's a dollar... what isn't worth a dollar? What a fascinating book! It's probably quite dated, and t...

As someone who has lived through the full range of music delivery systems from vinyl to MP3, I found Greg Kot's history of how the Internet and digital technology changed and challenged the music industry to be both entertaining and enlightening. I'm a big fan of Sound Opinions, where ...

this felt very immediate and succinctly (and entertainingly) covered how the music industry has struggled over the past decade with the advent of MP3s and how bands have successfully promoted themselves over the internet (and sometimes in spite of their own record companies). with chap...

Kot examines the role technology has played in shaping the music industry and how these entities (Internet, MP3s, MP3 players, music software, etc.) have come to replace CDs, records, instruments, the snobby knowledgeable friend. Kot's arguments are well-researched and his catalogue of...

Ripped is a decent basic overview of the digital revolution but Kot completely avoids the negative consequences of illegal file sharing from the small artist's perspective, preferring instead to point out the admittedly hysterical reaction of the Big 5 and RIAA. But the real victims of...

If you're interested in how the "shape" of music has evolved (most discussion from CD to mp3, though 8-tracks, vinyl and cassettes are discussed as well), how inept the record companies have been in adapting to the demands of their audience and that audience's technology, and if you wa...

Greg Kot examines the role of the Internet in bringing the consumer, i.e., the music listener, back into the picture in the music industry over the past decade. As broadband Internet has become more prevalent, access to music, either via download or streaming media, has become easier, ...

I just received an email that I am getting this from the First Reads Drawing!!! Nothing is as good as free books _____________________________________ This was a great non-fiction book. Some Non-fiction books, no matter how interesting the topic, are really boring and hard to g...

Strictly speaking, I didn't read this book - I sorta browsed it after reading the first 30-40 pages. I don't know what the problem is - I write email messages to people that are often three-four times longer than they should be (or so it seems after completing them) but I often find...

This is relevant to my interests. This book is slanted towards indie rock music, but personally I don't mind. It put a few things into perspective for me, and raised my attention to aspects of the music industry I had never given much thought. Music technology and the ability to sha...

I liked Greg Kot's book on the popular ripping, sampling, and sharing of music, but not so much for the discussion of the business or ethics. Kot embeds a number of interesting music critic discussions on the history of bands and on the specifics of songs. The book is mostly 10 page ch...

The subject is fascinating - how the music industry has transformed itself from a CD industry dominated bya few big labels and major radio conglomerates into an internet based, digital, file sharing anarchy. The book explores, briefly,how this happened, and touches upon what it could m...

I expected to me a a lot nerdier than it was. I thought it was going to be one of those books only read by people who have 1000 ratings in RYM and get into serious arguments in last.fm shoutboxes. I would've been okay with that. I'm such a nerd. Instead, it turned out to be more like a...

This was my first free book to read and review. This book is more for the younger generation and how the music industry failed to stay current with the internet. I found the book a little tiring in some spots only because I personally am not current with today's music scene. I am ...

An excellent look at the rise of digital music. It's fascinating to hear about different artists' attempts to circumvent record companies, the necessary evils of traditional distribution and marketing. Kot does a great job of providing different examples of artists' innovation in this ...

Kot does a truly marvelous job tracking the industry's transitioning from the birth of Napster to the first signs of cloud-based music. Kot's collection of tales is framed with the artist's motivation in mind, telling the reader stories with deep, personal interview from the band and t...

In honor of the recent Grammy week in L.A., we thought it would be a good time to touch base with Greg Kot?s recent book, ?Ripped: How the Wired Generation Revolutionized Music.? Kot, the music critic for the Chicago Tribune and co-host of the syndicated radio show Sound Opinion...

If you're even considering reading this book, trust me- DO IT. Every page is chock full of information; but, because of Kot's superb organization and dynamic writing style, it's never dull. No sentence goes to waste, as Kot takes care to explain fully and effectively the first time aro...

If anyone needed a recap as to the chaotic state of today?s music industry, this is it. ?Ripped: How the Wired Generation Revolutionized Music? by Greg Kot is all about how technology turned the industry upside down, and not much has changed since its release in 2009 ? the majo...

As the title indicates, Kot's book follows the digital revolution and it's impact specifically on the music business. Being born in 1981 and fairly tech-saavy, this is a revolution I fully participated in and continue to live through. Kot did an excellent job capturing some of the key ...

This book is certainly an interesting and educational look at how the internet shaped the music industry from the late 90s through the early Aughts. Kot's writing on the subject not only offers a well-researched look at the developments of the time, but also gives us readers a vocal-po...

This book is a great basic overview of exactly what the title says. If you know a lot about Napster, Mettalica, Prince leaving his label, the Grey Album, Paul McCartney and Starbucks, and iTunes, than you won't necessary need to read this at all. For me it was just the right combinatio...

This book is refreshing because it puts artists on the same side as consumers - the way it should be! While illegal downloading does threaten the industry, it must be observed that the businessmen in the music industry are perhaps more culpable. Their profit motives have not only narro...

While this book was a little more business and numbers oriented than I'm used to, it was very informational and interesting. I learned a LOT about the music business that I could've guessed at but never actually knew. This book is now a bit old so I'd definitely be interested in l...

Biased, misleading, and worst of all, ignorant of the basic principles of business and economics. ...