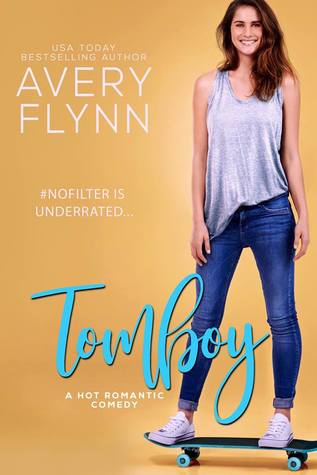 How exactly has one good deed landed me in the penalty box? Ice Knights defenseman Zach Blackburn has come down with the flu, and my BFF?his PR manager?begs me to put my nursing degree to use and get him back to health. Of course she would call in a favor for the most hated man in Harbor City. But when he?s finally on the mend and I?m sneaking out of his place, everything go How exactly has one good deed landed me in the penalty box? Ice Knights defenseman Zach Blackburn has ...
Title
:
Tomboy
Author
:
Avery Flynn
Rating
:
Genres
:
Romance
ISBN
:

B07JDDM7PY

Edition Language
:

English

Format Type
:

Kindle Edition

Number of Pages
:

316 pages

pages
Tomboy Reviews
Find this review and more at kimberlyfaye reads. I've had my eye on Avery Flynn's Hartigans series for ages, but I've just not made the time to read any of them before now. I'm glad I took the time to read Tomboy and I'm really looking forward to reading the first two books ASAP. ...

I loooooooooooved this. I haven't read the first 2 in the series, but I plan on going back and reading them. I'm pretty pumped that it seems like Avery Flynn plans on continuing with stories for the other Ice Knights hockey players. Or at least, that's how it seems at the end of this??...

TOMBOY by Avery Flynn is book Three in The Hartigans Series. This is the story of Fallon Hartigan and Zach Blackburn. This was a standalone for me. Fallon is a nurse at St. Vincent's Hospital along with volunteering at a low income medical facility. So her time and stress level are str...

Each of the books in The Hartigan series to date has been amazing. Then came Tomboy and it totally blew me away. Avery Flynn wrote my spirit animal in Fallon Hartigan, and I have to say this is my favorite book ever from Ms. Flynn. Fallon Hartigan is a hard-working nurse who really ...

4.5 stars for this wonderful book...humor, heat,drama...all of the good stuff! Go to Scandalicious Book Reviews for my complete review: http://bit.ly/2SNFWFi ...

It gets harder and harder to write a review about a book written by Avery Flynn. There isn't much more that I could say about her wonderful romantic comedies. And, Tomboy is definitely that ? a comedy of errors ? until the truth comes out. Then feelings are hurt, hearts are bro...

As I was getting ready to read Tomboy I'd been asked what was I was about to read and was I looking forward to it. My answer was Tomboy, with a resounding YES!. Once again Avery Flynn delivered a sweet, hilarious, and sexy love story centered on Fallon Hartigan and Zach Blackburn. ...

*I voluntarily read and reviewed an ARC of this book* 4.5 ?Lady Luck? Stars I want to start off by saying that I love the Hartigan?s!!!! This fictional family is one of my favorites. So far, the two previous books in this series, I?ve adored. This next installment is no d...

I think that the book should have been named "Lady luck" because it was more fitting to the story and it plays a more important role than the fact that Fallon is a tomboy. That's not what matters though. What matters is that I enjoyed the book and was able to finish it, unlike Muffin T...

This series continues to be well written romantic comedy that addresses the insecurities of the female leads. In this case, that tends to take a back seat because Fallon Hartigan is both too busy to care what other people think and too focused on her own goals to care. Even when she's ...

Tomboy is book three in The Hartigans series by Avery Flynn. While I really enjoyed the first two books in this series, I now have a favorite. I loved this book. If you are wondering, yes, you can read this as a stand alone. Each book in the series is based on one of the siblings in th...

I just popped my Avery Flynn cherry and let me just tell you how enrapturing the experience was. This book was amazingly beautiful with fierce characters. I did not want to put it down. I fell in love with these two characters. Fallon is a tomboy in every sense of the word. She is s...

What a great story. Even got a few tears outta me! ~~~~~~~~~~~~~~~~~ This is the second book that I have read and reviewed by Avery Flynn and I realized that I love reading stories when the characters are so like you and me. They?re not beautiful people. They?re vulnerable but y...

I want to be a Hartigan! 4.5 stars ...

Tomboy is the third, standalone book in Avery Flynn?s fantastic The Hartigans series, and it?s a delicious blend of light-hearted humor, subtle social observation, feel-good entertainment and seriously sexy romance. It?s an enemies-to-lovers tale in which a feisty, independent nu...

NOW LIVE! Amazon US * Amazon UK This book has me fangirling over Avery Flynn so hard. I was already a fan of this series but now I'm straight up obsessed. I loved Fallon and Zach's connection and they made an adorably growly couple. They both had their walls up and could be a l...

Bravo Avery Flynn!! Another great book! I absolutely loved this book. Now I am having a hard time deciding which is my favorite. Darn you, you marvelous writer you. Darn you! In this third installment of the Hartigan Series, we not only get to see more Lucy, but we get to know more ...

3.5 - not my favourite of this series but still good! ...

** ARC kindly provided in exchange for an honest review. ** I?ve been hooked with The Hartigan?s series from book one, heartfelt, funny and with interesting characters. How about the story of the most hated man in Harbor City finding his match? I have to say the hero...

Liked it!? Review on Monday... ...

This is the third book in the Hartigans series but it works well as a standalone - and is a brilliant read IMHO! Fallon Hartigan is the heroine in this story, a nurse who not only works at St Vincent's Hospital but volunteers at a medical centre for those who find it difficult to pa...

Avery Flynn hooked me with the first book in The Hartigans series, Butterface, and I was desperate for more. With Muffin Top, book two, my addition grew stronger. This third book, Tomboy, is easily my favourite in the series. In fact, it?s a strong four-point-five-star rating, nearly...

Release Date: February 18, 2019 Genre: Romantic Comedy Actual Rating: 4 stars Tomboy is the third standalone in The Hartigans romantic comedy series! While I do own the first book, I just haven't gotten to read it yet, I can say without a doubt that each of the books can com...

Nice easy non drama read! H was a little assh*le but nothing over the top. Liked that the h wasn't "shy virgin" and was sexual liberat... At the 70% mark the story dragging a bit... But was a funny story with a great couple! ...

I might have a slight addiction to this series. I loved books 1 and 2 (Butterface and Muffin Top, respectively) and couldn?t sign up for an ARC of Tomboy fast enough. I?ll most likely do the same thing when the next book in the series comes out, too. Why am I so addicted to this se...

A fun contemporary about a stubborn nurse and a cranky hockey player. I liked how this book started out. Zach used to be the star player of the Ice Knights hockey team, but in recent years has been failing his fellow teammates and his town. People seem to think it's just bad luck. ...

I have read butterface and muffintop.. i enjoyed those books alot!! So i was excited for this one.. and this wasnt my favorite it was just an okay book.. fast pace good funn.. with alittle steam. Zach is a trouble maker.. pisses off everyone from his teammates to fans and has had ma...