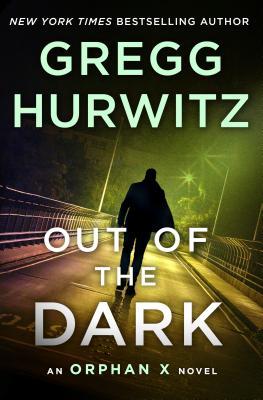 When darkness closes in?he's your last, best hope. Evan Smoak returns in Gregg Hurwitz?s #1 international bestselling Orphan X series. Taken from a group home at age twelve, Evan Smoak was raised and trained as part of the Orphan Program, an off-the-books operation designed to create deniable intelligence assets?i.e. assassins. Evan was Orphan X. He broke with the Program, When darkness closes in?he's your last, best hope. Evan Smoak returns in Gregg Hurwitz?s #1 international be...
Title
:
Out of the Dark
Author
:
Gregg Hurwitz
Rating
:
Genres
:
Thriller
ISBN
:
Out of the Dark
Edition Language
:

English

Format Type
:

Hardcover

Number of Pages
:

388 pages

pages
Out of the Dark Reviews
I love this series so much. If you?re new to it, Orphan X is kind of like the equalizer with heart. While I recommend starting with book 1 just because it?s awesome, you can absolutely start here. The author does an excellent job of giving just enough backstory for new readers w...

4.5 Stars I just LOVE this series! In this outing, Evan Smoak sets out to kill the President of the U.S. Why? Because the President is out to kill him and all of the orphans. It turns out Orphan X is a top target having to do with Evan's first official kill in the field. Evan searches ...

3.5~4? ?Evan waited for two of them to cross by the front gate. Then he seated the accelerator against the floor. The Ram shot forward, 240 horses and 420 pound-feet of torque powering more than two tons of Detroit Steel through the perimeter fence. The gate smashed down, crushing...

Evan Smoak is a trained assassin known as Orphan X. He was part of the Orphan Program until he broke with it and used everything he had learned to reinvent himself as the Nowhere Man. Now he helps those that are desperate and have no one else to turn to. However, now someone is killing...

Update 3/2/19: Having just finished Orphan X #3.5 The Intern, which was awful, I am upgrading this to 4 stars. I realized that I liked the current stories in this book, and my earlier lower rating attributable to the old assassination story (see below), which lacked the context and int...

So far the series has been a collection of novels helping readers understand who the antagonists are. By the time we reach this book, #4 in the series, we know who the big bad guy is. This book is all about Evan's effort to bring justice to the man behind everything that has happened s...

3.5 stars In this 4th book in the "Orphan X" series Evan Smoak - also known as Orphan X - plans to kill the President of the United States, Jonathan Bennett. The book can be read as a standalone, but familiarity with the series is a plus. ***** When Evan Smoak was a child Jo...

4.5 stars Out of the Dark is the fourth book in the Orphan X series and my favorite since the first in the series. I loved the first book and its balance between the Orphan Program aspects of the story and Evan?s constant urge to atone for his past. Out of the Dark achieves the sa...

If I'm ever in trouble, I hope someone calls Evan Smoak for me! Orphan X is back in the 4th installment of this fast paced, fun thriller series and he's going after his most hated opponent yet, the President of the United States. The prologue shows us a very interesting scene in Russia...

This is the fourth novel in the Orphan X series. Again, you could read it as a stand alone, but I wouldn?t recommend it. Evan Smoak was plucked out of an orphanage at the age of 12 and trained to be able to kill anyway you could possibly imagine while remaining totally off the grid. ...

Evan Smoak?s first mission as a nineteen-year-old in 1997 sent him to an Eastern European country to take out a general who was going to make the region unstable. Well, more unstable than it already was. At the time, current President Bennett was just an undersecretary at the Departm...

Evan Smoak has a busy schedule: in between his regular job, protecting a vulnerable young man from a psychotic gangster, he has to dodge other Orphans who may or may not be trying to kill him, tending to his fragile friendship with a beautiful widow and her son, provide long-distance e...

Out of the Dark by Gregg Hurwitz is the fourth book in his Orphan X series. This latest offering is a thriller of the first order. Orphan X continues his exciting personal missions. Evan is subject number twenty-four in the Department of Defense covert Orphan Program and has been g...

"There are no good guys. There are no bad guys. There's only what needs to be done." Nobody writes thrillers like Gregg Hurwitz, particularly his Orphan X series. What an incredible group of books, full of pulse-quickening suspense, whip-cracking action, and at their heart, a flawed...

He?s your last, best hope, but who can Evan Smoak turn to when he is out of options and his life is on the line? Orphan X is back and he is even more larger than life, more seemingly invincible, yet even more vulnerable and ?human.? And. He. Is. A. Target. OUT OF THE DARK is G...

Oh boy, do I ache all over. Thank you Netgalley and St Martin's Press for this arc. I loved it!. (Note for Judy D., previous reviewer -- this is not a kindle doc file but an E-pub file.... you'll need Adobe Digital reader installed on your computer to read and it's really not nice...

First of all, thank you to Netgalley and Minotaur books for this advanced copy. Having just finished Hellbent, I ran seamlessly right into this book. Out of the Dark is a fantastic cat-and-mouse game. It follows Evan Smoak (aka The Nowhere Man, aka Orphan X) where Hellbent left off....

Out of The Dark by Gregg Hurwitz is the fourth full-length novel involving Evan Smoak. Smoak is known as Orphan X and also The Nowhere Man. As a child, Smoak, an orphan, was selected by a secret organization for training to carry out secret government acts, including governmental as...

"This novel will be remembered as one of the best thrillers of the year." ?Associated Press "A shocking stunner in every way. The perfect thriller." ?Robert Crais When darkness closes in?he's your last, best hope. Evan Smoak returns in Gregg Hurwitz?s #1 international be...

This was headed for 5 stars until a bit of excessive bad-guy violence (on the good people), prevented it. I prefer more bad guys getting what they deserve in a righteous pounding, instead of the decimation of innocents. This is a continuing theme in the previous 3 Orphan stories as wel...

The fourth Orphan X novel works well as a stand alone story even though the third book does lead into it. Orphan X was part of a government program to raise orphans to be assassins. After a time, his conscience got the better of him. He went off on his own as the Nowhere Man, setting u...

It was always going to come to this. Evan Smoak, aka Orphan X (when he?s not going by the Nowhere Man), has spent years searching for the man who gave the order to have him terminated?after he broke from the off-the-books government program that made him a killer?hellbent on ...

Oh Hellooo ... I have a new crush, you've guessed it, Evan Smoak! What a ride. Plot is sort of Jason Bourne'ish, action is nail biting good. Evan vs. the bad guys, secret service, D.C. po po. Big guns, small guns, mortar, Matcha Latte -- he's well armed and get things done. I can't...

3.5 stars After reading and loving the third novel in the Orphan X series, I jumped at the opportunity to read the fourth instalment. Out of the Dark continues Evan Stoak?s journey as the Nowhere Man. But now, there are more complications added to the mix, such as Evan wanting...

Out of the Dark is the fourth book in The Orphan X thriller series which features a Jason Bourne type invincible secret agent trained from childhood to be the perfect weapon. Orphan X left the fold, went out on his own, and pays it forward by helping people who call his special phone n...

Out of the Dark is the fourth novel in the breathtakingly action-packed Orphan X series, and boy it's the best yet from master thriller writer Mr Hurwitz. I recommend reading them chronologically to gain the best experience. This time the tables have well and truly turned on Evan Smoak...

'Orphan X' represents the very best in what action thriller should be: fast-paced, edgy with an incredible story and a memorable protagonist! The more I read Gregg Hurwitz' incredible 'Orphan X' series, the more impressed I get! The lead secrete operative, 'Evan Smoakes' is top ...

Note this is Book 4 of the Orphan X series but I had not read the previous 3 and was great as a stand alone ( although am going to buy and read the other 3 now ) Having seen the authors name for the last few years and the Orphan X books I now, after reading this, regret not taking n...

?Out of the Dark? is part of the ?Orphan X? series, but it starts with a flash back that introduces Evan and details the relationship between Evan Smoak, Orphan X, and Jack. This gives new readers any needed background and adds new insight for fans of the series. Evan had no...