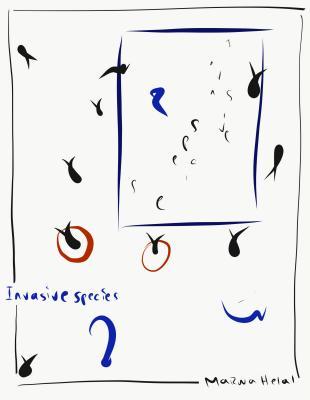 In Invasive species, Marwa Helal's searing politically charged poems touch on our collective humanity and build new pathways for empathy, etching themselves into memory. This work centers on urgent themes in our cultural landscape, creating space for unseen victims of discriminatory foreign (read: immigration) policy: migrants, refugees--the displaced. Helal transfers live In Invasive species, Marwa Helal's searing politically charged poems touch on our collective humanity and build new pathw...
Title
:
Invasive Species
Author
:
Marwa Helal
Rating
:
Genres
:
Poetry
ISBN
:

1937658937

Edition Language
:

English

Format Type
:

Paperback

Number of Pages
:

131 pages

pages
Invasive Species Reviews
This is a hybrid book -- part poetry, part alphabet narrative (immigration A through Z). The book had its moments and the underlying metaphor of immigrants as invasive species worked. My major complaint is that some of the poems try a little too hard to be "edgy." ...

it?s early to say but this has to be one of the best books I?ll read this year. ...

This poetry collection is very timely and addresses some difficult topics around insider/outsider status and immigration challenges. My favorite part of this collection is the middle section (the A to Z section) that describes Helal?s difficult immigration pathway into the United Sta...

we each arrive at the same dream differently: in one the fly goes unnoticed; in another the fly is swatted; the fly crumples; the fly goes free... In the line above, Marwa Helal is describing the difference between journalists' and poets' approach to the written word. The same coul...

I think everyone should read this. I really do. In some breaths Claudia Rankine, in others Whitman, Ms. Helal pulls threads from poetry and science and politics together to craft a visually, sonically, and emotionally stunning landscape. Invasive Species was an articulate, formally ...

Amazing, form-bending, mind-blowing collection. ...

the entire thing is stunning, but I have a particular affinity for the middle section: immigration as a second language. the push of genre is aspirational & inspiring. this is true throughout the collection, but the awareness of language the poems possess is disarming & product...

Beautiful through and through. It?s a mixture of poetry and prose and pieces where the lines are blurred. Both the story of Marwa?s multiple migrations and an appropriately bleak and angry look at the US immigration system and Islamaphobia. This is crucial reading in 2019. It?...

I do not say this lightly when I say this is not just the best poetry book I have read in 2019, but the best book I have read in 2019. Period. As a poet, I have learned so much on how to write, how to craft a poem, how to create a collection. It is a whole education on deconstructing a...

These poems are what you want a poem to be & what you don't know a poem can be?so much invention. Helal's ingenuity is admirable. If you have to read any poetry collection this year, you must read this book & even if you don't want to read poetry this year & every other y...