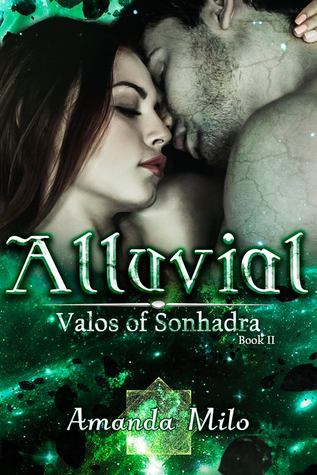 Someone?s using me as leverage against my family. I was your average citizen, innocent of any crime worth going to prison for, and yet here I am. But this isn?t a regular prison ship. *Torture.* Experiments. They alter me. And when the ship crashes on an alien planet, some of my new abilities come in quite handy?it?s the side effects that aren?t entirely welcome. Not by me, any Someone?s using me as leverage against my family. I was your average citizen, innocent of any crime...
Title
:
Alluvial (Valos of Sonhadra #1)
Author
:
Amanda Milo
Rating
:
Genres
:
Science Fiction
ISBN
:

1980295689

Edition Language
:

English

Format Type
:

Paperback

Number of Pages
:

165 pages

pages
Alluvial (Valos of Sonhadra #1) Reviews
I had some concerns with the happenings in the beginning of this book. Mostly because prison romances between a guard and inmate can be very iffy if not handled right. So I was (a) concerned the first man we were introduced to was going to die horribly and leave Preta on her own or (b)...

I'm not even sure this book is worth 2 ***. It was a hot mess from start to finish. If this first book was supposed to set the stage and draw me into the series it failed miserably. Nothing made sense. The characters were shallow and the plot disjointed. Hot sexy tree / plant men, real...

OK ladies. Hold onto your panties. Or try to. I tried. OK, maybe not that much. But still, I'll start by saying that I received this ARC in exchange for an honest review. It does help a bit that i would have possibly killed, stolen, blackmailed, threatened and pois...

The Valos of Sonhadra series is a Sci-Fi alien romance with each of the 9 books in the series being told by a different author. If you have a favourite author of the bunch and don't want to read them all don't worry, each book can be read as a standalone. The background story for each ...

Aliens that aren't just oddly colored humans Milo always gives you aliens that aren't just different colored humans. Petra had done nothing wrong other than be born to a well known family. For this crime she was taken aboard a prison/space station. For an added bonus the prisone...

Valos of Sonhadra Multi-Author Series #Release & #Giveaway Enter to win a $20 Amazon Gift Card ~ Ends March 1, 2018 ~ Click on Banner to Enter! International where allowed ...

Amanda Milo has done it again! She brings truly alien aliens to life in ways that intrigue me instead of repulse me. Preta has been an unwilling experimental subject in a space prison. During the course of the experiments done upon her, she has formed a relationship with a guard. Th...

Tree Dragons!!! Initial thought: Man can Preta go off on some tangents! And then I kept going and found myself looking forward to laughing at her tangents. I wasn't sure about Ryan at first, my brain pinged him as a secret agent ?. I enjoyed the glimpse that I got it this new wor...

Lots of gaps The book seemed disjointed. More like she was summarizing the high points of a book than writing the actual book. Which sucked cause the plot and storyline were soooo freaking interesting!! I really want to read the long version with all the details. Got lost a few t...

Quite the clusterf#ck This book was just all over the place. I never connected to any of the characters or with the plot. Waste of time for me. Sorry. ...

Really like her work This is a short story, but it still has a lot of good world building and character development. I would like to have read more about how the characters grew to know each other, but despite the shorter length, the author convinced me that, yes, they really were o...

3.5-4 Stars 3.5-4 Stars I?m not even sure what I should write. This book was beyond strange yet interesting. Even with the detail the men were hard to get a mental picture. But even with that difficulty they story pulled you in. ...

Tree-Dragon Aliens! Preta was taken into custody aboard a prison in what she believes is a plot against her family. While aboard, they change the very core of who she is. She had been innocent of any crime before she was brought into custody, the same can't be said now. With the ...

This will "grow" on you Prisons and experimentation are dismal subjects but the characters are amazing. I really liked the uniqueness of there being a human male along with this reverse alien harem. The feelings were realistic in an out of this world crash landing. The lust and oth...

First off let me say that I absolutely LOVE how Amanda always creates such original characters/alien beings. I thought the tree dragons were really unique and just freaking awesome! I don?t usually read books that are less then 250-300 pages (because I finish them too fast), but I of...

Okay, sooo... let's start. This book has a lot of my favourite tropes. Mars needs women, cultural differences between humans and aliens, what I dub the "great prison escape", a lab rat heroine, reverse harem... Yep. I like the author's voice, and it was very amusing. But what has me...

Its ok. It was pretty funny and entertaining or else I might have rated lower. The characters were flat and the love interests and sex boring. The parts that connect this book to the 2nd book were just as awful in both books. I?ve never read this author so that?s one thing I li...

Original characters I liked this mostly because of its originality. Petra was imprisoned on a spaceship, she was experimented on, she found a guard she could trust, fell for him, ended up pregnant, the ship crashed on an alien planet. None of that sounds very original, but what come...

NOT FOR THE UNIMAGINATIVE READER I'm SO blown away! Amanda Milo's creative genius and top-drawer writing chops have combined to make Alluvial a remarkably original and truly visionary entry into the sci-fi romance sub-genre. Preta's a victim of genetic tinkering on a prison spaceshi...

Book 1 in the valos of sonhadra series Petra is leverage, her father is a military major, her sister is a secret military operative.. Petra was just Petra... she didn?t have the will to join the military... but held captive on the prison ship The Concord she has no choice... slowl...

Amanda Milo has the talent to make me fall in love with her characters and somehow believe that the world she built actually exists. I know, I know it's sci-fy and even if there were aliens they wouldn't look like Petrichor, Mace and Ammos but Milo makes you wish they were. Summary: ...

Different kind of aliens This book is little "out there", on the alien characters. It also seems to jump ahead without any warning. Preta is a human that was kidnapped and put on a prison spaceship for experimentation. Her sister and father were part of the armed services but she w...

I read it but I had no clue what the book was about... lol it was very confusing, especially the beginning ...

If your looking for a different alien romance this is your book! Where to start... first Amanda Milo writes aliens that aren't colored copies of humans. So don't expect a green human looking alien man. In this book they are more part of their planet that is sentient. A dragon that l...

This book is absolutely amazing! I adored the characters and how they all interacted together. I caught myself laughing out loud quite a few times, and the banter! Oh my goodness. This is one of those books that you just don't want to end. Don't get me wrong, the ending is perfection, ...

Well... What a wild ride. Her books are always...interesting. I will give credit where it?s due, the story is unique and wholly original. The writing is superb and the humor is good. I laughed out loud several times. My only complaints are that the story skips ahead too much. Bare...

C'était prometteur; hélas... Une héroïne "kick ass", de l'humour, plein d'action... et les voilà, Sol et Ryan, "enlevés" par des dragons de bois. La barrière de la langue au début empêche ceux-ci d'expliquer que, pour eux, copuler est en fait nourrir. Comme Sol est en train...

This is the first book of the series. Preta is an innocent person, who is imprisoned wrongfully on a floating spaceship prison above Earth. Preta is tortured experimented on by vile scientists. Her only silverlinig is a guard named Drogan. He shows her compassion, but he also accidenta...

New world, great setup. Kindle Unlimited Mars needs women Reverse Harem HFN ending Amanda Milo has made my ?auto-buy? list of authors. This did not disappoint in any way. I?m absolutely going looking for the sequel by Poppy Rhys. This is one of those ?multi-author? s...