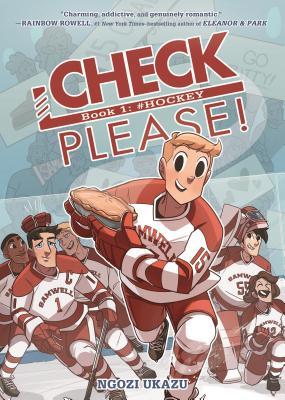 Helloooo, Internet Land. Bitty here! Y?all... I might not be ready for this. I may be a former junior figure skating champion, vlogger extraordinaire, and very talented amateur pâtissier, but being a freshman on the Samwell University hockey team is a whole new challenge. It?s nothing like co-ed club hockey back in Georgia! First of all? There?s checking. And then, there is Helloooo, Internet Land. Bitty here! Y?all... I might not be ready for this. I may be a former junior fig...
Title
:
Check, Please!: #Hockey, Vol. 1
Author
:
Ngozi Ukazu
Rating
:
Genres
:
Sequential Art
ISBN
:

1250177952

Edition Language
:

English

Format Type
:

Hardcover

Number of Pages
:

288 pages

pages
Check, Please!: #Hockey, Vol. 1 Reviews
This was cute. Almost too cute. Take breaks lest ye be overcome by sugarshock. Hockey. Central, but in the sense that these kids's lives revolve around their team; you as the reader do not have to spend a lot of time seeing hockey moves, nor will you gain much understanding of the ...

Sooo friggin cute!!! The feels are real with this one and now I need all things Check Please! related cause I need more Bitty and Haus stories like yesterday haha! RTC on Lair Of Books (Link is in the bio) ? ...

Actual Rating: 4.5 Stars! I picked my pre-order up last week and you better believe I read it over the weekend during any spare moment I had! It truly lived up to the hype, but like excuse me...I need the rest of it right now! (yes, I know it's online...but I just love to read t...

This ARC was given to me by my beautiful friend Lilly from Lair of Books! (Thank you so much! I love you!) You all, this was the cutest. No, scratch that; Bitty is the cutest! And this graphic novel was nothing short of a joy to read! Hockey games, behind the scenes practices, a ...

Reading graphic novels is a fairly new experience for me, one I discovered only this year and I don't think I still have the right barometer to rate or review them. However, I have found that my tastes lean towards cute and adorable, and I can tell without hesitation that this graphic ...

So. Freaking. Adorable. I really liked the art style, and I thought the story was so cute! It was so easy to like Bitty from the start, and seeing his interactions with the team and how their relationships develop was so cute. I did find it a touch confusing to get into initially and t...

This series is one of the best things that has ever happened to me. I read it first in college, reread it as I was graduating, and now I get to read the full first two years as a collected, physical book. Bitty owns my heart and I plan to cry about him for the rest of time. He?s my p...

**I RECEIVED AN EBOOK COPY OF THIS FROM NETGALLEY IN EXCHANGE FOR A REVIEW** Do you like any of the following things: nice people, good characters, pies, DAT HOCKEY BUTT, Beyonce, nicknames, alluring storylines, webcomics, French Canadians with crazy blue eyes and no obvious emotions, ...

HANDS DOWN ONE OF MY FAVORITE YA GRAPHIC NOVELS I'VE EVER READ. I LOVE MY HOCKEY BUTTS *AHEM* BOYS. I adored the Samwell team! I also got hungry for pie. The banter, the vlogs, tweets, the romance, the hockey/haus shenanigans = so much fun!! ...

Obviously I've read the online comic on Tumblr, but when I found out this was being put out in a printed/bound volume I was so excited! It's interesting reading it in a different form and being able to flick through the pages much faster than I can scroll on my computer, but both are e...

THIS IS MY NEW OBSESSION I AM LAUGHING I AM CRYING I JUST LOVE. It is so quirky and hilarious. FREAKING UGH ???????? ...

I was lucky enough to score an ARC from the Fierce Reads tent at YALLWEST in CA. For starters... I thought it was so friggin adorable! I FRIGGIN LOVE IT! And I am 100% here for this! I was not aware until after reading it that it was a webcomic first. What is important is...

THIS WAS SUCH A WONDERFUL STORY! I love a good graphic novel! But I also loved every element of this story. It was funny, clever, and just interesting to me. I?m not a hockey person, but I love a good sports story. I also love a good LGBTQ+ sport romance. And while that?s not t...

PERFECT. PERFECT. PERFECT. PERFECT. PERFECT. PERFECT. PERFECT. PERFECT. PERFECT. PERFECT. PERFECT. PERFECT. PERFECT. PERFECT. PERFECT. PERFECT. PERFECT. PERFECT. PERFECT. PERFECT. PERFECT. PERFECT. PERFECT. PERFECT. PERFECT. PERFECT. PERFECT. PERFECT. PERFECT. PERFECT. I know this ...

OH MY WORD, it's so cute I'm gonna die. This is one of the most precious, laugh-out-loud, heartwarming, charming damn things I've ever read in my life. I need a million more volumes, please. I cried happy tears at the end and I don't even care. And Bitty is such a precious little bean ...

Easily one of the best things you?ll read in your life AND HOW COULD SHE LEAVE US AT THE END LIKE THAT Ok, everyone said this graphic novel was basically the cutest thing ever but NOTHING will prepare you for how cute it is. Nothing. What happens when a figure skater with an in...

Heckin? CUTE. Shitty is my fav and reminds me so much of my bb McGraw from Giant Days. 10/10 do recommend ...

THIS IS THE CUTEST SWEETEST SOFTEST FUNNIEST MOST PRECIOUS THING AND I HAVE ALL THE FEELS. ps I read the webcomic via the author's website but fully intend to buy upon release because duh. ...

.... Whelp. Guess what happens when you try to take a break from homework and end up reading a webcomic instead? You occasionally stumble upon a complete gem like this one. Guys. This was so freaking good. So, so good. I laughed. I cried. I ignored the alarm on my phone that begged ...

Check, Please! was so damn adorable and soft and hilarious and precious and just so, so gay. Such a lovely story filled with wonderful characters whom I love with all my heart. Did I mention that it's hella gay? Now, all I need is a f/f version of this and I'll be the happiest pe...

Oh I just loved this! So I finally did it. I finally read a graphic novels and it was so much fun! Eric Bittle (Bitty) who is a figure skater turned hockey player heads to Samwell University for college and to play on their team. Bitty loves to bake and he also does a baking/h...

after giving myself the time to enjoy this fully, and rejoice in the wonderful feeling of finally having a physical copy of one of my favourite pieces of media, i think it?s about time i wrote a proper review of it. i?ll start by giving some insight as to why i feel so deeply a...

I wasn?t expecting this to hit me the way it did, but wow. The art is fantastic and the story is even better. I flew through this with the biggest smile on my face. Ugh, I?m such a hockey nerd. I?m so bummed that Hockey season is over and this is a great way to get your hocke...

THAT LOOKS SO DAMN GOOD, THANK YOU HOLLIS FOR THE REC!!! (ONE OF THESE DAYS I'M GONNA NEED TO ASK MYSELF WHY EXACTLY I'M WRITING ALL MY PREREVIEWS IN CAPS, BUT TODAY IS NOT THAT DAY, CLEARLY) ...

*takes a deep breath* I LOVED THIS SO MUCH LIKE SO SO MUCH AND BITTY IS MY NEW FAVORITE CHARACTER HE IS SO SOFT AND LOVELY AND I WANT TO BE HIS FRIEND AND BAKE PIES WITH HIM AND WHO KNEW I COULD CARE ABOUT HOCKEY THIS MUCH??? AAAAH I LOOOOOVED THIS ...

I LOVE LOVE LOVED THIS. I mean, who's actually surprised, but I loved this more than I even expected. It was just lovely and adorable, but also so meaningful for me. This is my first time reviewing a graphic novel and I wasn?t really sure how it was going to go but I loved this s...

It was really cute, but I found my self a little bored at parts. I think that there was too much dialogue at times and I would just glaze over it. It also felt a tad bit too long. But, I found the characters fun and multidimensional. The romance was a sweet slow simmering one that was ...

I love love love this ? ...big surprise ...

5 stars I've been putting off this review for like, 4 months now, but I finally caved because I want to add this to my Debut Author Challenge but need to actually write a review for it to count. Ready? OMG SQUEEEEEEE THIS IS SO CUTE EVERYONE READ IT I LOVE THEM ALL why did I...

everything about this book makes my heart so full and happy ? why didn't I read this soon??? ? ...