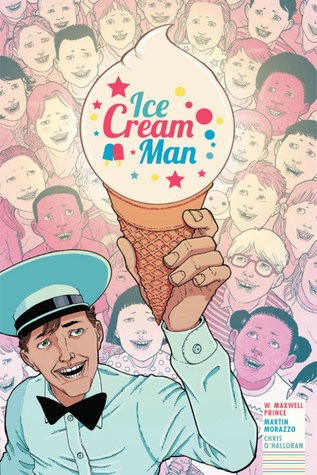 Chocolate, vanilla, existential horror, addiction, musical fantasy...there?s a flavor for everyone?s misery. ICE CREAM MAN is a genre-defying comic book series, featuring disparate ?one-shot? tales of sorrow, wonder, and redemption. Each installment features its own cast of strange characters, dealing with their own special sundae of suffering. And on the periphery of all o Chocolate, vanilla, existential horror, addiction, musical fantasy...there?s a flavor for everyone?s mise...
Title
:
Ice Cream Man Vol. 1: Rainbow Sprinkles
Author
:
W. Maxwell Prince
Rating
:
Genres
:
Sequential Art
ISBN
:
Ice Cream Man Vol. 1: Rainbow Sprinkles
Edition Language
:

English

Format Type
:

Paperback

Number of Pages
:

144 pages

pages
Ice Cream Man Vol. 1: Rainbow Sprinkles Reviews
Coyer Summer Bash This is a triply little volume of stories. A local ice cream man becomes a catalyst in the outcomes of several people?s lives: a desperate junkie, a one hit wonder song writer, a young boy with a deadly pet. There seems an unworldliness about the ice cream ven...

This reminds me a bit of Petshop of Horrors, except Count Dee isn't human but is basically an eco-terrorist. I'm not sure what Rick is, besides apparently a werewolf? So we'll see. I liked the first story because tarantulas, and I liked the others well enough, but the beginning and the...

This is an anthology series where each issue is a self-contained story with different characters. What pulls them together as a collection is that they all feature the Ice Cream Man. While one of the stories was decidedly horror as a whole I'd rather call them weird tales. The first wa...

3.5; a pleasingly offbeat, promising debut volume that gets a lot of mileage out of its enigmatic titular character, whose actions vary from mischievousness to pure malevolence, while the ending hints at the introduction of a larger mythology that is quite intriguing. ...

Whaaa..? Did I enjoy the concept? Absolutely. But the execution was so scattershot that it was hard to understand exactly what was going on a good portion of the time. This graphic novel reminded me of those various TV horror anthologies that try to be great but just end up loping alon...

*I received this book as an eARC from Image Comics via Edelweiss in exchange for an honest review* I had no idea what to expect with this graphic novel. What I got was an adult Goosebumps comic, pretty much. There are four different stories in this book. They each involve the Ice Cr...

Great little vignettes of horror. ...

Strange, eerie, silly -- the most Bradburyian thing I've read in a long, long time, in the best possible way. Who is this ice cream man, and what is it that he wants? To bring joy? Terror? Chaos? Order? All of the above? I wasn't convinced an anthology comic could work; I've been h...

This was just terrible. It didn't make any sense, was predictable, boring, silly, not scary, random and dropped the ball narratively. The art is good, and the last story was at least a nice character study - but even that didn't make any sense as it didn't match the rest of the stories...

I really liked the art and I liked each individual story, but I felt that, as a whole, the stories were all over the place. I never really felt a connecting theme. Maybe I'm missing something. I'm still picking up the second volume, though. The last few pages promise quite an interesti...

Satan?s taken many forms in fiction: John Milton?s tragic fallen angel; the popular cartoonish red horned dude with cloven feet; Ned Flanders in that Simpsons Halloween episode; and now? an ice cream seller?! I don?t know exactly why they made that choice, other than some kind ...

Another story hovering on the borders of anthology from the writer of One Week in the Library, and this at least avoids one of the big problems there in that, unlike that library with no readers or borrowers, the linking figure here does sell ice cream to customers. Sometimes with a li...

This was crazy weird. On one hand it feels like a modern day Tales from the Crypt despite not entirely being a horror series. This volume was only 4 issues but there is the mysterious character of the Ice Cream Man himself. What is he? I want to read more and get some answers. Who was ...

3.0 Stars This is a weird collection of short and, sometimes, horrifying short graphic stories. The first story was my favourite. I didn't particularly enjoy the other ones, but the ice cream man was still very creepy. ...

This book reminds me of my nightmares. Ice Cream Man is an anthology of different stories ranging from extreme loss, drug addiction, human depravity, and straight up horrifying terror. The Ice Cream Man seems to be the purveyor of suffering; his ice cream, a special flavor served u...

I'm not normally a 'horror' type of gal - I prefer rhinestones and glitter to blood and guts, and if I'm forced to watching a scary movie, I read the entire synopsis online before it starts, so I know exactly what to expect. With that being said, this absolute pansy LOVED Ice Cream Man...

I had all the intention to love this, as I loved the cover, the synopsis and the general idea... but this was a mess... and didn't quite feel the horror or that the stories were that original. ...

That was actually totally scary. It pulls out and shows the darkest parts of the characters. I can?t wait to read more, and to figure out WHAT THE FRICK FRAK IS GOING ON. Plus, who on earth is the man in Black? ...

I am almost crying. Everybody is suffering and then cuts to the candy bitch sorry respect whatever about to eat ice cream and guys, the captions from the beginning about him spreading happiness to all and bitch, he was spreading happiness, he is spreading happiness to himself because h...

The best thing I?ve read all year. A sharp, funny, surreal, surprising nightmare. Like Grant Morrison meets Hitchcock. The Ice Cream Man is this bizarre trickster demi-god going around screwing with the mind space of a small unaware town. And beautifully illustrated. I?ll leave it ...

This comic was so freaking strange!!! I really enjoyed it though. The artwork was interesting and the stories...they were crazy. If you haven?t read this definitely give it a chance. I?ll be posting my full review here once it goes live on my blog. ...

Not what I expected, though I dont quite know what I was expecting... I liked it! ...

3.5 This one uses anthology-type storytelling to follow the (mis)deeds of a ghoulish character wreaking havoc on a small town by using their own vices against them. Intriguing premise, but not terribly cohesive. It ends with the promise of a larger picture so I'm intrigued... ...

Four stories from a Twilight Zone smallsville that have to feature an ice cream seller. They're fine to a certain extent ? quick and interesting little genre pieces ? until the last one, which isn't really up to much, beyond a quirky narrative twist, and kind of disturbs the balanc...

Woooo. Something sweet... Surprise hit! Little vignettes, short stories. Sorta horror-y, surreal. Steeped in the horrors of reality and human nature though even if it seems to be supernatural. None of these stories follow any sort of story-telling form, which I appreciate. Kind of just...

A completely insane series of loosely connected stories that shift from sci-fi to horror to existential dread with each issue. While there are hints of a bigger plot, it's kind of delightful just how crazy and unexplained things are. If you've been itching for a new demented spin on Ta...

*Galley received from Image* I'm struggling with how to rate this one because--while I don't know how much I "enjoyed it"--this collection of episodes is well-written and darkly fascinating. It's quite strong for a collection of loosely linked stories--all connected by the enigmatic...

I'm not really sure why I liked this. I guess it's the writing? Because normally this type of weird story and the style of art would not appeal to me. I liked it beyond expectations. ...

Now when closing in with fiftieth day of heat (fuck off already, please), I feel it is a proper time to review something that involves ice cream. And ice cream man. Ice Cream Man is some sort of smarty-ass wannabe comic that tries to copy from the greats without much of an succe...

*I received this book as an eARC from Image Comics via Edelweiss in exchange for an honest review* A waste of pages. ...