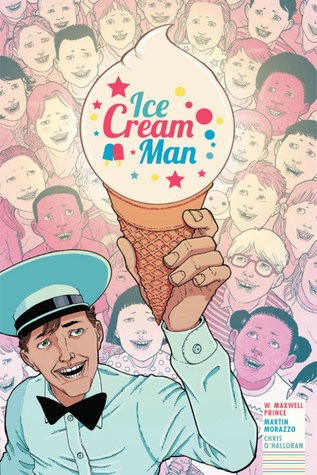 Chocolate, vanilla, existential horror, addiction, musical fantasy...there?s a flavor for everyone?s misery. ICE CREAM MAN is a genre-defying comic book series, featuring disparate ?one-shot? tales of sorrow, wonder, and redemption. Each installment features its own cast of strange characters, dealing with their own special sundae of suffering. And on the periphery of all o Chocolate, vanilla, existential horror, addiction, musical fantasy...there?s a flavor for everyone?s mise...
Title
:
Ice Cream Man Vol. 1: Rainbow Sprinkles
Author
:
W. Maxwell Prince
Rating
:
Genres
:
Sequential Art
ISBN
:
Ice Cream Man Vol. 1: Rainbow Sprinkles
Edition Language
:

English

Format Type
:

Paperback

Number of Pages
:

144 pages

pages
Ice Cream Man Vol. 1: Rainbow Sprinkles Reviews
In the past few years there I have read a few horror comics that trade in nostalgia, including Al Columbia?s Pim and Francie: The Golden Bear Days, Tom Neely?s The Blot, Cole Closser?s Black Rat and Little Tommy Lost, though I am sure there are many many others doing this. The id...

Super creepy. Haven't decided what I thought yet. I'm glad I was in a car with friends when I read it. ...

I suppose I liked this well enough but I know it's not going to stay with me. It's like if Paper Girls had no time travel and was narrated by Rod Serling but for hipsters. Oh. I think that's called "Welcome to Nightvale," actually. Normal-seeming town with strange goings-ons. Kids ...

3.5; a pleasingly offbeat, promising debut volume that gets a lot of mileage out of its enigmatic titular character, whose actions vary from mischievousness to pure malevolence, while the ending hints at the introduction of a larger mythology that is quite intriguing. ...

Strange, eerie, silly -- the most Bradburyian thing I've read in a long, long time, in the best possible way. Who is this ice cream man, and what is it that he wants? To bring joy? Terror? Chaos? Order? All of the above? I wasn't convinced an anthology comic could work; I've been h...

This new comic anthology features strange stories that take place in the same small town. And let me tell you, this book is totally NUTS! To best describe this book, it's best to use a quote from the book itself: "I'm telling' ya, this town is really something else. It's just fil...

Satan?s taken many forms in fiction: John Milton?s tragic fallen angel; the popular cartoonish red horned dude with cloven feet; Ned Flanders in that Simpsons Halloween episode; and now? an ice cream seller?! I don?t know exactly why they made that choice, other than some kind ...

Another story hovering on the borders of anthology from the writer of One Week in the Library, and this at least avoids one of the big problems there in that, unlike that library with no readers or borrowers, the linking figure here does sell ice cream to customers. Sometimes with a li...

3.0 Stars This is a weird collection of short and, sometimes, horrifying short graphic stories. The first story was my favourite. I didn't particularly enjoy the other ones, but the ice cream man was still very creepy. ...

I read this because Brian Vaughan recommended it on Goodreads and I must say - I love everything Brian writes but I unfortunately cannot trust his recommendations because this book was a waste of time. Thankfully it is a mercifully short read. The artwork is wonderful - I will not ...

It was nice. It was weird. It was kinda creepy. It was sometimes meh. But sometimes good. Artwork is awesome. Will keep buying and keep reading! ...

Well that was twisted, trippy, and weird. More please! ...

Extremely weird, sometimes aimless, yet entertaining read. This is a little town where the Ice Cream Man resides to hand out, well, Ice cream to everyone. No, he's not a creepy pedo, which was my first guess when seeing the cover or reading about him. Instead, he almost haunts the ...

I feel like this series is a bit overhyped. Okay art, hit or miss stories. It reminded me a bit of Stephen King?s Needful Things. ...

That was actually totally scary. It pulls out and shows the darkest parts of the characters. I can?t wait to read more, and to figure out WHAT THE FRICK FRAK IS GOING ON. Plus, who on earth is the man in Black? ...

Probably the best comic on the stands. LOVE IT. ...

That comic revolving around music was easily a highlight, but they were all very good and eerie. ...

A mismatch of ice cream, arachnophobia, death and utter shite writing. ...

The best thing I?ve read all year. A sharp, funny, surreal, surprising nightmare. Like Grant Morrison meets Hitchcock. The Ice Cream Man is this bizarre trickster demi-god going around screwing with the mind space of a small unaware town. And beautifully illustrated. I?ll leave it ...

This comic was so freaking strange!!! I really enjoyed it though. The artwork was interesting and the stories...they were crazy. If you haven?t read this definitely give it a chance. I?ll be posting my full review here once it goes live on my blog. ...

"What?s your name, kid? B-Byron. Fuck you, Byron.? This was really messed up and then when you think it?s going to die down a bit, it gets even more messed up. You?ll never trust the Ice Cream Man ever again! ...

A creepy Ice Cream Man haunts a town. This was ok. Each issue is a different story with different people from the same town, they all unfortunately encounter the ice-cream man. Very quick read, will continue reading the series. ...

A fairly mediocre collection of horror-ish/supernatural (at Image these days, what isn?t?) one-shots loosely connected together by appearances of the titular Ice Cream Man, a sinister dude who is a devil or something. Not a terrible read by all means, but not a particularly memorable...

I'm not really sure why I liked this. I guess it's the writing? Because normally this type of weird story and the style of art would not appeal to me. I liked it beyond expectations. ...

This was soo good! This definitely gave me American Horror Story Vibes! Each chapter story deals with another topic another story, from scary spiders to meth addicts killing people. The thread that connects them is the ice cream man, who at first sight looks like an incredibly friendly...

Nice, dark and with a twist! ...

Now when closing in with fiftieth day of heat (fuck off already, please), I feel it is a proper time to review something that involves ice cream. And ice cream man. Ice Cream Man is some sort of smarty-ass wannabe comic that tries to copy from the greats without much of an succe...

"Twilight Zonish" - and I mean that as a very high compliment! The interweaving of stories through an enigmatic ice cream man who serves up dharma flavors you must choke on - fantastic! ...

*I received this book as an eARC from Image Comics via Edelweiss in exchange for an honest review* A waste of pages. ...