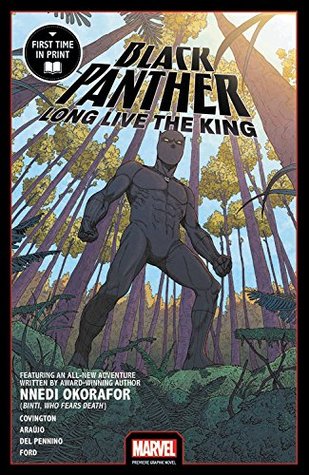 HEAVY IS THE HEAD THAT WEARS THE CROWN! As the Black Panther and an Avenger, T'Challa has had to save the world time and again - but those duties pale in comparison to his responsibilities as king of Wakanda. As the nation rebuilds in the wake of revolution, T'Challa finds his people besieged by a massive monster tearing through the country, leaving a trail of destruction HEAVY IS THE HEAD THAT WEARS THE CROWN! As the Black Panther and an Avenger, T'Challa has had to save the world time and a...
Title
:
Black Panther: Long Live the King
Author
:
Nnedi Okorafor
Rating
:
Genres
:
Sequential Art
ISBN
:
Black Panther: Long Live the King
Edition Language
:

English

Format Type
:

Paperback

Number of Pages
:

136 pages

pages
Black Panther: Long Live the King Reviews
A bit uneven at times and the last issue was a one shot that was unrelated to the rest the of the series (a BP/Venom mashup from a different Earth). An OK read. ...

This was good, but too brief to be great. Okorafor's contribution was stronger than Covington's, which didn't make a lot of sense. There is a seed of greatness here that I wish had more time to develop. I'm especially drawn to Ngozi and demand more of her. I don't know a lot about V...

(read as single issues) A bit of an odd mini-series--the issues not written by Nnedi don't seem to fit in? Still, overall a fun read and I can't wait for Nnedi's Shuri comic! ...

I wanted to read this book purely for Nnedi Okorafor's ability to spin word magic. She works her stoic charm here to a certain extent with the first story and the other two (not helmed by her) are pretty decent too. All three tales explore issues beyond how infallible the Black Panther...

I love Ta Nehisi Coates as writer and thinker but had to abandon his Black Panther run; it wasn?t great comics. All talk and philosophy, and not action, or too much set-up for action that I might have seen if I had been patient for it. Okorafor, the author of Binti and Akata Witch, m...

Wakanda is viewed as a utopia with enough resources of all. Nnedi Okorafor peels back the curtain to gift us with stories that challenge that perspective. What if the real danger to Wakanda came from within? What if Wakanda?s benevolence was really selfishness? I don?t normally rea...

Fun but uneven collection. The six-parter was originally promoted as a Nnedi Okorafor miniseries, and it wasn't until three issues in that I discovered it's actually three separate stories: an entertaining three-parter by Nnedi Okorafor and André Lima Araújo, an utter dud of a two-pa...

I don't know what the deal was with this series, but I am now suspicious of the sticker on the front saying, "FIRST TIME IN PRINT." That phrase is meant to advertise it as special or limited in some way, but I think now that it's akin to converting a made-for-TV movie to VHS and hoping...

Black Panther and Nnedi Okorafor...sold. Great story, I wasn't a huge fan of the artwork well some of it. The story was worth it. I loved the very Lovecraftian monster in the first story. Cool stuff. ...

The description of this TPB is misleading. Nnedi Okorafor only wrote half of the stories in this trade. If okorafor had wrotten the entire trade I would hahve given this a high rating. Because Okorafor does something that is rarely done with T'Challa nowadays. A little humor and hum...

This was interesting. The first 5 issues, about Black Panther in Wakanda were ok, even though the two issues not written by Nnedi Okorafor were significantly less strong. The stories were just too short and everything wrapped up quickly enough that the stakes didn't get particularly hi...

I love Nnedi Okorafor's books, but most of this collection seemed fairly uninspired and the pacing just felt weird. The last story, though, redeemed the whole volume. "Under the Bridge" was much more what I would expect of Okorafor: a story with interesting characters where the setting...

Okarafor's issues, even the Venom one, are great. Had this been a 6 issue run where she could really craft a deep arc, I think it would have been a wonderful book. The "filler" Covington issues feel a bit like a corny Saturday morning cartoon in comparison. I look foreward to Okora...

I've been loving the Black Panther series for a while and I was really excited when I saw that Nnedi was going to be picking up the storyline. I still did enjoy this, but of all her books I think it's my least favorite. You can tell this is a transition piece between story lines. It mo...

Nnedi Okorafor?s authorial voice comes through in this book, particularly with the unplugged community in Wakanda and the visit to Nigeria. But this one somehow felt simultaneously talky and punchy, keeping it from being exceptionally moving. Fast paced and an easy read ? worth you...

Three unconnected Black Panther tales, the best by far being Nnedi Okorafor's quick story of Black Panther conquering a purple monster from the hinterlands. I appreciated that Okorafor told a full, fast-paced story that didn't rely on endless philosophizing and dialogue like Ta-Nehisi ...

Black Panther has itself a host of seriously amazing authors - Ta-Nehisi Coates and now NNEDI OKORAFOR?! I *love* her! Binti practically changed my life. And she added some of her special magic to T'Challa as well. I don't know if this was a one-off or what, but I'd love to see more fr...

I was skeptical because I haven't really liked anything Marvel has done with BP in at least half a decade, probably longer. This book was just a delight though. It's just three short stories that aren't concerned with the fate of the universe or anything. It was so nice. ...

I so wanted to love this, but I found the story to be weak although less confusing than the Ta Nehisi Coates' Black Panther I read last year. Read for my 2018 Reading Challenge and 2019 Hugo Nominations ...

The first three issues make this entire volume worth the read. The other two stories seemed a little flat in comparison, the second one feeling very standard comic book, while the last is good, but follows a character I am in no way familiar with, granted Ngozi is a bit interesting, bu...

An assembled volume of what were apparently webcomics originally. The first story (the one with the blackouts) is more of a "width and breadth of the World of Wakanda" outing, where the character of the Black Panther nevertheless comes through for an ending. It's good, and features man...

I appreciated this series of vignettes that explored the relationship of a monarchical society to people who want nothing to do with that, and I also gleaned a new reading suggestion from the book T'Challa was halfway through when the gorogorogoro monster appeared. [grin] Quality subtl...

I had been looking forward to this because I love Okorafor's Binti trilogy, and since the Black Panther movie I've been wanting to dive more and more into Wakanda. This volume leads with a 3-part story by Okorafor, and it is good. It shows the humor and compassion of the King of Wak...

I am incredibly excited that Nnedi Okorafor brought the characteristic magic and brilliance of her novel and short fiction writing to the graphic medium in Black Panther: Long Live The King. Okorafor delves into the most technologically advanced society on Earth: the kingdom of Wak...

"In my younger days I had more time. Now there is just the crown - and the crown is heavy. The crown is also strong - and there is only one." - King T'Challa, dignified and direct as usual Three brief and unrelated action-oriented tales (tails? ha-ha) featured in this edition. In th...

Actual review: 3.5 Although decent, the stakes weren't high enough for me to make this series interesting. I enjoyed the artwork, but the story lacked something big. Everything was solved pretty quickly. ...

I'm not sure what the point of this book was, to be honest. It featured three stories, all connected to Wakanda and the Black Panther, all of which would have fit into the 'World of Wakanda' book. It's like they relaunched 'World of Wakanda' with a new title and hoped nobody would noti...

This was an interesting addition to the recently expanding world of Black Panther. Okorafor's short stories take us on the ground with T'Challa as he navigates some of the challenges that arise for his people and his kingdom. With each one being relatively brief, they serve to build...

This was my first time in Wakanda (outside of the movie), and I was drawn to this particular outing because I have been meaning to check out The Black Panther and I have loved everything else I have read of Okorafor's... So this seemed a good opportunity. This was pretty good, definite...

A somewhat disappointing story. The idea was great and the drawings are amazing, but it's hard to understand why the hell there is a hiatus between #2 and #5 and a completely different story in #3 and #4. The main story should have received more issues, because it had the potential to ...