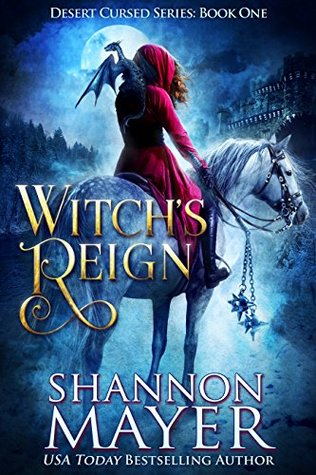 I am cursed by the desert I was born in, and now I wander the space between the Walls meant to hold my kind-the supernatural kind- in. If I can find a way out, if I can find a way to escape, perhaps I can outrun this curse. But that means passing through the Ice Witch's realm-something no one has returned from. But life has a funny way of changing directions on you. A frea I am cursed by the desert I was born in, and now I wander the space between the Walls meant to hold my kind-the s...
Title
:
Witch's Reign (Desert Cursed #1)
Author
:
Shannon Mayer
Rating
:
Genres
:
Fantasy
ISBN
:

B0778ZCG8Z

Edition Language
:

English

Format Type
:

Kindle Edition

Number of Pages
:

370 pages

pages
Witch's Reign (Desert Cursed #1) Reviews
Kindle Unlimited. The world building could have been better. I'm still a little confused about it, to be honest. It's INTERESTING, but confusing. I want to keep reading, to find out what happens to the characters, and in the world overall. As far as characters go, they were ok. I ...

If I'm to be honest, I must start off by saying that If I had known that WITCH'S REIGN was part of the Venom world, I would not not have given it a chance. Thankfully there is only one mention of 'super dupers' in WITCH'S REIGN. WITCH'S REIGN is part of the same world as Shannon's V...

I really enjoyed reading this book a lot more than I thought I was going to. I wasn?t sure at first because it takes a while to warm up to the story and characters but I really enjoyed it. There was so many twists and turns I really had no idea what was going to happen next. Next one...

OMG. This book is so good. Anything by Shannon Mayer keeps me hooked. I think that her trilogy?s se the best. I can?t wait for another book in this series. I couldn?t believe that about Maks and Steve is awful. Something is up with Ish and I hope they figure it out soon. ...

You know that moment when you finished every book a specific author has released and you just can't get enough... Witch's Reign has made me realize I'm there with Shannon Mayer. ...

Witch's Reign (Desert Cursed, #1) is my first Shannon Mayer read ever and I must say I have been missing out! She writes in my favorite way, with sass, class, humor, heart, fight and a strong female lead, reminiscent of one of my favorite authors, K.F. Breene! I could not put this ...

Great Great start to a new series. This is a very good world. Can?t wait for the next book in the series ...

?There were enough 'buts' in that little story to make a gay man giddy.? Vabbeh dai, la grande rivelazione di cosa fosse Maks è stata parecchio telefonata. Che non fosse umano era ovvio. Che fosse un Jinn era scontato. Poteva il tizio di cui la protagonista si sta innamorando a...

"Just what in the sand dunes of hell was going on here?' is just one line I loved from this new book from Shannon Mayer! Witch's Reign (Desert Cursed Series, book 1) is keeper. The story revolves around the main character, a shifter named Zamira (aka Zam) who is asked not to retrieve a...

2.5 stars The ending was the best part. Otherwise this was very blah. ...

In the beginnning, Merlin made a bet with Flora, priestess of Zeus, that Zam was going to survive the challenge Zam vs. Steve. Maks, who we thought is a human, is actually a Jinn who wanted to run away to the humans. He actually came back to save Zamira (lion shifter that actually ...

Awesome Shannon Mayer ALWAYS delivers! I can't wait for the second book. I read this one waaaay too fast. It was over too soon. ...

The Desert Cursed Series is a spin off/continuation of Mayer's Venom and Vanilla. This book focuses on Zamira and her hunt/quest to save a friend. She is "Zamira the Reckless. A Wall Breaker.? There are a lot of secrets and backstory that come out in the book but many pieces are stil...

Wonderful I loved loved loved this book!! The venom and fangs trilogy is some of my favorites by Shannon and I am so happy that she wrote more of this world and the super dupers? Can't wait for book 2 ...

LOVED this book.... Ms. Mayer is constantly bringing in new stories and characters that just suck us in as readers... Zam, Balder and Lila are such GREAT Characters... Steve not so much.... Can't wait to see what the future brings for ALL of them.... GREAT NEW SERIES!!! ...

? I'm not sure I love the world. but I'm dam sure I loved some of the characters!!! Zam especially! The world they live in is scary as hell. And kind of a bit to dam mean!! God now I gotta wait on book two and I want it now!!!!!! ...

There's nothing wrong with Witch's Reign in terms of writing or anything else except that it's a spin-off and because I have zero experience with Shannon Mayer's books at all I felt like I wasn't really into it. I tried to go with the flow while reading but somehow I just couldn't full...

Wary of reading next one... This was my introduction to this author. I really had high expectations since it was recommended by an author I enjoy, but it took me longer than it really should have to get through this book. Checking out the ratings it seems like I am in the minority s...

4+ but ill round up because i liked it. Not perfect, but there was something there that i liked. ...

This story is full of of pace with twists & turns along with friendships made, broken & some heating up to possible romance in the future!! I liked the female heroine, Zamira, she is fierce of heart though she lacks self belief due her differences from her family. She has a...

Another Amazing Series Starter Honestly, is there anything Shannon Mayer writes that isn't amazing?! Rylee, Nix, and now Zam! I had no idea what to expect when beginning this journey. I am eager for book 2! How does Shannon captivate her readers so easily?! ...

Zamira ?Reckless? Wilson, a lion shifter, orphan and cursed. Out of the desert pride of lions that she was once a part of she is one of the few that now remains. After returning to Ish, the woman who took her in and raised her, after a quest to recover a jewel that she needs Zamira...

Witches Reign was pure magic. I really love a supernatural story that grabs you from the first page and keeps you in it's grip the hole way through, constantly trying to guess which way the author will jump with the story. Zam, Maks and Lila were my favourites, Darcy I'm hoping w...

this was the first book I have read from this author. I liked it, kept me interested and wanting to know what will happen. I love Zam and Maks and Lila (the dragon). I will read the next book in this series. ...

Lions and Jinn and Dragons! Oh my! The first chapter or so didn?t quite grip me, but I am so glad I kept reading. I can?t wait for more! ...

Such a well written story! There appears to be background information missing which gives you some gaps. Zamira, Lila and Maks make a very interesting team. You have a mystery with an unusual character playing a part, Merlin. But as much as I loved the story I would like some more info...

Shannon Mayer starts Witch's Reign off with an edge of your seat action scene and doesn't stop until the end of the book. This book was very fast paced with periods of reflection by the main characters in order to elaborate on their history or character development. She does a very goo...

Rating: 3 wine corks Dude: We?d probably would make out with him then leave him, too Heroine: She started off as a cannon and ended up as a fountain in a cul de sac Emotional: Darcy ?something borrows? steve Brutal: Not brutal enough honestly This book seemed so promisi...

Witch?s Cursed is set in the Rylee Adamson world. Ms. Mayer includes characters we?ve met previously such as Alex (from the Rylee Adamson series) and Merlin & Flora (from the Venom Trilogy) very seamlessly. Zamira, a downtrodden feline shifter beaten down by self loathing and a...