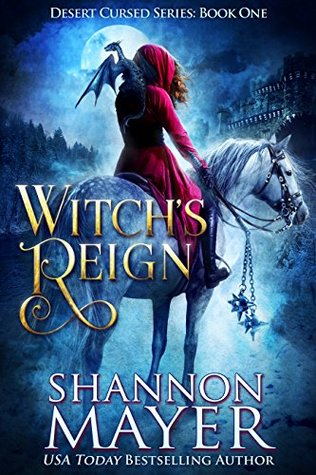 I am cursed by the desert I was born in, and now I wander the space between the Walls meant to hold my kind-the supernatural kind- in. If I can find a way out, if I can find a way to escape, perhaps I can outrun this curse. But that means passing through the Ice Witch's realm-something no one has returned from. But life has a funny way of changing directions on you. A frea I am cursed by the desert I was born in, and now I wander the space between the Walls meant to hold my kind-the s...
Title
:
Witch's Reign
Author
:
Shannon Mayer
Rating
:
Genres
:
Fantasy
ISBN
:

B0778ZCG8Z

Edition Language
:

English

Format Type
:

Kindle Edition

Number of Pages
:

370 pages

pages
Witch's Reign Reviews
Kindle Unlimited. The world building could have been better. I'm still a little confused about it, to be honest. It's INTERESTING, but confusing. I want to keep reading, to find out what happens to the characters, and in the world overall. As far as characters go, they were ok. I ...

I wanted to love this book so much. However, I did not feel it. I enjoyed it enough to finish the book but, I had to really motivate myself at times. Part of it was it took forever to feel like something was going on. I somewhat liked the characters but, I did not feel the emotional de...

I have been a fan of Ms. Mayer since I read her Rylee Adamson series. And this book in a new series just highlights why. She is an excellent writer, her plots are interesting, and her characters are strong. In this book, we are introduced to Zamira who is shapeshifter and steals for a ...

If I'm to be honest, I must start off by saying that If I had known that WITCH'S REIGN was part of the Venom world, I would not not have given it a chance. Thankfully there is only one mention of 'super dupers' in WITCH'S REIGN. WITCH'S REIGN is part of the same world as Shannon's V...

DNF 32% I wanted to stop reading after 5% because it was so descriptive, but I kept on reading waiting for the leading Hero to emerge so I see where the romance was going to go. I waited through the 32% and I realized I didn't like the Heroine. She is a bit full of herself even t...

I really enjoyed reading this book a lot more than I thought I was going to. I wasn?t sure at first because it takes a while to warm up to the story and characters but I really enjoyed it. There was so many twists and turns I really had no idea what was going to happen next. Next one...

OMG. This book is so good. Anything by Shannon Mayer keeps me hooked. I think that her trilogy?s se the best. I can?t wait for another book in this series. I couldn?t believe that about Maks and Steve is awful. Something is up with Ish and I hope they figure it out soon. ...

How have I never read Shannon before?! I picked this book up on a whim because I was looking for something with dragons and stumbled onto this instead and then proceeded to devour it in two hours. If I didn't have things to do, I'd be starting book two right away and as it is, I'm deba...

You know that moment when you finished every book a specific author has released and you just can't get enough... Witch's Reign has made me realize I'm there with Shannon Mayer. ...

I didn't like how the protagonist kept getting walked over by everyone... ...

Great Great start to a new series. This is a very good world. Can?t wait for the next book in the series ...

In the end, I went with 2 stars because I cannot do 2 1/2 stars. This book is riddled with imperfections?the kind that usually cause me to stop reading about 25% in (if I can?t finish a book, it gets 1 star). But, I was able to finish it (2 stars). And, despite its glaring flaws...

2.5 stars The ending was the best part. Otherwise this was very blah. ...

Witch?s Reign is the fist book in the Desert Cursed series by Shannon Mayer. We are introduced to a verity of characters and an interesting world. There?s humor, adventure, and loads of action. Zamira Reckless Wilson is a shifter who everyone thinks can?t shift, she?s curse...

Awesome Shannon Mayer ALWAYS delivers! I can't wait for the second book. I read this one waaaay too fast. It was over too soon. ...

Magical What can I say? The main characters were intriguing, charming, and well developed. I look forward to reading much more. ...

LOVED this book.... Ms. Mayer is constantly bringing in new stories and characters that just suck us in as readers... Zam, Balder and Lila are such GREAT Characters... Steve not so much.... Can't wait to see what the future brings for ALL of them.... GREAT NEW SERIES!!! ...

? I'm not sure I love the world. but I'm dam sure I loved some of the characters!!! Zam especially! The world they live in is scary as hell. And kind of a bit to dam mean!! God now I gotta wait on book two and I want it now!!!!!! ...

There's nothing wrong with Witch's Reign in terms of writing or anything else except that it's a spin-off and because I have zero experience with Shannon Mayer's books at all I felt like I wasn't really into it. I tried to go with the flow while reading but somehow I just couldn't full...

This author has the best covers. I bought the audios for all 3 of the books out in this series and the Aimless Witch book based on the covers alone before I read any of them. I really liked that these covers didn't have the chick standing in the wind with a weapon like every other of t...

Wary of reading next one... This was my introduction to this author. I really had high expectations since it was recommended by an author I enjoy, but it took me longer than it really should have to get through this book. Checking out the ratings it seems like I am in the minority s...

This was such an unexpected gem and I?m so happy my aunt sent it my way. It?s not something I normally would have picked up but I ended up absolutely loving it! Shapeshifters, dragons and jinns? Sign me up!!! This book was so original, I?ve never seen this combination of supernat...

This story is full of of pace with twists & turns along with friendships made, broken & some heating up to possible romance in the future!! I liked the female heroine, Zamira, she is fierce of heart though she lacks self belief due her differences from her family. She has a...

Another Amazing Series Starter Honestly, is there anything Shannon Mayer writes that isn't amazing?! Rylee, Nix, and now Zam! I had no idea what to expect when beginning this journey. I am eager for book 2! How does Shannon captivate her readers so easily?! ...

this was the first book I have read from this author. I liked it, kept me interested and wanting to know what will happen. I love Zam and Maks and Lila (the dragon). I will read the next book in this series. ...

Lions and Jinn and Dragons! Oh my! The first chapter or so didn?t quite grip me, but I am so glad I kept reading. I can?t wait for more! ...

There wasn't anything wrong with this book aside from my misinterpretation. I thought it was a Fantasy Romance rather than a YA fantasy. Cute enough, but not my jam in so many ways. ...

There are so many reviews here I am sure this will get lost. I loved this book. The characters were so real that I was happy to let them in my mind. I have so many questions at the end that I kept hoping there was more pages I was missing. So yes the series will be read in full. It was...

3.5 Stars... There was much to like about this book; the world building was beautifully crafted and intricately woven filled with shapeshifters, witches, Jinn, and dragons... The characters and their relationships were multi - layered and charismatic adding levels of intrigue to the st...

Witch?s Reign is set in the Rylee Adamson world. Ms. Mayer includes characters we?ve met previously such as Alex (from the Rylee Adamson series) and Merlin & Flora (from the Venom Trilogy) very seamlessly. Zamira, a downtrodden feline shifter beaten down by self loathing and an...