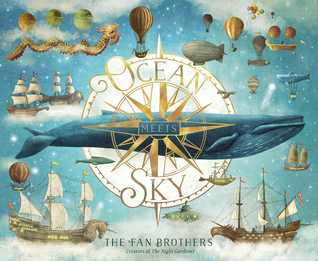 Finn lives by the sea and the sea lives by him. Every time he looks out his window it?s a constant reminder of the stories his grandfather told him about the place where the ocean meets the sky. Where whales and jellyfish soar and birds and castles float. Finn?s grandfather is gone now but Finn knows the perfect way to honor him. He?ll build his own ship and sail out to fin Finn lives by the sea and the sea lives by him. Every time he looks out his window it?s a constant reminder o...
Title
:
Ocean Meets Sky
Author
:
Terry Fan
Rating
:
Genres
:
Childrens
ISBN
:

148147037X

Edition Language
:

English

Format Type
:

Hardcover

Number of Pages
:

48 pages

pages
Ocean Meets Sky Reviews
I liked this book a lot. The whimsical steampunk-ish illustrations are brimful of charming details that could keep any adult or child reader engrossed for hours -- a truly inspired mix of whale, fish, bird, and ship imagery. The story is an ambitious blend of light and heavy, realistic...

There's a line where the sea meets the sky - it caaaaaaaalls meeeeeeeeeeeeeeee (Honestly, I could not get this song out of my head while I was reading it.) Another gorgeous product of the Fan brothers. Beautiful illustrations, and a sweet story. ...

Four stars for the text (it?s not so much of a story but more of a dream journey) and five shining stars for the stunning illustrations! I?m turning into a huge fan of The Fan Brithers. ...

Gorgeous. This book brings up a topic that all kids need the opportunity to think about and discuss. ...

This is such a cool book! This is the first one I've read by the Fan brothers, and it won't be the last. What a fun, imaginative story, one that takes readers on a journey by boat with a young fellow who longs to see where the ocean meets the sky. I adore all the art in the book, b...

I loved the Fan Brothers' work in Dashka Slater's The Antlered Ship. I think I love this book -- which the brothers wrote as well as illustrated -- even more. It's rich and allusive; kids will most likely see it as a story about adventure, and adults will recognize it as a story about ...

Magical and stunningly beautiful, this picture book will speak to kids and their parents. ...

My Grammer turned 92 this year; she won't turn 93. She would have loved this book. My Gramper never saw his 90s. He taught my Mummy a song about the Man in the Moon, which his mother had sang to him, and which my Mummy sang to me when I was little, and I in turn sing to my children....

Lush drawings and a sweet story about remembering a lost loved one. ...

Everything about this book is soothing and quiet with a lovely message. I loved it. ...

Beautiful graphite and digitally colored illustrations. The little boy's dream takes him past stacks of books, giant sea shells, a blue whale, jellyfish, and many other things. ...

Absolutely gorgeous book about a little boy remembering stories his late grandfather told him about where the ocean meets the sky. My child and I were both enraptured. This is on my Caldecott shortlist for the year. ...

Young Finn builds a boat to honor his late grandfather, who spoke to him often about exploring the magical place where the ocean meets the sky. But building is hard work, so Finn falls asleep afterwards, and his dreams take him to all sorts of wondrous places. The artwork is the usual ...

Stunning & heartfelt. Pair with Grandad's Island and Off & Away. ...

A beautiful book with absolutely stunning illustrations. The pictures alone are worthy of a 5 star rating. With diverse characters this story spans across generations and is heartwarming. This is definitely a treasure of a book. ...

Very sweet book of a young child remembering his grandfather. ...

The Fan Brothers have done it again - another stunning picture book. This time it provides us with comfort after the loss of a loved one. ...

The Fan Brothers are back with another visually stunning picture book. Sweet and tender but full of magic. ...

Full of imagination, some wordless pages, and illustrations similar to David Wiesner. ...

I LOVE the illustrations in this book! ...

Lovely story of remembrance and imagination. Soft yet bold illustrations that convey wander and wonder. ...

Never less than gorgeous illustrations from the Fan brothers. Part dream, part reality, a little boy remembers his grandfather by visiting the place where ocean meets the sky. ...

This book is absolutely beautiful!! ...

Minunat?. Am scris pentru ea un mic articol pe blogul meu. Musai de avut Ón bibliotec? :-). ...

Beautiful in every way even down to the characters name, Finn. I loved everything about this book, the illustrations are breathtaking and you can pour over them for ages. I loved the whole story and the theme and as someone who adores the ocean this book just hit everything in the righ...

4.5 This is probably the most aesthetically pleasing book I have ever had the pleasure of looking through, but that aside, the story is touching and illustrations are gorgeous and I can't wait to find an excuse to buy this book. ...

Sometimes books come into your life at just the right time. Another beautiful book from the Fan Brothers. They have such a gift! I love everything they do. ...

Wow! This book has AMAZING artwork. It is also a wonderful story about a little boy, who had lost his grandpa and who decides to honor his grandfather on his grandpa?s birthday by building a boat and going to visit the special place where ocean meets sky - a place his grandpa used...