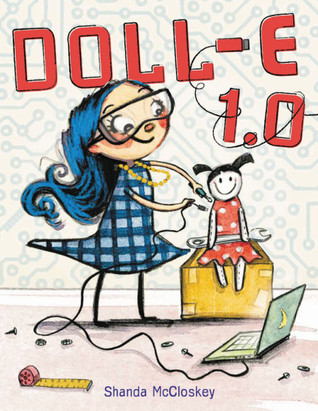 A STEM-friendly tale of a girl and the doll she upgrades to be her new friend, for fans of The Most Magnificent Thing and Rosie Revere, Engineer. Charlotte's world is fully charged! With her dog at her side, she's always tinkering, coding, clicking, and downloading. She's got a knack for anything technological--especially gadgets that her parents don't know how to fix! Then A STEM-friendly tale of a girl and the doll she upgrades to be her new friend, for fans of The Most Magnificent Thing...
Title
:
Doll-E 1.0
Author
:
Shanda McCloskey
Rating
:
Genres
:
Childrens
ISBN
:

0316510319

Edition Language
:

English

Format Type
:

Hardcover

Number of Pages
:

40 pages

pages
Doll-E 1.0 Reviews
Originally posted on Creative Madness Mama.Today's generation of children has different toys from the past days I remember. Everything today is very electronic and active. In some ways there is less imagination at play, but not completely. Doll-E 1.0 is a fun, creative, and attractiv...

I seem to be ambivalent about this in the opposite direction of a lot of other reviewers! They wanted Charlotte to have non-tech-y play with the doll (which she does somewhat). I was a little confused as to why it was portrayed as inherently a virtuous and positive change for Charlotte...

There is so much to love about this book. The main character, Charlotte, is brilliant--like a pint-sized professor. She's always coding or tinkering or fixing the household electronics. When her parents become concerned that she is too plugged in to electronics, they buy her a low-tec...

This is a delightful read for parents who occasionally think the world should slow down and their kids should take a break from technology and instead play with a low-tech doll. Author/illustrator Shanda McCloskey beautiful portrays the creative and stem-inspired Charlotte (and her tru...

What does iGen make of esoteric low tech? They frankenstein it into something more suitable to their sensibilities. When Charlotte?s parents hear about the dangers of too much technology for young children, they buy her a doll. At first, she is confused, frustrated, and disappoint...

Unique combination of the stereotypically feminine and masculine to illustrate how one child can be drawn to both/all gender expressions. ...

This one leaves me ambivalent. I love Charlotte's creative and inventive spirit, but why does she have to turn the doll into a gadget before she can enjoy it? How about just some imaginative, non-technological play? ...

This is my new SUPERFAVORITE!!! ...

I absolutely loved this book! Charlotte is such a lovable, memorable character. She's girly yet geeky, sweet and smart. Her little dog Blutooth is a happy fellow... most of the time. He isn't particularly thrilled when her new toy doll arrives. And neither is Charlotte! But with a ...

When Charlotte's parents get in the way of her techie world by giving her a doll that has a built in speaker and battery box, they were not expecting her to upgrade Doll-E! My favorite moment in this book is when the doll calls Charlotte Ma-Ma, and Charlotte is aghast! How can she be a...

This is how you properly investigate how children are growing up in the modern world without it coming off as a "back in my day" diatribe from someone who doesn't know how to change with the times. I loved that Charlotte was STEM inclined, and that she updated her doll into a toy s...

I like that Charlotte is tech-savvy, but why can?t the doll just be a doll? I was desperately hoping this would focus a little more on imagination and how that fuels creativity. You know, the actual power of the mind instead of just knowing how gadgets work. Instead of focusing on ?...

Cute but not #notaclassic. used in daycare stories January 2019 ...

I love the way this book turns gender stereotypes on their head. Charlotte loved to tinker, code, and fix. Worried she spent too much time in virtual world, Charlotte's Mom bought her a doll. "Charlotte dragged the human-shaped pillow to her room." Not surprisingly, she did...

Sometimes you feel like reading a super cute picture book haha ?? ...

Charlotte is a techie, she's always helping her parents with their electronics and even building her own. But her parents worry that she's maybe too techie and wonder if she shouldn't do some good old fashioned pretend play...so they get her a doll to play mom or doctor with. But a "hu...

It?s techno-trouble for clever Charlotte, the heroine of McCloskey?s DOLL-E 1.0, because she doesn?t comprehend the purpose of her new toy, a doll. With her trusty canine sidekick Blutooth, Charlotte is constantly on call for fixing the gadgets and devices that break and baffle h...

I really enjoyed this book and my robot-loving girly-girl did too. A cute concept with lots of vocabulary and themes that today's kids will find familiar. The perfect companion to Rosie Revere, Engineer and The Most Magnificent Thing. ...

Very entertaining STEM-related fictional picture book about a little girl who loves to tinker and code. Concerned that Charlotte may be too technologically oriented, her parents buy her a doll. But Charlotte has no idea what to do with the doll...until she discovers it has a power supp...

I love her hair - midnight blue! I love her engineering spirit (so true) Imagination means there are multiple ways For young girls with their dollies to play: Robots and races and upgrades so fun, Not to mention pram rides with dogs out in the sun. Miss 3 is very much enjoying ...

A cute story about a girl (Charlotte) who receives a doll as a gift, but isn't sure how to play with it. Once she learns the doll has a battery pack and is able to say 'ma-ma' she becomes excited and begins to upgrade the doll. However, this upsets the dog (named Bluetooth), who tears ...

This book was very cute! The art was very sketch-like and simple, but pleasant to look at. The colours were also nice to look at, with enough white spaces to not make the pages look too busy, or too full of elements. I also really like the two main messages that I took away from this b...

I liked the sketchy illustration style, and all the hidden things in the pictures (anyone else catch Blutooth playing on a MakeyMakey?). Wasn't quite a 5 star read for me though, but I couldn't quite put my finger on why. Maybe I wanted her to be a little more unplugged? Still, it's a ...

Fantastic book for STEM lovers and kids who love to tinker with their toys. Charlotte's parents are concerned that she's a little too tech-y, so they buy her a doll. But when she discovers the doll has batteries, she sets out to transform her "plain" doll into a wonderfully unique c...

Shanda McCloskey, children's illustrator, and first time author wrote this cute picture book with excellent illustrations, about a little girl named Charlotte, who LOVES technology and programming and downloading and anything else that has to do with that. When her parents buy her a do...

This book is so much fun! My 5 year-old and 8 year-old girls LOVE it. (I even caught my 11 year-old son sneaking a read.) The illustrations are fun and appealing, the color palette (the blue hair!) really draws you in right away. It's the kind of book you can't help but pull off the sh...

Charlotte loves to build, tinker, code, and create. She is happy with technology and enjoys fixing things. When she receives a doll as a gift from her mom, she is disappointed until she realizes she can use her tinkering skills to give this doll some life. With the Makerspace Movement ...

Open Book Reviews by Megan Schmelzer www.openbookreviews.org Doll-E 1.0 is a fun mix of the technology of today?s world mixed with the classic toys we had from our world. In Doll-E 1.0, you meet a little girl named Charlotte, and she is a technology guru. She can program, she ...

This was such a cute book about how this girl engineered her new doll into a robot. I love how the author threw in STEAM and science this picture book. ...