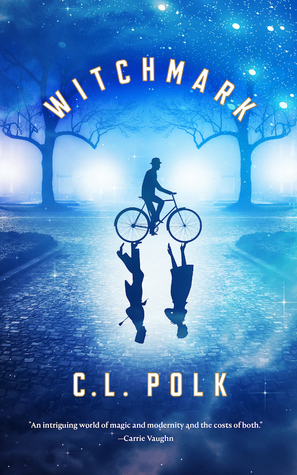 C. L. Polk arrives on the scene with Witchmark, a stunning, addictive fantasy that combines intrigue, magic, betrayal, and romance. In an original world reminiscent of Edwardian England in the shadow of a World War, cabals of noble families use their unique magical gifts to control the fates of nations, while one young man seeks only to live a life of his own. Magic marked M C. L. Polk arrives on the scene with Witchmark, a stunning, addictive fantasy that combines intrigue, magic, betr...
Title
:
Witchmark (Witchmark #1)
Author
:
C.L. Polk
Rating
:
Genres
:
Fantasy
ISBN
:

B0756HL8LR

Edition Language
:

English

Format Type
:

Kindle Edition

Number of Pages
:

272 pages

pages
Witchmark (Witchmark #1) Reviews
I have to admit that the stunning cover of this book was what first caught my eye. Then, I read the blurb and my weakness for a world that is like our, but with magic won me over. Just imagine a world that is a reminiscent of Edwardian England, where a war has been going on, between Ae...

A strong 3 1/2 stars I really liked this. It was a fun historical fantasy. It felt like a modern urban fantasy procedural, but with a slightly historical time frame. It took place in an alternative world, but during WWI, which gave it a mildly historical feel. The characters, and wo...

An amazing book; an extraordinary first book. Enthralling, fast-paced, and romantic, Witchmark unveils a fascinating world. Polk writes with assured ease. I can't wait for her next book! ...

2.5 stars Wanted to love this one but struggled to connect to its writing and characters. I most enjoyed the elements of class conflict and family strife. C.L. Polk writes about class privilege and servitude well, and the tension between our main character, Miles, and his family hel...

A really lovely, lyrical romantic fantasy novel with an Edwardian feel and a truly distinctive magical system. I was lucky enough to get an ARC, and I enjoyed it so much! It isn't fast-moving, but it's really lush, gorgeously written and full of emotion. ...

A lovely adventure/romance featuring a shell-shocked veteran working in a hospital in the wake of a devastating war, and the mysterious and aloof being who is here to investigate the disappearance of dead souls. Very strong atmosphere and strong characters (sister/brother relationship ...

WITCHMARK is a sweet story full of magic, bicycles, romance, and mystery. It'll delight fans of Edwardian England, though it's based in an alternate world where the war between Aeland and Laneer impacted lives and changed fates. I was immediately drawn into WITCHMARK as it jumps straig...

Delightful magic, an intriguing mystery, a well-shaped world, sweet M/M romance, a sexy shaving scene, and bicycle chases. It's a good one. ...

Mon avis en Français My English review I must say that when I saw the cover and when I saw that this novel was staging witches, I did not look for more and I plunged into it. The world in which Miles lives is not easy, especially when someone has powers. He has been running a...

Book #38 for 2018 The Messy Middle Summer Reading Challenge: A mystery The Goodreads Summer Reading Challenge: Take Pride - Read a book written by an LGBTQIA author or that features an LGBTQIA character My Personal Reading Challenge: - A book published this year - A book you picke...

Disclaimer: I received an ARC of this book from my place of employment. 2.5? Maybe? My main problem with this is that it reads like fan fiction (I'm saying this as someone who has read more 100k+ fics than I could possibly count). When you start reading a fic, you already know wh...

So good! I loved this. Miles is a great character and I loved following along on his adventures. The mystery is really intriguing and I found it hard to put down as the story progressed. The world-building is top-notch and the magic system is really cool. The setting is an Edwardian-En...

"I wish I was funny, if only to hear his laugh again." 4.5 stars I absolutely loved this! Anyone looking for an adorable LGBT+ romance, historical fantasy, murder mystery, that explores upper class privilege, and the consequences of war? It's right here! The beginning was a bit t...

At the beginning of the year, I had a little Christmas money burning a hole in my pocket, and I used it to preorder some of my most-anticipated books of 2018. It turned out to be super fun to get books in the mail, especially books that I was so excited to read. I still like to get new...

Witchmark is the first installment to a fantasy, clearly inspired by Edwardian England. While this book certainly has its flaws, I ended up falling for it very hard. My falling hard for this book translated to reading it in one sitting. Luckily my toddler slept on and on and on dur...

(I thank Netgalley and Macmillan-Tor/Forge for sending me the ARC in exchange for my honest review) This book was just a perfect read for me! I loved it so much that I've already pre-ordered the paper book (no hard cover version, a shame, but such a magnificent cover!) and will cert...

If you?re a fan of Martha Wells? work, you may enjoy this debut fantasy novel with a gay lead. Miles Singer is in hiding. He ran away from his family, escaping a dehumanizing future as a walking magical battery. But if witches like him aren?t bonded to the elite weather mages,...

historical ? magical ? gay ??? murder mystery ? I adored this. it wasn't anything like what I expected ...

THANKS TO THE PUBLISHER AND NETGALLEY FOR PROVIDING ME WITH A COPY FOR REVIEW, THIS DID NOT AFFECT MY OPINION OF THE BOOK IN ANY WAY. Witchmark is so refreshingly different from everything else I?ve read lately. It pulls elements from all sorts of familiar story types in fantas...

That cover though. I?m powerless against that cover and all the magical steampunk romance it promises. Take my money! ...

Where do I even start... I?ve struggled a lot while reading it. The atmosphere of the story is oppressive and unsettling, it?s been some time since I?ve read the book like that and my poor heart has tried to abandon me but I?ve finished the book and I?m very pleased about ...

This...did not work for me. Everything about it felt underdeveloped (the worldbuilding, the plot, the characters, the romance, the relationships, seriously EVERYTHING) and I skimmed the last 20% because I just didn't care. I read in another review that it feels like the author just ass...

Y'all, please read this book. Cool magic and happy gays. s/o to tor.com for sending this to me. ...

At first, a small voice inside my mind whispered: maybe you've just come to expect too much?, but then another, louder, voice replied, firmly: nope, you've just read enough books that have wow:ed you to know that this isn't one of them . ...

Witchmark is a novel I find very difficult to sum up, because it's one of the few books which are many different things at the same time - a sweet m/m romance, a paranormal, a murder mystery, an exploration of class privilege, a novel about the consequences of war - and manage to devel...

I must admit that the first few pages started off quite slow as the introduction of Dr. Miles Singer and Mr. Hunter seemed to include all these unnecessary details that did nothing more than paint pictures rather than tell the story. This form of writing was present throughout the whol...

Hmm, I enjoyed this one! A story that starts off rather quiet, at times even domestic, until a few isolated incidents- a doctor trying to heal a troubling delusion shared by his patients who are soldiers returning from war, the apparent murder of a leisure column journalist, and a f...

You know when you read really good fanfiction, and yes, you know that there might be a few tropes, but you are just so invested in everything within the story, and you want to praise it forever and send it to all your friends? That?s how I feel about this book. This has all the good ...

Originally published on The Nerd Daily | Review by Holly Angus Our protagonist Sir Christopher Hensley goes by the alias Miles Singer, in order to escape his discovery and continue living a mundane life as a psychiatrist in a veteran?s hospital. His country has been at war; one wh...

Every so often I read a book that reminds me just how good MM fantasy can be and this is one of them. Witchmark has flavors of steampunk, fantasy, and some Fullmetal Alchemist-like plot elements which result in a very enjoyable magic mystery conspiracy novel. The characters are all ful...