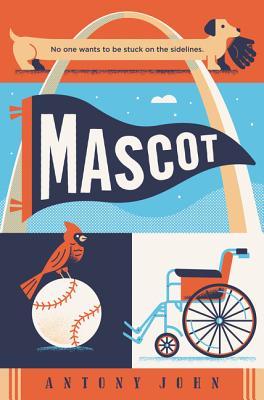 Noah Savino has been stuck in a wheelchair for months. He hates the way people treat him like he?s helpless now. He?s sick of going to physical therapy, where he isn?t making any progress. He?s tired of not having control over his own body. And he misses playing baseball?but not as much as he misses his dad, who died in the car accident that paralyzed Noah. Noah is scared h Noah Savino has been stuck in a wheelchair for months. He hates the way people treat him like he?s helple...
Title
:
Mascot
Author
:
Antony John
Rating
:
Genres
:
Childrens
ISBN
:

0062835645

Edition Language
:

English

Format Type
:

ebook

Number of Pages
:

336 pages

pages
Mascot Reviews
What a great book! Noah is stuck in a wheelchair, thanks to a car accident that killed his dad, and is angry that he can't play baseball anymore, angry that he can't move his body like he used to, and angry that everyone is trying to make him be positive when he can't find anything to ...

What happens AFTER the accident when the first reactions are done and everyone else has moved on with the normal lives? Noah, once star catcher, is now the kid in the wheelchair on the sidelines. His teammates side with the bully who taunts him, his mom struggles to get him in and out ...

Increasingly there has been a push in children's literature for strong female characters and books that celebrate girl power. Even though strong female characters have always been the dominating force in children's literature (Jo March, Laura Ingalls Wilder, Anne Shirley, to name a few...

Schneider Family Book Award-winner Antony John does not disappoint with his second book about a disabled teen and his first middle grade book. Noah, a middle school student who must use a wheelchair thanks to the accident that killed his father, is as realistic as seventh graders come....

Noah is a 7th Grader who used to be a big baseball fan...he was a great catcher for his Little League team, and he and his dad bonded over Cardinals games. But then came the car accident that killed his dad and landed Noah himself in a wheelchair. Now he's pretty angry at the whole wor...

I shouldn't be surprised by how much I liked this - I am always a sucker for a good book about an average middle grade kid going through some less than average life experiences - but I really am glad I gave this one my full attention. These are good kids with good hearts - even the so ...

E ARC from Edelweiss Plus Noah Savino lives in the St. Louis neighborhood of the Hill, which is great, because he loves baseball. Well, he used to. After a devastating car accident, he is in a wheel chair and trying to figure out a new normal. This doesn't include Logan, his for...

I adored this book! If I hadn't sworn off of giving the stars, I'd give it ten! Review soon; but don't miss this extraordinary book! ...

"Mascot" is a hometown adventure story filled with new beginnings. When Noah returns to school after the accident that left him paralyzed and killed his father, his old Little League teammates are anything but kind. Luckily, Noah befriends new kid and fellow outcast Dee-Dub, and, with ...

Really, really liked. If kids loved Wonder...hardships and and awkward Middle School, this is so good! ...

I've been following Antony John's career for a while, and while I've enjoyed all of his books, my favorite of all time was Five Flavors of Dumb. He just captured those characters so beautifully and I laughed and cried along with them and felt like we were friends by the end. Mascot is ...

Sometimes books soar like a plane in the opening chapter, then slowly lose altitude and crash. Not this book. This book is like a symphony, opening with a few instruments. The next thing you know the entire orchestra is involved and your mind is blown by the beauty of it all. The s...

Antony John captured so many topics in this book, whether as focal points or minor tidbits. There were two boys with disabilities, for completely different reasons. And I loved the spirit and determination Dynamo had. There was a huge warning not to be on your cell phone while operatin...

Fun, heartwarming story about friendship, second chances, and perseverance. Noah narrates this story that starts after the accident that kills his father and puts him in a wheelchair. He is back at school and just wants things to go back to "normal." He just wants to forget what happen...

I read Mascot with my 11 year old (5th grader) and we both adored it. Noah Savino is a great protagonist. We meet Noah after he's been paralyzed in a car accident that also killed his father. (We later learn how that all went down and let's just say I'm now super careful not to to have...

Oh my god, you guys. I haven't found a book yet that delves into cell phone use while driving, and this one does it SO POWERFULLY HOLY CRAP. It's terrifying and deadly and oh-so-common in this day and age, and Mascot addresses it in the most horrifying and realistic way possible. Give ...

Mascot by Antony John, 336 pages. HarperCollins, September 2018. $17. Language: G; Mature Content: G; Violence: G BUYING ADVISORY: EL, MS - ESSENTIAL AUDIENCE APPEAL: HIGH It?s been a year since the car accident that killed Noah?s father and landed Noah in a wheelchair...

I loved this book! The characters were authentic and likable. The premise for the story was interesting and I found it entertaining. Check it out! ...

Graded By: Brian Cover Story: Baseball Town Drinking Buddy: Get 'cher Cold Ones! Testosterone Level: First Base Talky Talk: Play Ball! Bonus Factors: Weird Kid, St. Louis Baseball Bromance Status: Teammates Read the full book report here. ...

DNF. 150 pages in. The "clever irony" of a kid who was a baseball player, then in a car accident, now in a wheelchair is a thought experiment that acts as if actual disabled people don't exist. And he doesn't seem to know how disabled bodies work - he's serving as catcher for someone p...

My students enjoyed it! ...

Anyone who has listened to me talk about books in any capacity knows that I absolutely adore middle reader books. There are a lot of reasons why, and this book helped me realize yet another one! This book helped me put into words why I appreciate young protagonists so much - and it's b...

I really liked this book, it was sad in some ways, but it was also funny and happy in other parts. I think that this was a really good book and I would recomend it to someone who likes realistic fiction. ...

Good book. Sad but really interesting. The end is really exciting. But In a wheelchair can be hard. ...

This book was a really good solid juvenile fiction book. Noah and his friends are such strong characters. I love them all. I don't usually expect much out of juvenile fiction books because juvenile fiction is for younger readers but this book really surprised me and I really enjoyed it...

Noah is up to his neck in challenges. A car accident killed his Dad and left him in a wheelchair. All of his world has turned upside down. And yet there is still school- he in the seventh grade- and his favorite baseball team, the St. Louis Cardinals to cheer for. How will he get along...