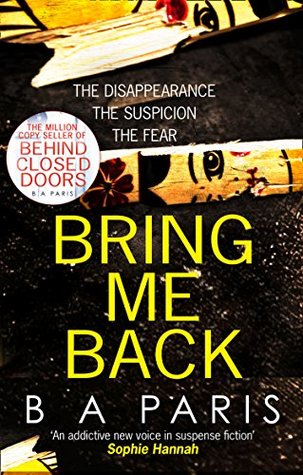 Finn and Layla are young, in love, and on vacation. They?re driving along the highway when Finn decides to stop at a service station to use the restroom. He hops out of the car, locks the doors behind him, and goes inside. When he returns Layla is gone?never to be seen again. That is the story Finn told to the police. But it is not the whole story. Ten years later Finn is e Finn and Layla are young, in love, and on vacation. They?re driving along the highway when Finn decides to stop...
Title
:
Bring Me Back
Author
:
B.A. Paris
Rating
:
Genres
:
Mystery
ISBN
:

B074579WC5

Format Type
:

Kindle Edition

Number of Pages
:

384 pages

pages
Bring Me Back Reviews
2.5 stars I read this with the Traveling Friends group on Goodreads and most enjoyed it more than I did. This book has a compelling premise and a strong start. I thought the first half was interesting enough even with some inconsistencies. I was still invested enough to keep readin...

Great beginning.... .... mediocre middle.... Psychological thriller with Russian Dolls? A little goofy....but I was a willing reader. While there was suspense...there was also something silly too. Silly sentences sneak into the dialogue..., but I was still a willing reader. The add...

This was an excellent thriller from B.A. Paris. She delivers again! Finn and Layla are a couple on vacation. They are driving through France and stop at a gas station to refuel the car. He goes in to pay and when he returns to the car Layla is gone without a trace or explanation. ...

I didn?t have as much enthusiasm for this book as some other reviewers. It does start out strong. The premise is that twelve years ago, Finn?s girlfriend went missing at a rest stop on their way from a trip to Paris back to England. Now that he?s engaged to be married to someone ...

I?m the kind of gal that writes my reviews as I go along, so I don?t forget to bring up how I feel as I?m reading the book. So, I had almost a complete review written on Bring Me Back, which I just had to jettison when I got to the end. Everything I had felt for the characters as...

Definitely suspenseful, quickly paced, and I did appreciate the format. Alternating viewpoints worked very well for this story. Had no clue exactly what was going on most of the time, totally fooled. Didn't like any of these characters, suspected Finn of many things, Ellen seemed the m...

3.65 Stars* (rounded up) What would you do if your past came back to haunt you? Could you let it go? Would you want to? I know my answer? the question is: how do Finn and Ellen, the main characters in ?Bring Me Back? by B. A. Paris, feel about it. Read on to find out my friend...

What is it you want Layla? ... YOU 1 1/2 stars. I swear I gave it my best shot. I really wanted to love this book. Paris' Behind Closed Doors kept me on the edge of my seat, but her sophomore novel The Breakdown bored me, so I figured two out of three ain't bad, right? Sorry, it's...

*2.5 Stars* After having LOVED this author?s past two novels, it pains me that I cannot say I loved this one as well. But I can say some other *stuff*, so here goes... I?ll start with the positive because life is good: When I open a B.A. Paris novel, I know I?m about to be ...

3.5 stars Have you ever read a book where you think "It was okay. I liked it." and then find yourself thinking about it and then realize that you enjoyed it much more than you initially thought? I had that experience with this book. Upon reading it, I kept thinking about it and the ...

Bring Me Back by B.A. Paris is a 2018 St. Martin?s Press publication. Twelve years ago, Finn?s girlfriend, Layla, vanishes into thin air. Naturally, he was a suspect, but as time goes by, he is eventually cleared of any wrong doing, and even becomes good friends with the detect...

Whoop whoop this authors done it again, shes brought me to my reading knees. This authors view on domestic noir is amazing, never seems to fail making my spine tingle and that hairs on the back of my neck come up on end. I always feel a chill when I read B A Paris books. Finns ...

Oooooh!! Plans that most certainly go awry. A young British couple seem to be pivoting on a dangerously slippery slope that was never left behind on a skiing trip in France. Finn, an investment broker, pulls his car off the road in a secluded area in order to use the restroom fa...

Holy Moly! The 'Do Not Disturb? sign was definitely displayed (mentally if not physically) while I read Bring Me Back! Seriously, if this book had been edible, I would have made myself ill devouring it! British couple Finn and his girlfriend Layla, are on their way home from a sk...

Well done B.A. Paris! If you are a serious thriller fan, this book has everything you crave in a perfectly crafted thriller! When Finn?s girlfriend Layla vanishes one night he?s left devastated. Like being frozen in time, he?s been unable to move on for years. Part of the prob...

My reviews can also be seen at: https://deesradreadsandreviews.wordpr... 2.75 Stars Twelve years ago Finn?s girlfriend, Layla disappeared from a rest stop on their way home from vacation. In his statement to police, he said that Layla was in the car when he stopped to use the r...

Sometimes you read an author?s work and realize that you and the author just don?t ?click?, that is the case with me and B.A. Paris. I had read ?Behind Closed Doors? and did not really enjoy it but I was willing to give this new book a read. This is what I discovered. Th...

Holy crap was this good!! I requested this from Net galley based on last year's The Breakdown. Which, if I recall, I began one night and couldn't put down. Which is exactly what happened again! So note to future self: if you start to read a B. A. Paris novel, don't make any plans! ...

3, I'm never going to get it right, turns out I'm the worst detective - don't call me if you need help solving a mystery stars! Another great book of the month choice by the Traveling Friends! Bring Me Back tells the story of 3 main players: Finn, Layla, and Ellen. Finn and Layl...

Entertaining but utterly ridiculous! The plot is derived from a soap opera and the main character is a moron. However, it's a fun mindless read! Unfortunately, I was less than impressed with Bring Me Back. I feel like all the soap opera watching I have done helped me to figure...

4 entertaining stars to Bring Me Back! ? ? ? ? I?m beginning to look forward to B.A. Paris? new release each summer! Her debut, Behind Close Doors, remains my favorite, but Bring Me Back is an entertaining thrill ride! First of all, Paris knows how to hook me early ...

3.5 Russia, Russia, Russian Dolls?. It seemed like an invasion of the Russian dolls! I may need my own set now as the characters really seemed to enjoy them (really??!!) This one starts off with a bang! I was totally creeped out by the truck rest stop (I?ve always found them...

4.5 stars for this ridiculously fun, brilliant & entertaining book! BRING ME BACK by B. A. PARIS had me racing through the pages and finishing this in just two sittings which I haven?t done in quite some time. I really upped my Kindle ?time left in book? reading average wi...

Bring Me Back... well it didn't BRING ME a five star read BUT I was definitely impressed with this one way more then her first two novels. B.A. Paris delivers a clever and unique psychological thriller that surrounds Russian dolls. Yes... Russian dolls.. Surprisingly, I actually lik...

Addictive, fast-paced, and mind boggling! It?s been awhile since I could refer to a book as ?unputdownable? but here we are. Finally! Every single theory I had about where the plot was going was given to the main character as part of his ideas at a little past the halfway ...

Please don't hate me. I have mad respect for B.A. Paris; I felt her debut novel Behind Closed Doors was a forerunner in the domestic abuse thriller genre and I think the quality of her writing is incredible. Unfortunately, this one was just too over the top for me. Like a few other ...

I don?t mind suspending belief (it?s commercial fiction after all) but when I enter the realm of the ludicrous count me out. ...

I couldn't defy the voice but I gave Finn a clue, hoping he would understand. And bring me back, before it's too late. Sometimes I don't understand the genres books are labeled under and how they came to be that genre, and in that case, this is one of those books. I can't see ho...

Unsettling in the best possible way!!! Does anyone put the ?psychology? into psychological thriller quite as well as B. A. Paris??? Paris really has a way with messed up characters and disturbing situations. This book is a mind game from the first chapter right through the very ...

3.5/5 stars! BA Paris's Bring Me Back will be released on June 19, 2018, but when I received word that St. Martin's Press was sending me a review copy, I screamed and jumped for joy. If you know anything about me, you'd know that BA Paris is one of my favorite authors. She slayed ...