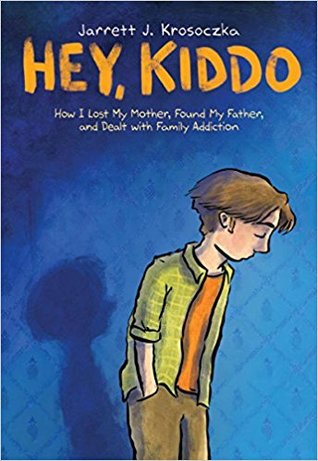 Hey, Kiddo is the graphic memoir of author-illustrator Jarrett J. Krosoczka. Raised by his colorful grandparents, who adopted him because his mother was an incarcerated heroin addict, Krosoczka didn't know his father's name until he saw his birth certificate when registering for a school ski trip. Hey, Kiddo traces Krosoczka's search for his father, his difficult interacti Hey, Kiddo is the graphic memoir of author-illustrator Jarrett J. Krosoczka. Raised by his colorful grandparents, who ado...
Title
:
Hey, Kiddo
Author
:
Jarrett J. Krosoczka
Rating
:
Genres
:
Sequential Art
ISBN
:
Hey, Kiddo ...Less Detail edit details

Reader Q&A

Popular Answered Questions

Kristi Starr This isn't a book I would hand a 5th grader. In addition to the language, the content is pretty mature. Krosoczka's mother was a drug addict, and as a…moreThis isn't a book I would hand a 5th grader. In addition to the language, the content is pretty mature. Krosoczka's mother was a drug addict, and as a young man he was pretty bitter about it. The book briefly depicts violence and one image could imply sex (only imply - it's not explicit). It's pretty dark in places as he struggles with his mother's incarceration and feelings of abandonment. At the same time, it's hopeful. I'm adding it in my HS library for sure, but I wouldn't recommend it for the average 5th grader.(less)

Edition Language
:

English

Format Type
:

Paperback

Number of Pages
:

320 pages

pages
Hey, Kiddo Reviews
A few years ago, children's author Jarrett J. Krosoczka (Punk Farm picture books; Lunch Lady graphic novels) did a TED talk with 4 hours' notice, about his unusual upbringing: "How a Boy Became an Artist" (https://www.ted.com/talks/jarrett_j_k...) This book is the graphic novel memo...

After just a few pages of this book, I wanted to find Jarrett Krosoczka and hug him. Just . . . hug him for a minute. I met him, got my book signed, he was so nice! And handsome, and well dressed! And I was like, Hey, what a great guy! Love those New Jedi Academy books! But now, having...

I read this 300 page graphic memoir in one sitting. It's a fairly straightforward and simply sketched--which is to say intimate--tale of a boy growing up without a father and mostly without his mother, who was a heroin addict. He was raised by his grandparents, Joe and Shirley, who com...

Hey, Kiddo is an amazing graphic memoir. I saw it listed as a finalist for the National Book Award, and I was drawn to Jarrett's story of his dysfunctional family. Jarrett was raised by his maternal grandparents because his mother was a heroin addict. His mother, Leslie, was mostly...

Every once in a while, a seminal reality-based graphic novel hits with profound impact. Fun Home. Stitches. March. Persepolis. Maus. Blankets. Hey Kiddo can now sit at that table. Bravo, Jarrett. ...

Heartwarming (hold the cinnamon sticks) fare to finish on the Eve. Yeah, some dark issues to grow up with, having a mom with a drug addiction and an absent father, but the grandparents, Joe and Shirl, steal the show. Shirley is especially hysterical, even if she does smoke and drink to...

This was wonderful graphic novel memoir. Complex characterizations. Gorgeous art. Striking colors. All around a great package. The author's use of materials saved from though out his life added tremendously to the authenticity of the narrative. Even the use of his grandmother's wallpap...

Did you ever finish a book and immediately want to hand it to everyone you know? This year, it's this one. Jarrett's story is disquieting, genuine, and ultimately so full of hope my heart beat right out of my chest. This acknowledges that childhood is hard and ordinary. That ...

I've long been a fan of the Lunch Ladies graphic novel series and wondered about the imagination behind such comics. Thanks to the honest, often gut-wrenching content of this memoir, now I know more about Jarrett J. Krosoczka. Like so many youngsters, Jarrett's idea of family wasn't th...

Sometimes I get a little tired of graphic memoirs. I think in an effort to legitimize the genre the publishing companies and bookstores have a tendency to push them harder to convince us that not every one of them is a glorified Superman comic. But this is something special. Jarrett...

This is author-illustrator Jarrett Krosoczka's memoir of his childhood. He was raised in Worcester, MA, adopted by his grandparents, because his mother could not raise him as she was either in prison or a halfway house, convicted of crimes to support her heroin addiction. His grandpare...

A tender story of how families can come in all kinds of shapes. I have to say, Jarrett is more generous to some of his family members than I ever could be in his situation. ...

Utterly phenomenal. Krosoczka takes his talent to a whole new and utterly personal level. ...

The subtitle "How I lost my mother, found my father, and dealt with family addiction" says it all. This graphic memoir relates the tough childhood of a kid raised by his grandparents because his Mom's an incarcerated heroin addict and his Dad is unknown. This book is targeted fo...

Most definitely deserving of the praise it's receiving. ...

Despite this being a graphic novel, Hey, Kiddo is not an easy or light read by any means. It tells a moving, sad, but also hopeful story of a family affected by addiction and loss. I had not known about this author before, as I don't read many graphic novels, but I would be curious to ...

This graphic memoir is an absolute must read. It isn't an easy read, but it's worth the time. ...

I received an advance copy of this at ALA 2018. Hey, Kiddo is an incredibly timely comic about a addiction, family, and resilience. Drawn in an almost hazy style with purposeful use of burnt colors, the artwork makes you FEEL the story rather than reading-from-above. Jarrett is hone...

Powerful. Honest. Beautiful. The author?s note had me in tears. I believe this book is powerful beyond measure. It gives a voice to children of addicts, and it?s a voice of hope and courage. ...

A deeply moving memoir of Jarrett Krosoczka's childhood, growing up with his grandparents because his mother was a heroine addict. Though they'd already raised their own kids, seeing Jarrett's situation and their daughter's inability to care for her son, the two took him in, and provid...

4.5 stars! What a wonderful memoir! I honestly cannot remember what made me request this graphic novel from the library, it is so not my normal reading zone. But I am very glad I did. Jarrett Krosoczka, author of the kids graphic novel series Lunch Lady, tells the story of his ...

I only realized I have read this author before (five times, actually) when I read the author?s note and realized that he?s the creator of Lunch Lady. No wonder I didn?t figure it out. This is not humorous, or light, or action-packed like Lunch Lady is. Because this is a me...

If you find a puddle on the floor, don?t step on it because it?s me after finishing this story. When I went to the Scholastic Graphix party at SDCC, everyone was talking about Hey, Kiddo, the graphic novel memoir from a well-loved graphic novelist. I?m a fan of telling persona...

At the end of the book, the author mentions that he originally told this story in an 18-minute TED Talk. I'm guessing at that length, it was actually fairly engrossing. But while the sub-title declares that this book is about "How I lost my mother, found my father, and dealt with famil...

This graphic novel came out of left field and hit me, it hit me hard. Prior to receiving this to review, I had not heard anything regarding this graphic novel so although it was a happy surprise, I was somewhat apprehensive. I had my own preconceptions of reading a non-fiction grap...

I understand that when others read this book they may only focus on the fact that there is so much darkness, but from someone who experienced similar circumstances as a child and into adulthood - there was brightness in the fact that grandparents raised us, but the negative light that ...

After two hours of alternate crying and laugh-out-louds, here I am sitting up to write a short review about this book. I picked up the book without knowing anything about it. It turned out to be a memoir! A heartbreaking yet an uplifting one! Jarrett did everything himself regardin...

This book was so good. It should totally get the award. It was written so well. I would recommend it to everyone. ...

Imagine what life would be like if you grew up not knowing who your father is. Imagine what life would be like if you grew up not knowing where your mother is. Imagine what life would be like being raised up by grandparents who couldn't care less about you. Jarrett J. Krosoczka express...