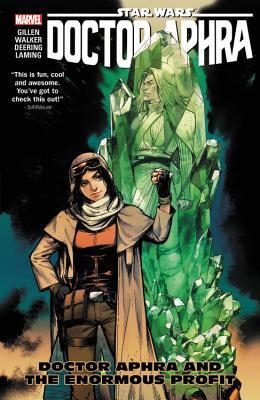 Aphra's back with a brand-new plan that's guaranteed to pay! There's just one teensy problem... it involves surrounding herself with some of the galaxy's biggest baddies. And they don't like the not-so-good doctor's tricks! Her mission to make quick credits by auctioning off an ancient Jedi artifact will start well... and end badly. And that's just when a dark figure from Aphra's back with a brand-new plan that's guaranteed to pay! There's just one teensy problem... it involves surrounding he...
Title
:
Star Wars: Doctor Aphra, Vol. 2: The Enormous Profit
Author
:
Kieron Gillen
Rating
:
Genres
:
Sequential Art
ISBN
:

1302907638

Edition Language
:

English

Format Type
:

Paperback

Number of Pages
:

168 pages

pages
Star Wars: Doctor Aphra, Vol. 2: The Enormous Profit Reviews
Wrapping up--for now, anyway--the story of the Undead Rur, this volume of Doctor Aphra follows on from her adventures with Luke Skywalker in the Screaming Citadel story. In it, we see Aphra attempting to auction off the consciousness of a long-dead Jedi, preserved as an artificial inte...

This was a brilliant story. It took many unexpected twists and turns and was thrilling ride the entire way. Highly recommend ...

One of the most fun Star Wars stories and a window into where they can take the universe in other media. Yes, I want a Doctor Aphra series with, as the good doctor herself says, "...killer droids...murderous wookies" and "Sith Lords." This time out, Aphra holds an underground auctio...

Tangential to the main stories of the SW verse, as the best of spinoffs should be, and unencumbered by efforts to constantly reference or cross paths with established characters. * *Identical to my review of the first collection, because the quality has remained the same. ...

A quick read in many ways, Doctor Aphra wraps up a few loose ends in what reads like character creator Kieron Gillen's last Aphra story. Attempting to auction off a Jedi artifact that appears to have an angry dead Jedi's consciousness inside of it, Aphra finds just about everything tha...

I am very much enjoying the Doctor Aphra character. She's not on the good side, she's not on the bad side, and she has a scientific and dark mind. This volume starts out with Black Krrsantan's backstory. I like how he's obviously a Chewbacca counterpart as well as the murder droids are...

Los droides asesinos son lo mejor de esta serie :) ...

I really love this new character in the Star Wars universe, and have since the Darth Vader series that blew me away. This story is inventive, draws from great Star Wars history, and has an awesome Vader scene. The idea of an ancient Jedi being used in this ultraviolent way was pretty c...

Not my favorite of the issues so far. Aphra has a high-value artifact that she risks everything to sell. Things go astray because of course they do. The writing was fine, but not brilliant, and a bit confusing. The art was all over the place which is frustrating for me. I like cons...

Feels like an ending, though apparently it's only the end of Gillen's run. Quite a bit of fun to read, and I really like the title. ...

I?ve always found Doctor Aphra to be a fun read ? even back when she was only making appearances in Darth Vader?s series. She?s a bit of a gray scale character, which admittedly is one of my favorite character types, so I may be a bit biased in liking her. She?s funny, witty...

Star Wars fans that read the canon fall into two camps on Dr. Aphra's character. You either love her or you hate her. I happen to fall into the former. She is a great character that, in my opinion, always deserved to have her own line of comics, but also I would love to see her in a TV...

Synopsis: Doctor Aphra's plan to make quick credits starts well...but ends badly! When she plans on selling an ancient Jedi artifact, she finds her life in danger from the galaxy's biggest villains, ranging from Darth Vader to the Hutts! Also: The fearsome Wookie bounty Hunter, Black K...

Loved Gillen's humor, Aphra's complex characterization, and the fast paced plot. I'd really wish Disney would make a Doctor Aphra film. oh well. ...

Spinning out of Volume 1 and the Screaming Citadel crossover, Doctor Aphra now holds the Immortal Rur, an ancient Jedi AI, and she's going to sell him to the highest bidder. But wait, who invited Darth Vader? Plus, the secret origin of Black Krrsantan! Doctor Aphra is exactly the ki...

Great story, art work and humor. Doctor Aphra series has great characters with snappy dialogue. ...

This second volume of Doctor Aphra actually reminded me a little bit of Sandman: A Season of Mists. Except a lot more murderous robots... Aphra has convened a large gathering of the criminal underworld to auction off the Rur crystal. At first things go well, but the murder droids mana...

Probablemente el más interesante de los personajes creados en este nuevo Universo Expandido de Star Wars, Doctora Aphra #2 nos devuelve las desventuras de nuestra científica favorita. Apoyado en un buen dibujo y un guión sólido a cargo de Kieron Gillen, seguimos explorando aspectos...

Coming off the excellent "Screaming Citadel" crossover, Aphra is trying to do the two things she's best at: making quick credits and double crossing people. To that end, she has put up for auction the crystal containing the soul of the Ancient Jedi Rur. When you put that many opposing ...

Love the characters (esp. Triple Zero) and I thought the writing was quite good. the art was a bit of a miss for me, I didn't feel like Aphra looked like herself. ...

Not sure why i hadn't given these a read earlier. Really cool fun storytelling with good artwork. I love the appearance of Vader. Shes good but evil..its a good mix of the two. ...

I'll say one thing up front: the Bad Doctor can work a room when she is of a mind to! Inconsistent artwork and an overall lack of relatable characters made this one a middle-of-the-road Star Wars comic for me, definitely enjoyable but not exactly Galaxy-shaking. Aphra is conside...

Not sure why exactly but not as fun as the previous stories with the good Doctor. This arc seems to want to wrap up her current situation, that of having two murderous droids (my favorites) and a wookie following her around. However, these characters and her moral ambiguity made her in...

The zany adventures of our female space Indiana Jones continue as she auctions a priceless Jedi artefact. ...

The first volume of Kieron Gilllen and Kev Walke?rs ?Doctor Aphra? ranks, for my money, as one of this year?s biggest surprises: a series based entirely around a secondary character from Gillen?s prior ?Darth Vader? ongoing that somehow also managed to feel fresh, distinc...

0 ABY This is the second volume featuring Doctor Aphra, containing issues 9-13 as well as Annual #1. Aphra is an archaeologist who is constantly aiming to find (or steal?) artifacts to make a huge amount of money. Recently, Aphra has obtained an ancient Jedi artifact that, when awak...

The story here is entertaining and funny throughout. Triple-Zero's and Beetee's move to freedom was awesome. They are funny as always but this time they sort of seemed to be transcending their role as a comic reliefs and actually seemed a bit more creepy and interesting. It was nice to...

This is yet another great collection from one of my favorite Star Wars comic series! I love how fresh the character of Doctor Aphra feels and how this series shows the galaxy from a different point of view. The only downside for me is the murder droids (not nearly as bad as they are in...

A very funny entry into this new comic book line. The character of Aphra is very charming and very funny, and I really like that she is a comic book-based character, because it means I never know whats gonna happen to her. I know Luke is not gonna die. I know Vader is not gonna die. I ...

Dr. Aphra continues to bring epic and exciting adventures to the Star Wars universe. New characters combine with Star Wars lore as the world becomes increasingly connected. ...