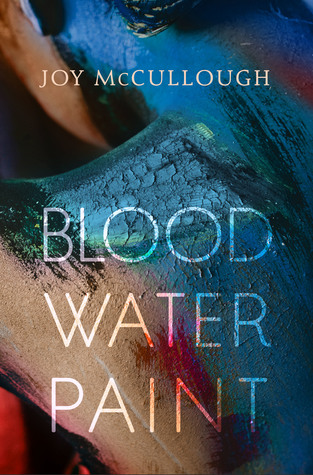 A debut novel based on the true story of the iconic painter, Artemisia Gentileschi. Her mother died when she was twelve, and suddenly Artemisia Gentileschi had a stark choice: a life as a nun in a convent or a life grinding pigment for her father's paint. She chose paint. By the time she was seventeen, Artemisia did more than grind pigment. She was one of Rome's most talented A debut novel based on the true story of the iconic painter, Artemisia Gentileschi. Her mother died when s...
Title
:
Blood Water Paint
Author
:
Joy McCullough
Rating
:
Genres
:
Historical
ISBN
:

0735232113

Edition Language
:

English

Format Type
:

Hardcover

Number of Pages
:

298 pages

pages
Blood Water Paint Reviews
Perfect for fans of Ruta Sepetys, McCullough's debut verse novel tells the story of Artemisia Gentileschi in the early 1600s. A young painter, apprenticed by her father -- who was, of course, profiting from her work -- she dreams of capturing the true essence of the women whose stories...

I read an early version of this and Wow! I've read a lot of verse novels in my life, the poetry in this was one of the absolute best. I couldn't put it down and it stayed with me for days. Honestly, it's been six months since I read and I still find myself thinking about it. This will ...

?And listen to me love, when a woman risks her place, her very life to speak a truth the world despises? Believe her. Always.? Artemisia Gentileschi was the first woman ever admitted into the Accademia dell?Arte del Disegno in Florence, the first to live and paint at the court...

I am all for feminism, but this novel is so blunt in its I-am-woman-oppressed-by-the-men-who-are-all-EVIL message, it hurts. I believe the feminist agenda can be brought across more effectively by tools other than woe-is-me-because-I-am-a-woman sentiment in every sentence. Also, en...

brillant, amazing, heartbreaking, empowering. ...

I really wanted to love this book. I studied art history extensively in college, I love Artemisia Gentileschi, and the promise of a story from her perspective was so tantalizing that I ended up ignoring my suspicions that this book was going to be too young and too heavy-handed for me....

?I will show you what a woman can do.? As Gae Polisner said in a blurb about the book, BLOOD, WATER, PAINT is ?a grave reminder of how little has changed and a hopeful testament to how much more we might achieve.? Women often have so much to lose from speaking their truth?...

That was really incredibly done. It's so beautifully historical but thoroughly modern at the same time, and so skillful at its depiction and articulation of the male gaze vs. the female one. This made me want to go out and learn everything possible about Artemesia, which is my absolute...

4.5/5 The world will tell you not to be outraged, love. They will tell you to sit quietly, be kind. Be a lady. And when they do? Be Judith instead. The Judith in question? The one that beheaded Holofernes. Specifically, Artemisia Gentileschi's artistic vision of Judith beheading...

I LOVE this book. Official blurb/review to come. ...

?The world will tell you not to be outraged, love. They will tell you to sit quietly, be kind. Be a lady. And when they do? Be Judith instead.? 3.75 out of 5 stars This probably wasn?t the author intention in the slightest but this novel is timely as hell, and not in ...

I buddy-read this with a close friend and fellow Goodreads user. Both of us were excited to pick this up; both of us were less excited when we finally did begin reading it and realized it was mostly in (poorly-written, by the way) verse; and both of us were left ultimately disappointed...

Content warnings: sexual assault, misogyny, suicidal thoughts, violence, brief physical torture, victim-blaming, slut-shaming, murder, betrayal. I will show you what a woman can do. When I was given the opportunity to participate in a blog tour for this book?s release, I was ab...

3.5 STARS I know I hate on poetry (a lot) but I love books written in prose. I think it takes the critical element of my mind away when I read a full novel story in poetry format than poems by themselves. I think the poetry aspect added something to the story because 1) it is about ...

i LOVE artemisia gentileschi so i can't wait to read this!!! she'd BETTER behead her rapist like judith did to holofernes tho ...

7in7Readathon July 23, 2018 - July 29, 2018 Challenge #1 - Read a book with yellow on the cover. ...

?She is not small. She is not weak. She will never, ever be feebleminded. And above all, she is outraged.? This was a hard book to read in more than one way ? and I eventually just had to stop around the 75 percent mark because it was getting to be too painful. I usually reserv...

It's not very often I read a book that understands much of the way my heart was broken so many years ago. That holds my hand and cries with me. That stands alongside me and stares the horror in the eye. These are not stories we like to talk about, not monsters we like to expose to the ...

I really, truly, utterly hated this book. Despite being picky, I try not to be super mean in my reviews, but this book was not at all pleasant for me to read. I was way excited for Blood Water Paint at first. I love Artemesia Gentileschi, and couldn't want to read this, even though ...

This book was SO AMAZING. 5/5 stars for sure. ??????? Blood Water Paint follows the story of Artemisia Gentileschi, a 17 year old painter living in Rome in 1610. Her mother died when she was 12, and since then she has been painting for her father. Yet the world was not ...

I wish men would decide if women are heavenly angels on high, or earthbound sculptures for their gardens But either way we?re beauty for consumption. This was really quite powerful and beautiful and devastating all at the same time. It is based on the true story of Artemi...

?I wish men would decide if women are heavenly angels on high, or earthbound sculptures for their gardens.? Wow. This book was so heavy and powerful and important. Blood Water Paint is a historical novel told in verse following the life of 17th century painter, Artemisia Genti...

Simply put, BLOOD WATER PAINT is a stunning and heartbreaking novel. I finished this in one sitting, partly because it was in free verse so the pages went by incredibly quickly, and partly because the writing and plot were so captivating. BLOOD WATER PAINT follows Artemisia, a young...

"Those men. These women who dare to judge your heart by your body will never have an ounce of your worth." Okay, okay, hear me out: a feminist young adult historical novel written in verse. About a female painter who wins a trial against her rapist - in 1612. This is the st...

Everything begins from here: the viewing point, the place where you stand, your eye level. That single point on the horizon where all other lines converge. Sometimes it does not matter whether you loved a book or not, what matters more is what the book is trying to say or ...

A very beautiful book. depicts everything thing as it should be. really liked the writing style. very different from other books. I loved just how courageous & brave the women in this book were. all though all of them had no other option than being strong. but still goes to show j...

this book is about art is art itself. how do i describe how much this means to me? what about this - i learn about artemisia gentileschi in class last year; i am in awe. i learn about artemisia gentileschi at 3am today; i am still in awe. i felt the outrage, the shame, the l...

?? This is not a book about art, this is a novel written in verse about a terrible event in the life of Artemisia. Whoever takes this text as an art text will remain disappointed. The author presents painting as a means to face the life of a woman, a woman who paints instead of h...

This is a hard book to decently review. It's a verse novel, first of all. I think it's nigh-impossible to review a verse novel well. And this is not just a verse novel; it is a book that gets its chief power out of emotionality and importance. If you've read the blurb, you know this...