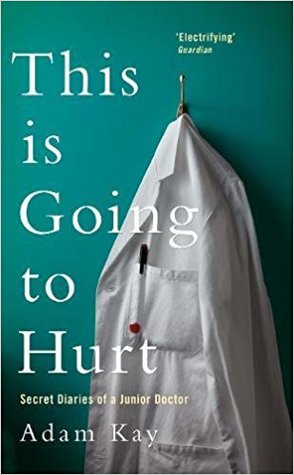 Adam Kay was a junior doctor from 2004 until 2010, before a devastating experience on a ward caused him to reconsider his future. He kept a diary throughout his training, and This Is Going to Hurt intersperses tales from the front line of the NHS with reflections on the current crisis. The result is a first-hand account of life as a junior doctor in all its joy, pain, sacr Adam Kay was a junior doctor from 2004 until 2010, before a devastating experience on a ward caused him to reconsider his...
Title
:
This Is Going to Hurt: Secret Diaries of a Junior Doctor
Author
:
Adam Kay
Rating
:
Genres
:
Nonfiction
Edition Language
:

English

Format Type
:

Kindle Edition

Number of Pages
:

256 pages

pages
This Is Going to Hurt: Secret Diaries of a Junior Doctor Reviews
I loved this. In part funny and heartwarming, yet also utterly heartbreaking and disillusioned. I think this strikes a particular cord with me at the moment as the author was an obs & gynae doctor, and I?ve recently spent time myself as an inpatient on such a ward. This is th...

I finished the book. It was a mostly irreverent look at the early years of being a junior doctor, then an obstetrician, until something catastrophic happens to a patient and the author turned from medicine to writing comedy. It was an excellent read, one good anecdote after another and...

Insightful and hilarious. I enjoyed his footnotes and am very happy that they were added as I was able to quickly pick up on the medical terminology used instead of having to look it up or having to miss the point. Sometimes his sarcasm irked me but overall I found it funny considering...

This is Going to Hurt is one of my favourite books of the year. If you're all over book industry news, you'll know that it just won the Non-Fiction Award and Readers Choice Award in the Books Are My Bag Readers Awards, and I'm sure they are the first of many accolades! I know that I've...

The one thing I didn't like about this was the humour, it didn't work for me, there were like bad dad jokes. I mean, there were a couple of times I laughed a little but usually the humour fell flat, I would have preferred there'd been no attempt at humour at all, as it felt too forced ...

An excellent book which portrays the life of a junior doctor with honesty and humour. There were numerous laugh out loud moments which I suspect may have disturbed the people around me in the airport. Many of these involved "introduced objects" which sadly shows you my level. And there...

Interview with author that brought the book to my attention: https://www.youtube.com/watch?time_co... For years I have been watching news comedy shows from the U.K., mostly Mock the Week and Russell Howard?s Good News, and in every series the panel has to dispel the opinions of so...

Kay practiced medicine for six years before leaving to write comedy for TV. These occasional diary entries spanning 2004 to 2010 are very funny indeed. He specialized in obstetrics and gynecology (?brats and twats?), and some of the humor is rather puerile but stays just the right ...

I am going to be in so much trouble when my sister finds out I gave this book to my niece as this is probably not a very appropriate book for a 17-year-old. But she is determined to become a doctor and she needs to know it?s not just about rockstar surgeries and making buckets of mon...

Excellent! Breezed through this one. The sense of humour worked well, balanced with the horrors of Kay's job. An Xmas present from my sis. She said, "You won't regret quitting medicine after reading this." She knows I don't, really, though reading this I wondered if I would. ...

Horrifying, hilarious and illuminating in equal measure. ...

Thanks to two longish train journeys I started and finished this book today. You can believe the blurb, it is hilarious. Properly laugh out loud funny. It's also poignant and a timely reminder of what a resource the NHS is and how it has been eaten away by politicians. You really shoul...

Not being in the UK, I can?t pass comment on the NHS or any of that, but I had seen plenty of chat about Adam?s book so I loaned it from the library to see what it was like. I am a fan of medical memoirs, so it was right up my street. Adam writes with wit and humour, and even in...

Somewhere around 2.5... maybe 3 Vídeo reseña el 17 de julio a las 10'30 en https://youtu.be/J0S5gM01K2g ...

This is the second book I read this year that I wish I had written (and, had I kept a diary, I probably could have - except the horrific penis-related injury I treated was not a de-gloving, but a fracture). I'm a *junior* doctor, and his stories of life, death and everything in betw...

An insightful biographical account of a former doctor of the NHS. Written in diary form it's often comical.... Often sad.... A complete eye opener that is both heartwarming and alarming. Thank goodness for those medical professionals who choose to work in the NHS... I wish they had bet...

The Best Medicine Well, you may not die laughing, but I was certainly in stitches and convulsed with hysterics, not to mention emotionally distraught, reading this diary of a junior doctor?s training in the NHS. Apart from the side-splitting humour, it is an excoriating account of...

This is a non-fiction read all about the NHS and the way that the system works. It's told in a diary format from the years when Adam Kay was a junior doctor and was part of the system. We see how the NHS has been struggling as time goes on to keep up the standards and staff levels, and...

Have you ever read a book where you are laughing out loud every single page with a big smile on your face throughout and then choke up on the ending page? I do not know of any book where I have dropped so far down in so little time. Maybe a few Breaking Bad episodes but no book that I ...

Isto Vai Doer, Diário de um Médico não se encontra de todo dentro das opções literárias que escolho numa primeira ronda, no entanto a surpresa inicial quando dei a primeira vista de olhos por algumas páginas deixou-me desde logo perceber que iria ficar com outra ideia sobre um l...

A petition for Jeremy Hunt (and every other politician and individual wanting cuts to the NHS) to read this book immediately. As brilliantly funny as it was emotional, distressing and heart-wrenching. We don't look after our health services enough, and I hope this book helps more peopl...

This book was an amazing insight into the life of a former Doctor. It is set out in the format of a diary, which made for easy reading. I found some of the diary entries so utterly horrifying and surprising, I was sitting there thinking, what the hell? Put it this way, there was a trem...

A genuinely funny collection of stories from a former doctor; some so horrifying, surprising, or amusing that I had those hard-to-breathe-while-laughing moments, immediately making Audible clips and sending them to all my friends. It's not for the squeamish, be prepared for lots of blo...

The first thing that comes to mind about this book was: Hilarious and hard-hitting. I tend to get bored by non-fiction books especially memoirs, but I had such a great reading experience, I had so much fun reading this book. The author, Adam Kay, is now a comedian and a comedy write...

I think this is the first nonfiction book I've ever given a full five stars to. Usually the highest they get is 4.5 which is usually rounded down to 4 as I save the 5 star ratings for truly incredible books or ones that really had a profound effect on me. This book deserves every s...

What an amazing book. It's genuinely hilarious but utterly and completely devastating and heart-breaking. It has changed my perception of the NHS and junior doctors. If you are ever likely to be ill, you should read this. If you are ever likely to conceive, you should read this. If...

?This is Going to Hurt? (2017) is essentially Adam Kay?s account of his time as a junior doctor in the UK?s National Health Service. ?This is Going to Hurt? is by turns, funny, moving, revealing, heartening and shocking. Kay has given us a very human account of life in ...

*Unpopular opinion* This was a DNF for me. I went into this book not really knowing what to expect so it probably shouldn't come as a complete surprise then that I didn't finish it. I think this book sums up why I never went into Medicine and in order to survive in the medical w...

A funny, excoriating memoir about a "junior" ob/gyn physician who is "nervous in the service" -- not the military, but Britain's National Health Service during recent years of budget retrenchment, 2004 to 2010. Adam Kay and his colleagues had to deal with weirdly ineffectual decisions ...

Muito bom! Opinião aqui: https://livrosepapel.blogspot.com/201... ...