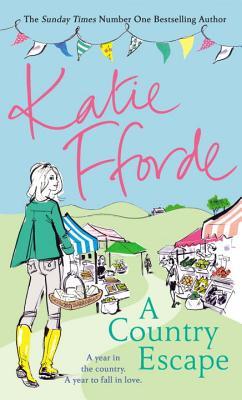 Fran has always wanted to be a farmer. And now it looks as if her childhood dream is about to come true. She has just moved in to a beautiful but very run-down farm in the Cotswolds, currently owned by an old aunt who has told Fran that if she manages to turn the place around in a year, the farm will be hers. But Fran knows nothing about farming. She might even be afraid o Fran has always wanted to be a farmer. And now it looks as if her childhood dream is about to come true. She has just mov...
Title
:
A Country Escape
Author
:
Katie Fforde
Rating
:
Genres
:
Womens Fiction
ISBN
:

1780890893

Format Type
:

Hardcover

Number of Pages
:

384 pages

pages
A Country Escape Reviews
It's always a huge treat picking up a new Katie Fforde book. She has such a lovely, easy writing style that you soon lose yourself deep in the story with wonderful characters and beautiful settings. Fran has received a letter from a distant relative saying that should she be able to ma...

Definitely an interesting idea but a bit flat, without the usual KF delight. The heroine was not remotely likeable, although KF heroines are normally a bit dippy and in need of rescue, they are quite often all the more likeable for it. I hate to say it because I have been reading K...

Well, I liked the cheese. The actual cheese, as in cheese making. Yum! But so much of the rest seemed to vary between a bit of an eye roll, and a bit of ho hum. Easy enough to read, so great if you just need a time filler. ...

Este ha sido uno de mis libros favoritos de Fforde. Realmente interesante todo el tema de la granja y el queso. Me ha encantado como ha hilado esas historias con el romance de la novela. <3 ...

What would you do when presented with a challenge that you would never have seen heading in your direction in a million years? An opportunity that couldn't be furthest from your current lifestyle? Something that will test you to your limits, try your patience and call on qualities you ...

What a wonderful warm hug of a story, I felt completely at home reading this book right from the first pages and really didn't want it to end, as the characters were so lovely. It is such a shame that I'm not a fan of cheese, as I think this book is even better for those that can't...

3.5/5 stars. It's been a long cold rainy day so when you can you might as well enjoy a good book to pass the time. For quite some time I've had this on my to read list for this year but was a bit nervous to start it. I liked the idea quite a bit but this author doesn't usually mesh wit...

I'm so disappointed. Fforde used to be a total autobuy for me and among my favourite authors, but - as far as I'm concerned - we're on a bit of a downward slope. On the brightside, it's better than her last book. On the downside... well. I liked the set up for this - some of my favo...

Enjoyable read if you take it at face value and don?think too deeply about the plot! ...

Years ago I used to read a lot of Katie Fforde books and I loved them so when I saw this in a display at the library I thought I would give it a try. I am not sure if I have changed or if her writing has altered over the intervening years but it was less good than I was expecting. N...

Delicious English romance about a London chef who is contacted by a distant relative and invited to spend a year looking after her farm in the Cotswolds, at the end of the year she could inherit the farm if she makes a go of it. Fran comes down to her great aunt's farm to find it de...

It's always a pleasure to live in Katie Fforde's world for a few days. If only real life was more like it! ...

A Country Escape is a women?s fiction novel set on a farm in the Cotswolds. A distant relative has offered Fran a chance to own her own farm; she just has to prove she can be a successful farmer for a year. Aunt Amy is now in a care home, but she?ll only leave her beloved farm t...

Thank you to the lovely people at Century part of the Penguin Random House group for my copy of Katie Fforde's A Country Escape. Title: A Country Escape Author: Katie Fforde Publication Date: 22nd February 2018 Page Count: 384 Pages Rating: 5* Quote: 'Would you still love me if...

I always look forward to a Katie Fforde book. Even before I have read the first page there is the anticipation of that feel good factor along with a wonderful story line, larger than life characters and a smile along the way. This one didn?t disappoint me in any of those aspects. Fra...

A delightful light read. Amy has had to move from the farm she owns, with its never-ploughed pastures, and the herd of cows she loves, into residential care. She asks Fran, a distant relative with a talent for cooking, to look after the farm and see if she can make a go of it. With the...

With thanks to Netgalley and the publisher for this ARC in exchange for an open and honest review. Londoner Fran is as a chef, she works in a pub but her dream is to own her own restaurant. One day she receives a letter from her distant cousin Amy Flowers with an interesting proposi...

Fran is a great cook and dreams about having her own restaurant, but she's also always loved the countryside. When a relative offers her the farm that's been in her family for a long time Fran doesn't hesitate and packs her bags straight away. She doesn't know much about farming, but...

This is a wonderful book - one of the best ones by the author. I love the setting: rural Englad with a close-knit community. There is a romantic storyline of course. Or rather two - both very enjoyable with very loveable people. I loved the characters in the book. IThere are wonderful ...

What a beautiful heartwarming story. A easy five stars. The story was beautifully written. I love Katie Fforde style of writing she draws into the story as if you are there ...

I?m a big fan of Katie Fforde and I am pleased to say her latest novel did not disappoint, it is full of heart with characters you care about. A great read from the queen of women?s fiction. If you?re a fan of this genre, you don?t want to miss this - it?s a light but big hea...

A cosy, happy story in a beautiful setting. 3.5/5 stars. This review was originally posted on my book blog. The cover and title of Katie Fforde's latest book tell you all you need to know! A Country Escape is cosy escapism with likeable characters in a wonderful setting. Although...

Not up to Katie ffordes usual high standard; the characters didn?t have much depth and I started to glaze over due to the amount on conversations about cheese! Love her books but this wasn?t one of my faves. ...

What a gorgeous book. I always look forward to a new Katie Fforde book and this one didn't disappoint. With an idyllic setting and characters that you are genuinely rooting for, I loved getting immersed in the lovely story of Fran, Antony, Isi, Trig and not forgetting Amy. This w...

I was lucky enough to receive an advance copy of this book. I especially enjoyed it as I live in Bristol not far from the Cotswolds where this book is set. Indeed one of my grandfather's sisters married a farmer and made butter and cream in her Cotswold dairy. It was a fine read for a ...

I absolutely loved, loved this book. It was clean, passionate, and filled with characters who were delightful, both good and bad. Fran gets a letter from a distant far-off relative, Ms. Amy Flowers, with a stipulation that if she makes a go of the Hill Top Farm for a year, she woul...

Really enjoyed this book a standard Fforde romance. Loved it. ...

I loved this book ... it was number one on the staff picks of an employee at our library .. can?t wait to read more of Katie Fforde?s books ...

I usually love Katie Fforde's books, but this one was just not her best. The heroine, Fran, takes on the management of a dairy farm belonging to an elderly, distant relative, Amy, with the understanding that she may eventually inherit it if she does a good job. There's a lot of detail...

I always love Katie fforde?s books and this was no exception. The characters were fun, plot was cute, and I learned a little bit about cheese. ...