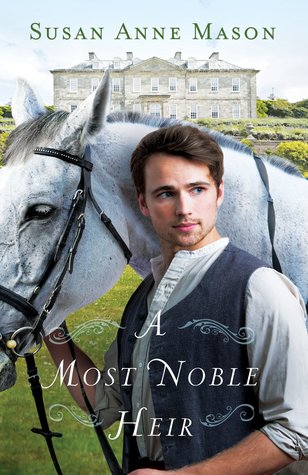 Will gaining the world cost him everything he holds most dear? When stable hand Nolan Price learns from his dying mother that he is actually the son of the Earl of Stainsby, his plans for a future with kitchen maid Hannah Burnham are shattered. Once he is officially acknowledged as the earl's heir, Nolan will be forbidden to marry beneath his station. Unwilling to give up th Will gaining the world cost him everything he holds most dear? When stable hand Nolan Price learns from his dy...
Title
:
A Most Noble Heir
Author
:
Susan Anne Mason
Rating
:
Genres
:
Historical
ISBN
:

0764230875

Edition Language
:

English

Format Type
:

Paperback

Number of Pages
:

360 pages

pages
A Most Noble Heir Reviews
I was entertained from start to finish by A Most Noble Heir. It was easy for me to become caught up in the story and enjoy the characters. I loved some of themes. My favorite was about love and how it can change a person. Do you fight for love, or do you let it go and become lost and b...

3.5 stars A MOST NOBLE HEIR is a sweet story about a man who is torn between the desire to finally know his father and his original plans, which includes the one he loves. Moments of faith are woven through the story as he struggles to come to terms with his future and what exactly ...

A Most Noble Heir is my first book by this author and I have to say, I'm not too sure how I feel about it. I'll have to let this one stew in my mind for a bit, but my review is due and I must continue to write it. Maybe the cover model is too cute and is responsible for skewering my br...

The premise of this book made me smile, from rags to riches, or from stable boy to nobility, a Cinderella type of a story, picked my interest. A boy whom we soon find out was raised by his aunt and did not know whom his father was, and wow when the facts unfold, a déjà vu moment is ...

I listened to the audio version and enjoyed this story. It was different kind of romance with a married hero and heroine, but very well done. I'll look forward to Susan's next book! ...

When I started the book I was immediately caught up in the story and was loving it. However that didn't last too long, maybe at most 35%, before I started to feel annoyed with Hannah as well as finding the behaviors of others strange for that time period or just in general. I don't...

If I could give this story more than 5 stars I would. Author Mason brought this tale of true love, class distinction, and family drama and secrets to life. Nolan Price was a young man who loved his mother and his sweetheart, Hannah. He was a stable hand and she a kitchen maid. They pla...

I think I squealed when I saw this in the bookstore and my heart did a little happy dance but I played it uber cool as I made my purchase. That lasted until I got out the door whereupon I skippedy-dooed my way to the bus stop and pulled out A Most Noble Heir and commenced reading. And ...

4.5 stars A Most Noble Heir starts out with a yummy cover (hello, Henry Cavill-ish hero!) and hits you in all the feels before all is said and done. I loved the character growth in this book ? from Nolan to Hannah to Edward and even Evelyn. There are so many nuances and layers ...

"Lord, I don't know how much more I can take. First my mother, and now this? What is it you want from me?' Nolan Price works as a groomsman on the estate of the Earl of Stainsby and he is content with his life and loving Hannah Burnham, a kitchen maid on the same estate. Nolan plans...

Wow, this was my first book by this author but if all are as intriguing and well written as this one, it will not be my last! Solid and intense plot to keep readers awaken 'til late at night; there?s much more than a simple life-changing event going around here. A hint of mystery,...

Her best book yet! I'll admit it took me awhile to get into this story. I'm not really sure why, but for quite a few chapters I wasn't sure I was going to love it. Then something clicked and I was totally hooked. I was really impressed with the versatility of Mason's writing in this...

Having thoroughly enjoyed the Courage to Dream Series, I was so looking forward to A Most Noble Heir. What I loved about this novel is that the story is based upon the author's descendants. Nolan and Hannah both have good hearts. Unfortunately, I didn't connect with some of the ...

Readers will be pleasantly surprised in Susan Ann Mason?s A Most Noble Heir. Mason?s story is an excellently written historical romance that is focused on Nolan Price who unexpectedly finds that he is the son of an Earl and the struggles that come with learning about becoming a nob...

This standalone story was a real joy to read. Nolan and Hannah are excellent characters and held my attention easily. The added interest of having it set in a real English manor home, based very loosely on an incident in the author?s family tree, lent it an extra authenticity that I ...

I really enjoyed Susan Anne Mason?s Irish Meadows series and eagerly awaited this new release. A Most Noble Heir exceeded every expectation I had, however, and vaulted this book and author into position as one of my favorites! I like complex?at least in fiction. Complex storylin...

I thoroughly enjoyed A Most Noble Heir. Poor Nolan and Hannah! They were so in love and so unprepared for the dramatic change that became a reality for both of them. There were times that I was frustrated with both of these main characters, as they did not communicate their feelings cl...

I so enjoyed this read! It hooked me, and I had a hard time putting it down. I loved the characters in this read. They were so well done. Besides the fact it?s historical, my favorite part was the plot line was more original than many books I have read. I don?t summarize books...ju...

Fantastic plot. An amazing cast. Upstairs, downstairs. Poverty, wealth. Bad guys, heroes. This book has it all. It begins with the simple love story of two of the staff of Stainsby Hall, England. They've known each other since they were teenagers, and have always planned to marry. ...

**FTC DISCLAIMER: I RECEIVED AN E-ARC FROM NETGALLEY IN EXCHANGE FOR AN HONEST REVIEW. RECEIPT OF THIS BOOK IN THIS MANNER DOES NOT AFFECT MY OPINION OF THE BOOK OR THE CONTENT OF MY REVIEW.** Stable hand, Nolan Price, has always wondered about the identity of his father but he nev...

I enjoy the Courage to Dream series by Susan Anne Mason, and I was excited when I heard that Mason had created another novel, A Most Noble Heir. With a historical romance, I expected a historical setting filled with life in the past and characters who interact with each other in that ...

I totally bought this book for the cover. Look at how gorgeous it is. Isn't he so handsome? I mean the horse. The guy is good looking, I guess, but that horse...I just want to go up and pet him and see all the photographer's outtakes as they tried to get the horse to stand still just r...

What would you do if you learned a family secret upon your mother's deathbed? How would it change your life? What path will Nolan choose; forfeit the aristocracy for love, or take his place beside his father? These are the questions that haunt him after he learned he was rightful heir ...

I really enjoyed this book overall! While this isn?t one of those historical books that takes the time to really describe the scenic or mention the little things around them ( meaning it?s not as in depth as some historical books are ) I still really enjoyed it. The story line was ...

Full review on Faithfully Bookish Fans of Downton Abbey, upstairs-downstairs, and rags-to-riches romance? brace yourselves, this story is about to knock your stockings off!! Nolan Price is a determined and hard-working (inescapably handsome) young man of faith, integrity, and l...

A Most Noble Heir by Susan Anne Mason is a book set in Devonshire, England in 1884. Susan Anne Mason transports you back to Regency, England and a story about a lowly stable hand who is suddenly thrust into the aristocracy. Nolan Price works with horses at Stainsby Hall. Unbeknow...

3.5/5 stars FTC Disclosure: I received this book from Bethany House Publishers. I was not required to provide a positive review. All thoughts are my own. Title: A Most Noble Heir Author: Susan Anne Mason Series: n/a Genre: Christian Historical Romance Era: late Victor...

Previously published on Purely by Faith Reviews. Recommended Age: Not recommended for anyone due to intimate romance. My Review: The synopsis was interesting, and was what originally drew me to this book (and I?ll admit the cover did too. I mean, a beautiful horse!). A serva...

DNF. Not really a fan of the romance\"content", and the story just wasn't grabbing me. ...

A Most Noble Heir is a stand alone novel from Susan Anne Mason. This is my 2nd novel from Mason and I did not enjoy it as much as the last. A most Nobel Heir has some interesting components, but overall the character?s and their actions did not sit well with me. I really wanted to li...