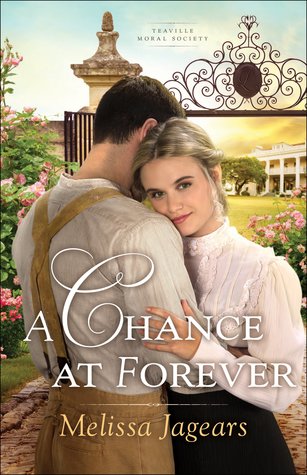 Mercy McClain joined the school board to protect the children of Teaville, Kansas, from the bullying she experienced as a child. When the worst offender from her school days applies for a teaching position, she is dead set against it. Yet Aaron Firebrook claims to be a changed man. Can he earn Mercy's trust--and her support for the challenges to come?...
Title
:
A Chance at Forever
Author
:
Melissa Jagears
Rating
:
Genres
:
Romance
ISBN
:

0764217534

Format Type
:

Paperback

Number of Pages
:

352 pages

pages
A Chance at Forever Reviews
Can a person really change? What are morals? Those are some of the interesting thoughts that I had while reading this book. There are examples of cause and effect. Someone who is abused can become a bully. This book is about choices, the choice to change or live a life of unhappiness. ...

"A Chance at Forever" is a Christian romance set in 1909 in Kansas. It's the third book in a series. This book wrapped up two side romances that have been building throughout the series, but it still worked fine as a stand-alone novel. Each romance was prevented from moving forward due...

Aaron Firebrook returns to Teaville hoping to make amends for his bullying ways as a child by being a teacher and influencing others for good and protecting the innocent. However, Mercy McClain, one of the girls he bullied, is a member of the school board and when Aaron comes looking f...

We are in the early 1900?s in Kansas and the author puts faces on bullies, and by doing so we try to understand how someone does what he does. We also see how these bullies respond when God is finally in their lives, and watch transformations, and keep reading as you will be shocked!...

Melissa Jagears is one of my favorite historical romance authors. When I want a story that is romantic yet still focused on true-to-life issues, I can count on Jagears to deliver. A Chance at Forever is one such story. Endearing characters and the theme of forgiveness are the highlight...

4.5 stars A Chance at Forever is a worthwhile read! Even if it took me awhile to start enjoying the story, I ended up loving this book. I'm definitely a fan of author Melissa Jagears with her wide variety of characters and deeply meaningful messages. Book Three in the TEAVILLE MO...

Two good, mostly uninterrupted, afternoons of reading and this book was finished!  Obviously, it was a pretty fast read for me. ;) I was a bit disappointed in the first book (A Heart Most Certain) in this series-- not because it was bad or anything (it was pretty good), but becaus...

A blockbuster ending to a spectacular series! Each book has made me think and evaluate and even squirm a wee bit as Jagears examines all aspects of charity. A Chance at Forever reads beautifully as a standalone novel but I highly recommend the entire series. I've been waiting for Me...

I have been loving this series and I was highly anticipating Mercy's story! This book was phenomenal, I loved every single minute! I already knew that I really liked Mercy, so I was sure that I would love her hero too, there is just something about a hero who is working super hard to b...

Bullying is a horrible practice that leaves unfathomable consequences, especially in regards to trust and self-acceptance. What can be most heartbreaking is that it may come from those who should be unconditionally at your side. Mercy McClain knows the many sides of bullying, being ...

GOD CALLS US TO DO HARD THINGS While the Teaville Moral Society books are part of a series, they will each read very well as a stand-alone. There are some key characters from the other books, but the story will hold its own, and the characters are well defined. The story is packed f...

A Chance at Forever is the third installment and my favorite from Melissa Jagears? series Teaville Moral Society. I felt connected to Mercy immediately and I understood why she did not want anything to do with George / Aaron. She soon finds out how much he is trying to be a better an...

"Aaron Firebrook . . . . . . she'd figured he was likely related to the worst bully she'd ever known, but to actually be him?" George Aaron Firebrook has a lengthy list of those in Teaville with whom he feels led to make restitution; Mercy McClain being at the top of the list. Seein...

In this final book of the Teaville Moral Society, there is a focus on the red light district and helping those that want to have a better life. This followed the same pattern as the first two books in the series. What was new for this novel is the subject of bullying. Main character...

"A Chance at Forever" is a wonderful story of forgiveness and love between Mercy and Aaron. Mercy is a woman who serves in many roles and doesn't want to see other people hurt by Aaron, who as a young child hurt her and her family. She doesn't believes he has changed and doesn't wa...

Whew...what a beautifully crafted story! I have a hard time reading Melissa Jagears's books quickly because I just want to soak up all the details. I managed to make this one last a week. Of course, though, I finished the last hundred or so pages in a single night because I simply coul...

Such a beautiful, beautiful love story...love between a man who had been emotionally crippled by a wounded past ...who took his hurts out on others when he was younger and lived to deeply regret it...a man who turned into a godly, humble, sensitive, romantic and totally swoon worthy he...

This book was so good!!! I could hardly set this novel down because I was seriously invested in the these two main characters. Mercy had a lot to deal with in her life, from being born with a deformed arm, to being bullied relentlessly as a child, to being treated as a burden by her...

A great third installment of the wonderful Teaville Moral Society series that did not fail to captivate me! I absolutely loved the opening chapter...there is something unexpectedly endearing about a former bully who finds himself attracted to a woman he used to torment mercilessly a...

I think I loved Mercy?s story the most in this series. It is a story of mercy, grace, healing from past hurts, love, and even a little mystery. It shows how hurting people hurt people and what the love of others and Christ can do to make a difference in someone?s life. Healing and ...

I have enjoyed reading all the books in the Teaville Moral Society, but this one is my favorite! This story deals with some heavy topics and situations, but every page points back to Jesus and His love. This is a beautiful story of Faith, Forgiveness, and Love. This story could easily ...

_____________________________________ *My Thoughts* I have been a part of Melissa Jagear's influencing team ever since "Love in Store", and I'm not lying, her books get better and better. Mercy is the character everyone loves to love. She is kind, sweet, and loving but she still ...

I really enjoyed A Chance at Forever. This is the third book in the series. The heroine Mercy was bullied as a little girl by the hero Aaron. As an adult, and a born again Christian he attempts to ask forgiveness from Mercy and others as well. This book is well written and easy to r...

?You shouldn't let the voices of your past or present define who you are. Let God do that.? Aaron embarks on a journey to try to make up for hurts he caused others in his childhood. The one person in the world Mercy McClain could go without seeing again is Aaron Firebrook. It ...

Full review on Faithfully Bookish Mercy McClain has endured years of taunts, teasing, and being brushed aside. Mercy displays great courage and learns important lessons in compassion, forgiveness, and self-worth. Aaron Firebrook wants to atone for his past behavior and make a positi...

It was a pleasure to read the third installment in the Teaville books. Mercy isn?t a character we knew much about from the previous books, but I enjoyed getting to know her through this story. We get to see more of the going?s on at the orphanage, and I really enjoy the principles ...

Melissa Jagears never disappoints for a sweet historical romance. The premise of an old bully falling in love with the handicapped girl he once made fun of grabbed me instantly. Jagears themes of forgiveness and a love that loves the unlovable completed this story, as did the satisfyin...

I loved this book! The history of the time was well researched, but more than that author Melissa Jagears wrote a book that has heart. The characters faced such things as bullying, prostitution, and stealing but God?s redemption was the theme woven through out. Through Him, we see th...

A Chance at Forever takes an unlikable character and transforms him into a sweetheart of a hero. How many lives could be changed if we would pray for our enemies instead of badmouthing them? Aaron requests mercy from Mercy, who he had tormented during their childhood. It takes a while ...

4.5 Stars This book has so much happening, but it flows really well. One of the main topics in this book is prostitution. I know. You might be thinking, ?What! Why would I want to read a book with a topic like that?? I was not aware that it was a main topic that would be talked...