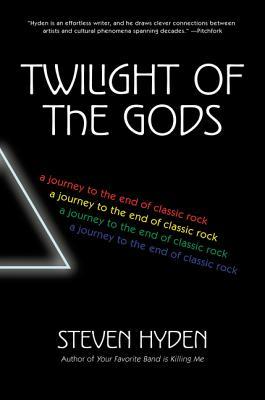 Named one of Rolling Stone's Best Music Books of 2018 One of Newsweek's 50 Best Books of 2018 A Billboard Best of 2018 A New York Times Book Review "New and Noteworthy" selection ?A wise meditation on why classic rock stars keep trucking, both on the road and in our dreams. Every page is an irresistible argument starter.??Rob Sheffield, Rolling Stone The author of the criticall Named one of Rolling Stone's Best Music Books of 2018 One of Newsweek's 50 Best Books of 20...
Title
:
Twilight of the Gods: A Journey to the End of Classic Rock
Author
:
Steven Hyden
Rating
:
Genres
:
Music
ISBN
:

0062657151

Format Type
:

ebook

Number of Pages
:

320 pages

pages
Twilight of the Gods: A Journey to the End of Classic Rock Reviews
Very enjoyable. (But isn't Hyden a little bit the bobo Rob Sheffield? I mean, doesn't Sheffield just do the music memoir/history perfectly? Do we NEED another Rob Sheffield? I don't imagine so; I won't be re-reading this one, and I've read all of Sheffield's books more than once. So......

Excellent read, by another classic rock junkie who's pretty much exactly my age and whose experience with classic rock mirrors my own. ...

Another solid Steven Hyden music book. This one is an ode to his favorite genre, perhaps in an effort to get it published while any of his heroes are still alive to read it. It's something like 1/3 genre discussion--what "classic rock" is, and where the genre's definition gets fuzzy--1...

Apparently the major difference between Steven Hyden and me is that he likes long, noodling guitar solos and I do not. Otherwise, I found his take on a lifetime of classic rock love to be remarkably poignant and relatable. I felt like I could have written parts of this book, particular...

The main takeaway from Steven Hyden?s fantastic and much-deserved meditation of classic rock is that the mythology of what constitutes classic rock is greater than its sad and sordid truth. As our heroes have either departed this mortal coil (Bowie, Prince, Tom Petty, Leonard Cohen, ...

Boring and completely out of touch. I had to DNF during the Dylan chapter because these are the opinions of someone who doesn't really understand music, the current culture or what caused the decline of rock music. Also, anyone who believes in white privilege can't be taken seriously. ...

Read this very quickly and liked it a lot. Hyden tackles all the classic rock mythology of performers like Bob Dylan, the Beatles, Springsteen and Tom Petty. The tone is not mournful, more wistful. Hyden is a very fluid writer and he writes bothe entertainingly and with insight. ...

Enjoyable, but didn?t hit as close to home as his first one. I?m always glad when someone a lot smarter than me cares a lot more about something I like and chooses to write about it. It?s the same as having a good meal with a true foodie. They heighten the experience by pointi...

3.5* A lot of great stuff, that I really connected with, but also a fair amount that I didn't - mainly, because of the bands covered. When it was a band I was familiar with, I was all-in; when I wasn't familiar with the band, or not a fan of their work, then my attention drifted. Also...

I know literally nothing about classic rock - I learned about Altamont by reading this book - but Steven Hyden's Theory of the Album is the new religion of my household, so I figured I would dive in. Steven Hyden's Theory of the Album is this: YouTube and Napster demystified music and ...

?People say, ?You?ve gotta go on, man, otherwise all those kids, they?ll be finished, they?ll have nothing to live for.? That?s rock and roll!? Pete Townshend Those kids Townshend refers to are all well now north of 50 ? hell, I?m 61 and was one of those kids ...

Trying to put something in a "box" when it does not need to be in a "box!" My only hope for Hyden is that music heals his tortured soul! ...

Twilight of the Gods by Steven Hyden is a 2018 Dey Street Books publication. Sex, Drugs, and Rock -n- Roll ? This is yet another of a spate of recently released books, lamenting the death of rock music, seeming to finally admit and accept, that the rock icons still living are ...

I was Steven Hyden, once upon a time. I, too, spent my teen and college years reading collections of pop/rock criticism (Dave Marsh! Lester Bangs! Greil Marcus! Ed Ward!) and loving classic rock before being able to move forward to the more adventurous stuff. I, too, noticed that so...

I have so many thoughts about this book, that I doubt I'll be able to get them all out in a cohesive manner, but needless to say I enjoyed it. The exploration of classic rock through its history, sociology, and mythology from the perspective of both fan and critic is extraordinarily we...

Twilight of the Gods is Steven Hyden?s power balled tribute to the genre of classic rock and what it?s meant in his life. In this entertaining and thoughtful read, with chapters structured as a track list with accompanying liner notes, Hyden meditates on why he loves classic rock, ...

That critical period from about age 10 to about age 20 imprints you to the pop culture and tells you the way the world works. It is not for nothing that Napoleon said: "you can tell a lot about a (wo)man by what the world was like when (s)he was 20." The classic rock gods who filled th...

I've always liked Hyden as a writer, so no surprise I'm down with the individual essays here. He knows popular music and writes about it with a lightly wry attitude. Picks of the bunch: "My Love Will Not Let You Down" (on Springsteen with a brief detour on Petty) and, even though much ...

Who knew other guys had a Jim Morrison "Doors phase" after the Oliver Stone film came out in the early 90's? As embarrasing as it is to admit now, I too momentarily thought it was cool to drink whiskey straight from the bottle, write shitty poetry, and behave in stupid, reckless ways. ...

Hey hey, my my... Rock and roll will probably die It doesn't matter if you burn out or fade away Because we all die, oh yeah Neil Young once said something like that? Steven Hyden isn't the first person to notice the curious fascination classic rock has with time and death. But...

What Chuck Klosterman does for hair metal in Fargo Rock City, Twilight of the Gods does for classic rock. Hyden's book, like Klosterman's, is part journalistic take on a musical genre and part memoir exploring the author's experiences with and nostalgia for that music. The book is fill...

I was never really sure where the author was going with this book. At times the book feels like a compact history of Classic Rock, but it isn't that. What it is is a road trip through the Classic Rock landscape with stops at about fifty of Classic Rock's roadside shrines (some more mea...

Just wonderful. From growing up with classic rock as back ground music to running errands with my mom in our station wagon to all the years hence, this music is a part of me. I loved this book from start to finish. ...

Not so qualified snippets/ ramblings on classic rock; I had so many issues with this book, I had to finish it to get to my review of the book. Here is what makes it NOT worth a read: - no common thread running through the book to connect the various snippets and back-stories about cla...

Twilight of the Gods is an awesome read from cover to cover. Definitely enjoyed pretty much every page and will read it again down the road. This book is an ode to the art for, known as classic rock and a must read for anyone who grew up before the advent of Napster and Spotify changed...

Summary: Part personal, part historical, Steven Hyden discusses the past, present, and future of "classic rock." Broadly speaking, the book covers a period between the 1960s and today. Pros: - The author masterfully weaves together his own history with that of classic rock. He a...

i read some of it...why would i read about classic rock from someone born in 1977?....that's like reading a book by trump on literacy ...

To put "Twilight of the Gods" in a perspective that Steven Hyden would appreciate: it is the "Goat's Head Soup" of rock books. Let me explain. If you have an interest in "Twilight of the Gods," you are undoubtedly familiar with the Rolling Stones' "Goats Head Soup". "Goats Head Soup...

How much you enjoy it may hinge on whether you agree with some of its premises (I can't get behind the idea that the Classic Rock-era existed into the 90s, let alone that Nine Inch Nails' The Fragile was "the last classic rock" album(!)), but I thought its viewpoints were interesting a...

A really enjoyable read, but not quite the book I'd hoped it would be. What was I hoping for? Based on the subtitle, I guess I was looking forward to accounts of and insight from classic rockers who are still touring intimate venues with decimated versions of their original lineups. Fo...