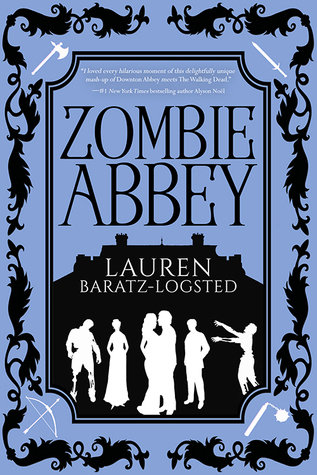 1920, England And the three teenage Clarke sisters thought what they?d wear to dinner was their biggest problem? Lady Kate, the entitled eldest. Lady Grace, lost in the middle and wishing she were braver. Lady Lizzy, so endlessly sunny, it?s easy to underestimate her. Then there?s Will Harvey, the proud, to-die-for?and possibly die with!?stable boy; Daniel Murray, the resour 1920, England And the three teenage Clarke sisters thought what they?d wear to dinner wa...
Title
:
Zombie Abbey
Author
:
Lauren Baratz-Logsted
Rating
:
Genres
:
Historical
ISBN
:

1633759113

Edition Language
:

English

Format Type
:

Paperback

Number of Pages
:

300 pages

pages
Zombie Abbey Reviews
A delight, pure and simple, from page one. Is there any kind of novel, for any age group, that Baratz-Logsted (I LOVE YOU, MICHAEL COLLINS, VERTIGO, THE SISTERS 8 SERIES) can't write? Not that I can tell... ...

Yes, it?s true. When you start to read this book, you?ll get a few flashes of Pride & Prejudice with Zombies. But, no worries. This isn?t a carbon copy, so read on! In Zombie Abbey, Lauren Baratz-Logsted brings us a very clever, funny and heartfelt tale of manners, class d...

Such a fun book! I blasted through this in no time, and loved every word! ...

Fantastic read! Sharp, funny, swoony, and guaranteed to scratch both your Zombie and your Downton Abbey itches. I loved it! ...

Special Thanks to the publisher for providing me with a review copy! In a wonderful mix of Downton Abbey and Pride and Prejudice and Zombies, I think I have found my new favorite thing. Yes, you get the Upstairs, Downstairs along with some kick-butt action but what makes this story...

*3.5* Lauren Baratz-Logsted's books are typically very hit-or-miss for me. Sometimes I enjoy them while other times they simple aren't my cup of tea. I couldn't resist Zombie Abbey, however, as I wanted to see what a zombie flavored Downtown Abbey book would be like. As it turn...

*Source* NetGalley *Genre* Young Adult Fiction / Paranormal, Occult & Supernatural *Rating* 3-3.5 *Thoughts* Lauren Baratz-Logsted's Zombie Abbey is a mash-up of Downton Abbey, Pride & Prejudice & Zombies, and The Walking Dead. Paranormal & historical mash-ups ...

I received a copy of this title to read and review for Wicked Reads 4 Stars. Young Adult age-range: 14+ due to the gruesome nature of zombies. I'm trying to be careful to create a spoiler-free review. To be honest, I wasn't sure what to expect when I began Zombie Abbey- ...

Whenever I pick up a book by Lauren Baratz-Logsted, I know I'm in for a good read, and Zombie Abbey is no exception! Lauren is a creative and inventive storyteller and she always has a unique and fresh slant to her stories. Congratulations, Lauren, on another book that's a well-wri...

Sheer curiosity had me picking up this book. It blends the popular Downton Abbey setting and characters with a zombie epidemic in a farce that dares the reader not to laugh. Zombie Abbey offers an Upstairs-Downstairs look at life on an English estate shortly after WWI. An earl, his ...

Lauren Baratz-Logsted proves once again that she is one of the most versatile and prolific authors out there. She could write (and often does) in any genre and I'd gobble it up! ...

I voluntarily read and reviewed an advanced copy of this book. All thoughts and opinions are my own. Thank you to Netgalley and the publisher for the chance to read this book! I first saw this appear as a want to read on my wall, and knew I wanted to read it too. Then I saw it was a...

*This review can also be found on The Reader and the Chef! Huge thanks to the publisher for the review copy in exchange of my honest opinion.* It's been a long time since I had read a zombie novel and even more, one as entertaining as Zombie Abbey! Reminiscent to one of my favorite ...

Zombie Abbey is a short and hilarious read, perfect for fans of zombies and 1920's England. When Will Harvey's aunt shoots her husband, no one believes her when she tells people that he was most definitely dead, before rising back to life and trying to kill her. When the zombies rea...

If you enjoy a good tongue-in-cheek mashup of historical British elements meeting modern fantastical ones, this is for you. The people of this wealthy English abbey were full of surprises, and kept me giggling with their diehard aristocratic ways. ...

I just love a good zombie story and Lauren Baratz knows how to write one. I felt so many emotions,funny, scared, thrilled. It was a good thriller of a story. #ZombieAbbey #NetGalley  UNTOLD THOUGHTS BOOK BLOG ...

#ZombieAbbey #Netgalley Thank you to Netgalley and Entangled Publishing, LLC for the E-ARC copy of this novel. I have read Lauren Baratz-Logsted before, I think her books are creative and imaginative. After having said that this book is right up there with her best. It's a entertaini...

Thank you Netgalley for a copy of this book. My views are entirely my own. A little bit of Pride and Prejudice, a little bit of Dark Days Club and very much in the vein of Downton Abbey, this book is very much for fans of any of these three. Luckily, I happen to love all three. This...

I received a copy from netgalley in exchange for an honest review. This kind of reminded me of pride and prejudice and zombies! I think that all classic novels should have zombies in them to be honest! It adds some spice! ...

Thanks to NetGalley and Entangled Publishing for the opportunity to read and review Zombie Abbey by Lauren Baratz-Logsted. The story opens with the three daughters, their family owns the Abbey, getting ready for a party that evening. The eldest daughter, Kate, is meant to marry and bea...

I was disappointed with this book. I was like cool zombies in 1920 England. But the book is way slow and not a lot of zombies, pretty disappointed ...

Zombie Abbey by Lauren Baratz-Logsted is a young adult historical horror story that takes readers back to 1920 in England and tosses them into a zombie apocalypse. I?ve seen a lot of comparisons on this one to Pride and Prejudice and Zombies and perhaps that?s true but I haven?t ...

Zombie Abbey is the first book of this kind I've read. I know there are quite a lot of this kind of books out there and I was curious. I didn't know what to expect and once I signed up I'll admit I was a little scared to read it. Porthampton Abbey has similarities to Downtown Abbey...

DOWNTON ABBEY, PRIDE AND PREJUDICE, THE WALKING DEAD ... This book has it all! ZOMBIE ABBEY is an enjoyable, fast read. And it's well-written! ...

I could not get into this book, but that doesn?t mean it?s not a wonderful story. It just wasn?t my type. So sadly, we have to part ways. ...

A special thank you goes out to Entangled Teen publishing for allowing me to read this eARC early. All thoughts and opinions are my own. So I didn't love this book but I didn't hate it. It was like a water downed classic. I don't mean that in a bad way. It would serve well as a goo...

Looking for your next Downton Abbey fix? With a few zombies thrown is? Well, look no further than this campy mashup of a Downton-like world and Walking Dead! Some characters from Upstairs may initially come across as difficult to like - because of course they do! - but once they're for...

First, just look at that cover. It's gorgeous. I want a physical copy so I can display it on my shelf. :) Now to the book... Before the Zombie 'plague' happened, the Clarke family's concern centered on the entail that dangers their control over their entire estate. Having three dau...

Actual rating: 2.5 stars Omg, I really expected this to be more scary and creepy or at least more romancy. I'm not disappointed by this book, it just totally not what I expected. Okay, I have to admit that I was more scared preparing for reading "a book about zombies" than actual...

Actual Rating 4.5 I received a copy of this book from Netgalley, in exchange for an honest review. In the start, this book gave me Pride and Prejudice and Zombies vibes, but no it was different. I am not a big fan of Zombies so this book was perfect for me, the Interesting thing is...