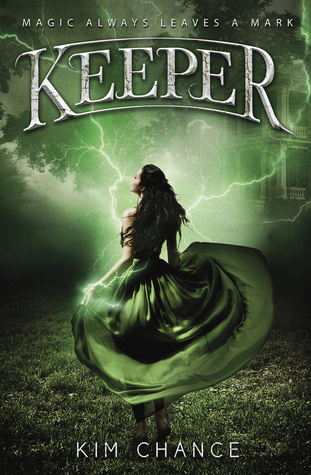 When a 200-year-old witch attacks her, sixteen-year-old bookworm Lainey Styles is determined to find a logical explanation. Even with the impossible staring her in the face, Lainey refuses to believe it?until she finds a photograph linking the witch to her dead mother. After consulting a psychic, Lainey discovers that she, like her mother, is a Keeper: a witch with the excl When a 200-year-old witch attacks her, sixteen-year-old bookworm Lainey Styles is determined to find a logical expl...
Title
:
Keeper
Author
:
Kim Chance
Rating
:
Genres
:
Fantasy
ISBN
:

1635830125

Edition Language
:

English

Format Type
:

Paperback

Number of Pages
:

408 pages

pages
Keeper Reviews
I read a pre-published draft of KEEPER and this book is everything you could want in a contemporary fantasy with Southern Gothic and historical undertones. I absolutely loved the way the author blended the past with the present and KEEPER has so much to swoon over?from its hauntingly...

KEEPER will officially be out in the world on January 30th, 2018! I am so beyond excited to share this book with all of you! I hope you enjoy reading it as much as I enjoyed writing it! Lainey, Maggie, and Ty are so near and dear to my heart and may they be as good a friend to you ...

I received an arc of this novel in exchange for a honest review. Thank you, Netgalley and Flux, for the opportunity! "What? I?ve been marathoning Supernatural. There was this one episode where Sam and Dean?" "Wait. Supernatural? Seriously, Mags?" If that?s not enough to sell...

Mini review: I received this e-arc via Netgalley and the publisher in exchange for an honest review. This book was a lot of fun! I especially loved Lainey and Maggie?s friendship. The comic book references were fun. I also liked Gareth and Serena. I didnt mind Ty. And would de...

Looking forward to it! :) ...

When Chapter Two of the Keeper by Kim Chance mentions my favorite show "Supernatural" with Sam and Dean I am more than hooked! Teen characters with adult hurdles to leap over will entertain both age groups. Lainey is a driven student with college on her mind and one goal "To ace the SA...

You can also find this review on my blog here. Release date: January 30th, 2018 This is a book i went into with few expectations but nothing too dramatic as it is a debut novel and i haven?t read a book about witches in a very long time. I feel kind of on the edge about my overal...

Keeper made me realize how much I?ve missed reading YA fantasy. I?ve always loved fantasy, but I haven?t always loved witch stories, but Kim hit it right! Keeper has a touch of romance, comedy and touches of bad-ass. While any fantasy story can contain fight scenes, not every fan...

ARC received in exchange for an honest review from NetGalley. Actual rating: 4.5 While I found the blurb interesting enough to request an ARC I didn't expect to enjoy Keeper as much as I did. Generally I find it hard to connect with young adult characters (I guess I'm too old for i...

Just got approved for an arc of Keeper!!! --- Yay! Keeper has a cover now :D I can't wait to have this book in my hands. ...

I devoured Keeper in one sitting, letting go of any reservation that this was a paranormal story which was mostly what I read in 201, and instead of thinking 'oh no, this is exactly like this book' I let myself be transported to when I first discovered YA and read romances like 'Hush...

So disappointed :/ I picked up this book in support of the author, who is one of my favorite youtubers. The story was okay overall, but the writing was so juvenile that I had a hard time getting through it. Read as more of a middle-grade book IMO. The story itself was fine, but loaded ...

I received an ARC of this title from the publisher in exchange for an honest review. Thanks, Flux Books! I was beyond thrilled to get my hands on Kim's debut novel. I've been following her writing journey online and was so excited to hear Keeper was being published. I enjoyed mos...

Houston, we have lift off! Roger that... RELEASE DATE: 01/30/2018 ...

Addition 31/01/2018 I wrote this review when I had first read the novel, which was in October 2017. Rereading my review, I honestly believe I was way too friendly when it comes to my rating. I don't even know why I'd give 3,5 to a book I obviously had some big issues with. Maybe I was...

3.5 Note: I received a digital ARC of this book in an exchange for an honest review. Thank you NetGalley and Flux Books! ?What if your destiny is something bigger than even you imagined?? If the popular television Stranger Things is an homage to the 80s, then Kim Chance?...

ARC provided by the publisher via Netgalley. 3,5 stars What a fun ride! An enjoyable debut novel with lovable characters and an interesting plot. I really liked our main protagonist Lainey, she is smart and precious. I LOVED her friendship with Maggie, Maggie is such a hoot and a...

I am beyond excited to write this book love review. I have been following Kim Chance?s writing journey and her YouTube videos for over a year. She has been an inspiration to me in many ways. I am proud to be a part of her Street Team for Keeper which will release January of 2018. Th...

Despite this book having a very young adult feel to it, mainly due to the writing and the dialogues, I was positively surprised by how much I ended up enjoying it. Things that really worked for me: ? Those great, lovable characters ? That adorable and precious friendship ...

First off I want to start by saying the author of this book is so super sweet and I love being in her street team, and my thoughts toward this book obviously are nothing against her personally! I will continue to help spread the word about this book because even though it wasn?...

WrensReads Review: This reminds me a lot of Cassandra Clare?s first books. The story is very interesting and something that is unique and will draw you in, but the writing is young and the characters are a little weak. Her writing was aimed for young adults but the way it was writ...

This book was FANTASTIC, and seeing as it?s Kim?s debut only makes it more so! Fast-paced and charming, I found myself flipping the pages, yearning for more of this world. I loved the pop culture references (seeing as I?m a superhero fan and nerd myself), and found myself laughin...

I received this Arc from Net Galley in exchange for an honest review. 'Magic always leaves a mark' A witch, a street fighter, a comic book loving best friend, and a Lord Voldemort like Villian, YESSS! As soon as I read the synopsis for Keeper, I knew I had to request it right ...

Holy guacamole - those ending plot twists! This was a fun book - and wow that last 30% was a wild ride! But before I get into all that, I just wanted to give a shoutout to the author! First of all, thank you, Kim, for the opportunity to read the ARC! For those of you who don't ...

SPOILER ALERT Keeper by Kim Chance is phenomenal! And it's her first book, I expected action, magic, awesome characters, charming witchcraft etc and it delivered! From the very beginning, I knew I'd love it. Lainey Styles is a bookish practical girl whose life gets turned around whe...

Okay, so this is not the optimal way to start off the New Year, but unfortunately 'Keeper' is a DNF for me. I try not to quit on books, especially ARCs, as it makes me feel guilty, but my resolution this year is to give a fair go and then bail if I'm not enjoying myself. I made it to 5...

I received this copy from the publisher via Netgalley in exchange for an honest review. I?m not saying that I didn?t enjoy, but I felt that something is missing. The story line is not bad but at the same time its not excellent either. I love Maggie better than Lainey and the...

3.5 stars I received an ARC from netgalley in exchange of an honest review This was actually pretty good. I mean I went into this with EXTREMELY low expectations, but it was actually really good??? I am glad I requested this book tbh. I?m glad I gave Kim Chance a ch...

Thanks to netgalley for providing me with this arc Am actually suprised but I thoroughly enjoyed this book. It was a fascinating and intriguing read, despite the fact that there's nothing specifically special about this book. There were lots of tropes used by the author that is ...

I?m a little bit disappointed. I thought this would be an amazing-book-explosion?, but it was just a spark?. Maybe I?m too old for this book. ??? ?You?re a witch, Lainey.? ??? (did this line really appear in this book? ????) Story ??...