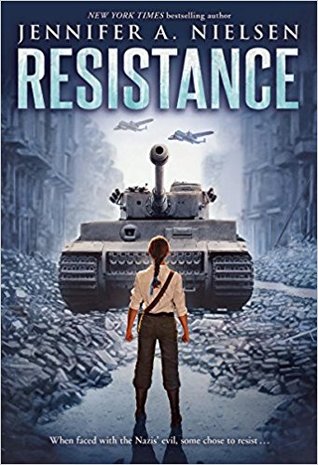 Chaya Lindner is a teenager living in Nazi-occupied Poland. Simply being Jewish places her in danger of being killed or sent to the camps. After her little sister is taken away, her younger brother disappears, and her parents all but give up hope, Chaya is determined to make a difference. Using forged papers and her fair features, Chaya becomes a courier and travels betwee Chaya Lindner is a teenager living in Nazi-occupied Poland. Simply being Jewish places her in danger of being killed or s...
Title
:
Resistance
Author
:
Jennifer A. Nielsen
Rating
:
Genres
:
Historical
ISBN
:
Resistance ...Less Detail edit details
Edition Language
:

English

Format Type
:

ebook

Number of Pages
:

400 pages

pages
Resistance Reviews
Fascinating book about couriers- Jewish youth who looked "Aryan" enough to smuggle things into and out of the ghettos- and the Warsaw ghetto uprising. It took me a bit to get into this book, I really didn't have a sense for who Chaya was until the book was well underway. But when it go...

Resistance is the story of the Jewish resistance in World War II Poland. The main character is a teenage Jewish girl who has lost or become separated from everyone in her family, and knowing she will probably not survive the war either way, chooses to join the resistance and try to sav...

Chaya was just a teenager in Poland when the war broke out. She was Jewish. Her family was forced into the Krakow ghetto, and she was sent elsewhere. She immediately joined up with the resistance and became a courier, bringing information, food, weapons, and supplies to those trapped...

I heard Jennifer A. Nielsen speak about the true story behind her new novel, RESISTANCE, at the National Book Festival last weekend. The things she said were so interesting that I knew I had to read this book. And I'm glad I did. Starring Chaya, a fearless teenage heroine, the tale is ...

Received an ARC of this at a conference. As an avid reader of WWII historical fiction, I appreciated this tale of Jewish Resistance fighters in Poland, with the main character Chaya moving through various city ghettos, culminating in the Warsaw Ghetto Uprising. Within the story there i...

YA book following the life of Chaya Lindner, who following the disappearance of her younger siblings and inability to convince her parents to leave their the Tarnow ghetto, Chaya joins the Jewish Resistance. Using her blonde hair and fair complexion, she smuggles food, medical supplies...

There is so much depth in this historical fiction novel. You can always count on Jennifer to open with a hook that dares you to just TRY not reading on to find out more. She's a master at it! Set against the backdrop of a terrible part of our world's history, this story tells the s...

E ARC from Edelweiss Plus After Chaya's brother and sister fall victim to the Nazis in the Tarnow Ghetto in Poland in 1942, her parents resign themselves to their fate. Chaya, however, decides to go down fighting and joins a Resistance group called Akiva. This group is comprised...

I enjoyed this a lot. It's not a take I've read in fiction before and because the main character's a courier, we really get to see the situation in different areas of Poland. I appreciated the emphasis on family and friendship over romance because these aren't exactly romantic situatio...

Jennifer Nielsen in one of my favorite authors and she's proved her skill once again. Both her fantasy novels and her historical fiction have provided me with hours of great reading. This book is the story of a young Polish Jewish girl who joins the resistance when she's forced to le...

I love this cover and think it represents the book so well with the image of a young girl ready to take on an army knowing there is not much chance of success, but that it's important to fight the evil anyway. This story was emotionally poignant, full of suspense, thought provoking ...

*This is a review on an Advanced Reader Copy I won through the author's contest.* Reading historical fiction based on the Holocaust is never easy. Someone commented on how I often read books on that subject and it led me to ask myself why? While it always saddens me to read about th...

Holy. Crap. This book completely took my breath away. It may be Nielsen's best, and I'm someone who swears by "The False Prince." An incredible look at the work of Jewish resistance fighters during the Holocaust, "Resistance" pulls no punches - there is no sugar-coating of the ...

Chaya Lindner. I was named for my grandmother, as she was named for hers. Every time I passed myself off as a Christian girl named Helena, I wondered: Was I dishonoring my name, or preserving it? Learning about the couriers, more of WWII's history, and about the resistance fighters ...

I was very excited to be the first to get this from my library only a few days after it released. I love the point of view this book took. I loved zooming into the eyes of Chaya, seeing how hard it would be to watch her world crumbling out from beneath her. The loneliness that was po...

Bravo! That is the one word I thought to use after I finished this amazing novel. Bravo. This story follows Chaya who, after her family is split apart during the war, decides to use her job as a courier (adopting a Polish persona) and joins a Jewish resistance group called Akiva. Th...

I really, really liked this book! I'm trying to venture away from mostly reading YA, and this is categorized as being "middle-grade" at my library. Although, honestly, I thought it definitely leaned more towards YA. I wouldn't say it's graphic, but Nielsen doesn't shy away from the gri...

Video review to come. ...

Jennifer Nielsen has a way with telling historical fiction that I enjoy and admire! She does such good research that I get pulled into the story and NEED to know the ending. Resistance is no different! A story about a young girl who finds her own courage and desperate need to make life...

A sensational story of a word that usually has a negative connotation: resistance. I am in awe of the strength and heroism that is portrayed in this story, mostly because I know it to be based on actual events and people. I never cease to be amazed by humanity during this ugly part of ...

I had heard so many great things about this book from friends, and I loved A Night Divided, so I was excited to see the ARC on the swag table at NErDCampMI! I didn?t have to think twice about what to choose! This is a HF novel that takes place in Poland during WWII. I?m always i...

Thank you to the #kidlitexchange network and @scholasticinc for the advance copy of this 8.28.18 release. All opinions are my own. #partner ? This is a piece of historical fiction that is bound to be super popular with middle school readers. After her family is split up, Chaya is a...

In many ways, this book was awesome. Jewish resistance fighters! Kids! Accurate descriptions of how little help the Allied forces were when atrocities were being committed against Jews and they described zero Jewish refugees as "too many!" But something felt off to me. Maybe it's be...

Wow. This one was a powerful read. This book definitely had a more solemn tone to it than others of Ms. Nielsen's books, including A Night Divided. But it had to be that way, and in all honesty, the story ended with much more hope than I thought it would initially. Learning more abo...

Resistance was a great book! I could not put it down. This book was about a Jewish girl in Poland who was part of the resistance. Her main job in the beginning was to smuggle food, weapons and clothes into her people, but by the middle/end of the book she began to be part of new group(...

"All people are equal brothers; Brown, White, Black and Yellow. To separate peoples, colors, races, Is but an act of cheating!" (Also on my blog ) I just finished this book, and I still feel overwhelmed (there will be typos). Resistance is about the final stand of many Polish Jew...

OH. MY. GOD. WHYYYYYYYY, WHYYYYYYYYYYY!!!!!!! Okay, so this book is *SPECTACULAR* and *BREATHTAKING*. The ending shoooooook me. So first of all, the praise. This is a story that deserves attention because it's real events that deserves memorial. The characters were terrifically plotted...

I still can't get over how many lives were lost during the Holocaust and the wars that took place long ago in our world. Resistance is mostly about the Holocaust and how Adolf Hitler dislikes the Jews, but before you read about it you don't really know how bad it actually was during th...

One of the best books I've ever read ...

this book brings up a lot of emotions. It is a really good book and at multiple points brought tears to my eyes. It is a really hard book to read personally, but all and all a really good book. but it isn't for everyone. ...