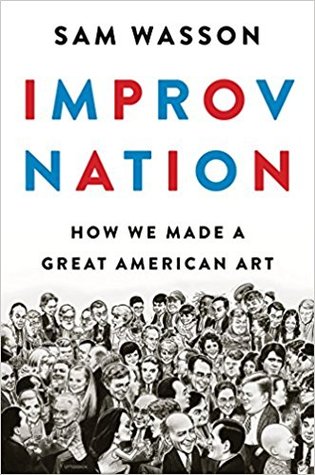 From the best-selling author of Fosse, a sweeping yet intimate?and often hilarious?history of a uniquely American art form that has never been more popular. At the height of the McCarthy era, an experimental theater troupe set up shop in a bar near the University of Chicago. Via word-of-mouth, astonished crowds packed the ad-hoc venue to see its unscripted, interactive, co From the best-selling author of Fosse, a sweeping yet intimate?and often hilarious?history of a uniquely Amer...
Title
:
Improv Nation: How We Made a Great American Art
Author
:
Sam Wasson
Rating
:
Genres
:
Nonfiction
ISBN
:

0544557204

Format Type
:

Hardcover

Number of Pages
:

464 pages

pages
Improv Nation: How We Made a Great American Art Reviews
really solid and entertaining history - the notes section alone is a trove of cool stuff to follow through on, videos to check out, interviews to read, etc. the writing gets a lil clumsy i think, proportionate to the author's enthusiasm. like based on how he described some of the sctv ...

"They were creating constantly, and without the help of lighting, costumes, sets, script, or even story. In or out of the theater, Shepherd had never seen such interconnection. These people were all working together, like a family, to alchemize empty space into art." Rating: 5/5 ...

There?s a very thin line between improv and sketch comedy, and even standup comedy. Was son makes an admirable effort to establish improv as a unique art form but never quite succeeds, largely because his subjects tended to migrate away from improv. I did enjoy many of the profiles, ...

This is one of the all-time best books I?ve read. Even if it weren?t about Improv, it is so well written and gave so many great perspectives behind the history of Improv. I have found a greater appreciation for artists that I didn?t love before, and was introduced to some artists...

This is the hilarious story of America?s largest dysfunctional family, since it seems everyone really has worked with nearly everyone else in the improv comedy world. If you have any interest in improv comedy or comedians or the process of creating humor this is a must read. I just l...

Sam Wasson takes on what is, by his own humble admission, a formidable task: an inventory of the development and influence of American-style improv, from its proletariat origins in 1950's Chicago to its imprint on today's ubiquitous political satire. In the spirit of the brave ad-libbe...

Full disclosure: I won a free ARC of this book in a Goodreads giveaway. As you?d surmise, this is a history of the improv movement in the USA. Wasson presents it as an American artform--yes, there are antecedents in European traditions, but nothing quite like improv as the term i...

Unlike the quirky creators of the art of improv and the many improvisors about whom the author so beautifully and lovingly writes, all of whom seem to know just what to say on the spur of the moment, I find myself at a loss for words to describe just how much I enjoyed this extraordina...

I can?t even begin to describe how much this book means to me. When I first started reading it, I assumed it would be the history of improv. However, this was way more than just a history book. This is the story (or should I say, stories) of artists we have come to know and love and ...

Until I read Improv Nation, I had not realized how many comedians/actors I was familiar with had connections to Chicago's Second City. Sam Wasson starts in the 1940s with the birth of improvisational comedy and Viola Spolin and Del Close who taught classes in what was later to be calle...