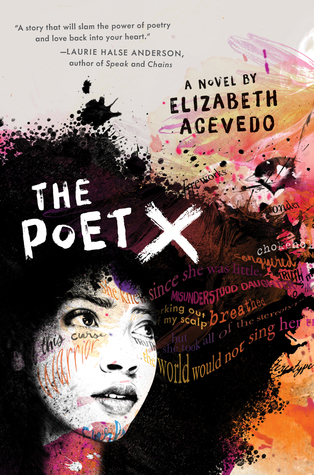 A young girl in Harlem discovers slam poetry as a way to understand her mother?s religion and her own relationship to the world. Debut novel of renowned slam poet Elizabeth Acevedo. Xiomara Batista feels unheard and unable to hide in her Harlem neighborhood. Ever since her body grew into curves, she has learned to let her fists and her fierceness do the talking. But Xiomara A young girl in Harlem discovers slam poetry as a way to understand her mother?s religion and her own relation...
Title
:
The Poet X
Author
:
Elizabeth Acevedo
Rating
:
Genres
:
Poetry
ISBN
:

B0727TNBDH

Edition Language
:

English

Format Type
:

Kindle Edition

Number of Pages
:

368 pages

pages
The Poet X Reviews
Shortlisted for the Waterstones Children?s Book Prize, and Cilip Carnegie Medal.... DESERVING of every award offered! Debut author Elizabeth Acevedo began writing this story when she was an 8th grade English teacher - in 2012 - a teacher in Maryland. Acevedo says....?My stud...

A story that will slam the power of poetry and love back into your heart!! Highly recommended! ...

Printz Medal 2019 Well deserved Original review As with many other novels-in-verse, I am struggling to call this poetry. To me, this is beautiful, effective prose, cut up and served up in small bits. I am used to traditional poetry (that rhymes at least occasionally) and might...

?And I think about all the things we could be if we were never told our bodies were not built for them.? 4 stars. Wow, this was so good. I recently read Acevedo's With the Fire on High and I found it to be sweet and enjoyable, but I felt like a little something was held back...

This was my very first book written by Elizabeth Acevedo that I read, and also, if I am not mistaken and remember well, my first story wrote in a poem form. Didn't know what to expect from it, but I kinda expected to like it at least, given all the buzz from BookTube and book community...

4.5 stars!! Poet X is lyrical, deep, and meaningful. I loved the way this book was written. It had a fantastic flow, the poetry was poignant, and Xiomara's voice and character really shined through. This is a story about a teenage girl who lives in Harlem. She lives with her twi...

I knew I'd love this one!! I just needed !! to hurry up !! and read it. (Wow I am just so behind on so many releases.) This was so heartfelt and emotional, I just truly felt my soul flooded with feelings, hopeful ones and hurt ones. It's the kind of book that can brilliantly draw you i...

?Burn it! Burn it. This is where the poems are,? I say, thumping a fist against my chest. ?Will you burn me? Will you burn me, too?? First, I need to thank my book twinny, Amanda, over at Classy x Book Reviews for yelling at me to pick this up everyday until I did. I should...

5 stars! ?Late into the night I write and the pages of my notebook swell from all the words I?ve pressed onto them. It almost feels like the more I bruise the page the quicker something inside me heals.? Well, I completely understand why this book is winning all of ...

WARNING: Bad poetry ahead. I stand here, and I think, if there is one thing I want to say, to Xiomara, it?s that she is proof effervescent passion and love, transcend hate. Words have the power, to open your chest, and pull your heart out, and carry it to the sky. ...

?Burn it! Burn it. This is where the poems are,? I say, thumping a fist against my chest. ?Will you burn me? Will you burn me, too?? I?ve always been fond of stories told through verse, and I love Elizabeth?s poetry, so when I learned that she was writing her first YA no...

This was INCREDIBLE. I very rarely enjoy poetry but I listened to the audiobook of this one and it absolutely blew me away. I can't wait to buy my own physical copy so I can tab up all my favorite parts. SO. DAMN. GOOD. ...

I'm still not over this. I keep re-reading some passages. Slam poetry means a lot to me! *cries for 5 more years* A touching story about a young Hispanic woman growing up in Harlem with a very devout mother. But there is so much more to it than that <3 I couldn't say enough ab...

#ThePoetX was so beautiful that I didn?t want to highlight it or dog ear pages, so I just took pictures basically every page This was the type of book where ?I?ll just do 50 pages? turned into finishing it in 2 reads I felt very emotional reading this book, not just becau...

three things: i need to obtain a copy of this book instantly so i can mark my favorite passages (of which there were many) this is 100% a new favorite. also it made me cry. also the audiobook is glorious. this deserved the goodreads choice award for poetry and that?s just f...

Just finished the audiobook today (which was great by the way, one of the best I?ve ever listened to) and this book is incredible. It?s told in verse and it?s a gorgeous story about a girl Xiomara discovering slam poetry and falling in love with it. The audiobook is narrated by t...

This was absolutely stunning. I absolutely adored the way Elizabeth Acevedo writes. It was incredibly powerful and honest and the characters she created were so personable, especially Xiomara. I found myself rooting for her from the first page onwards and essentially finished this book...

Elizabeth Acevedo, you are a goddess. This poetry collection, told in a novel-like fashion, was what my soul needed. It was abundant and healing. It?s about faith, family, love, forging yourself through obstacles, and pain and naysayers and finding your true voice. It?s ab...

This was a surprising read for me!! I do not read poetry, nor do I typically like it, therefore I have avoided reading books in verse for years. I decided to pick up the audiobook from my library just because it was so short, but I?m so pleased I gave it a chance. This is a story abs...

????? "Xiomara may be remembered as a lot of things: a student, a miracle, a protective sister, a misunderstood daughter, but most importantly, she should be remembered as always working to become the warrior she wanted to be." ??? I loved how honest, raw &am...

4.25 stars This book was great. It's written in verses and I loved the fact that Xiomara, the protagonist, also writes poems. I had never read a book about slam poetry even though it's something I actually enjoy very much, I think it was all very well done. This book tackles some ...

? Unpopular opinion alert! ? The Poet X explores several important topics with a feather-touch: body shaming (Word!), the anti-feminist foundations of organized religion (Yas, girl! Preach!), and the grueling lack of autonomy most people suffer in high school when adulthood i...

Okay, I'll admit it. I cried whilst listening to the audiobook. Almost for an hour straight. In public. And I read this story twice. On the same day. Yeah, a couple hours after finishing the audiobook I decided to get my physical copy and then read that one again. I cried. Again. I mak...

4 Stars ?And I think about all the things we could be if we were never told our bodies were not built for them.? 15-year old Xiomara lives in a world where her mother controls her life at home and society tries to limit her elsewhere. But Xiomara will not be silenced. Sh...

?the ultimate actress because i?m always pretending, pretending i?m blind, pretending i?m fine; i should win an oscar i do it so well.? what an EXPERIENCE. going into this, i was really unsure of what to expect. i have never read a book in verse before and chose to go wi...

Sooo good. SO good. And the poetry was beautiful! I?d read anything by Elizabeth Acevedo. ...

Contemporary YA and poetry are usually a miss for me, so I am pleasantly surprised at the near-perfection of this coming-of-age story. The verse formats feel purposeful instead of gimmicky and the writing is so good without compensating with flowery language. It's simple yet effective ...

Poetry usually isn't my jam but this book was part of my "Goodreads Reading Challenge for 2018" so here we are... I ended up really connecting with the main character, her story, her relationship with her family, her struggles with religion and the abuse she went through. There w...

?Burn it! Burn it. This is where the poems are,? I say, thumping a fist against my chest. ?Will you burn me? Will you burn me, too?? ? Elizabeth Acevedo, The Poet X ?3/5? This was really powerful and moving, however I just couldn't connect with Xiomara and was ...

wow this book COMPLETELY blew me away I?m a huge fan of poetry (whether it be slam or otherwise), and I had a feeling this would be a great book. I wasn?t expecting an emotion-packed, gut-wrenching, hard-hitting story like this. I think this is such an IMPORTANT book today; it?...