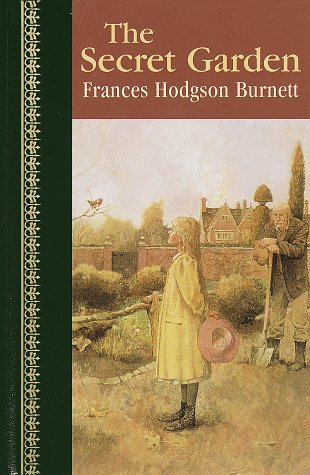 "One of the most delightful and enduring classics of children's literature, The Secret Garden by Victorian author Frances Hodgson Burnett has remained a firm favorite with children the world over ever since it made its first appearance. Initially published as a serial story in 1910 in The American Magazine, it was brought out in novel form in 1911. The plot centers round M "One of the most delightful and enduring classics of children's literature, The Secret Garden by Victorian author Fra...
Title
:
The Secret Garden
Author
:
Frances Hodgson Burnett
Rating
:
Genres
:
Classics
ISBN
:
The Secret Garden
Edition Language
:

English

Format Type
:

Hardcover

Number of Pages
:

331 pages

pages
The Secret Garden Reviews
I seem to be the only woman I know who didn't read and cherish this book as a child. So I decided to see what all the fuss was about... It took me a while to get in step with the tone of this book. The beginning was Jane Eyre-lite...Mary is orphaned and sent from India to England to...

****SPOILERS**** OK, I must have read and loved this book 40 or so years ago. (Yikes!) I liked it a lot this time round, but it was troubling to me in several ways. It starts off as the story of Mary, a girl suffering from epic neglect. (Her entire household in Colonial India, paren...

I know this book seems out of place among the fare I usually read, but hey, all I can say is that I like what I like. There is some intangible quality to this book that really strikes a chord in me. The whole idea of that sickly child being healed with love, attention, and (forgive me ...

I guess I didn't miss much by not reading this book as a child. I don't really understand why it became a classic. It starts out interestingly enough with a very gothic setting. A little British girl named Mary survives a cholera epidemic in India and is sent to Yorkshire to live with ...

The Secret Garden, Frances Hodgson Burnett The Secret Garden is a children's novel by Frances Hodgson Burnett first published as a book in 1911, after a version was published as an American magazine serial beginning in 1910. Set in England, it is one of Burnett's most popular novels a...

I am now confused. I do not know anymore what is my preference when it comes to books. When I was a kid, I wanted to read only books with pictures like the illustrated "Alice in the Wonderland" or "Rip Van Winkle". Until I read "Silas Marner" with no pictures and I said, wow, books ...

?The cholera had broken out in its most fatal form and people were dying like flies.? There, is a cheery start to one of the most optimistic novels I have ever read. Occasionally I pick a Librivox audiobook book based on who the reader is, for this version of The Secret Garden, ...

I first read this wonderful and evocative absolute and utter gem of a story at around age of twelve (it was likely one of the first longer novels I read entirely in English, not counting those books read for school). And I simply adored Frances Hodgson Burnett's The Secret Garden when ...

Read for Popsugar's 2018 Reading Challenge #33: A Childhood Classic You've Never Read Hmm... can't say I loved this. By the end, I had my audiobook on 2x speed just to get through it! Is there a good movie adaptation? If there is, I'd be willing to give it a try, as I don't think it...

This whole book was pure magic and I loved it. ...

It took years for me to finally read this. And have now I love re-reading it. I loved the movies based on the book and now I have read it to see which version is the most accurate to the story. Frances Burnett made the characters fun, easy and enjoyable to read about! I especially like...

Two sickly, arrogant, lonely, neglected, little children, from wealthy families, both ten, cousins, live continents apart , Mary Lennox, in hot, steamy , colonial India, and Colin Craven, he in rainy, cold, Yorkshire, northern England, a cripple, just before the start of the First Worl...

Except for the persistent India bashing, I loved this book. In fact Mistress Mary, I loved the ending so much that I forgive your English superiority complex. Next time you visit here though, allow me to take you on the ride across India, I hope your impression will change ...

Where, you tend a rose, my lad, a thistle cannot grow. Originally published in 1911 The Secret Garden is a true children?s  classic.  One that adults should read as well.   Mary Lennox was born in India.  A plain little girl she was not wanted by her mother or father an...

MISTRESS MARY, QUITE CONTRARY. HOW DOES YOUR GARDEN GROW? WITH SILVER BELLS AND COCKLESHELLS. AND MARIGOLDS ALL IN A ROW."This delightful children's classic, first published in 1911, pulled me right in with the cholera outbreak and continued with a bit of mystery, lots of magic and som...

This is a book I have read over and over again. With the lovely characters that grow in stature, strength, and wisdom through the book, it is a wonderful progression. From the moment you meet pinched faced Mary, you come to love the little girl that has lost so much. Her sadness has be...

"There's naught as nice as th' smell o' good clean earth, except th' smell o' fresh growin' things when th' rain falls on 'em. I get out on th' moor many a day when it's rainin' an' I lie under a bush an' listen to th' soft swish o' drops on th' heather..." I'm such a sucker for dar...

Book 27/100 of 2015 I had to read this for class, but I'm happy that I did! I read A Little Princess by Frances Hodgson Burnett when I was younger and loved it, so I'm pleased that I had the chance to read this for a class. Definitely recommend this to anyone wanting to read an ea...

Read this novel and you will start dreaming about your very own secret garden. "If you look the right way, you can see that the whole world is a garden." This is one of my favorite quotes that makes me see colors in the world again. I couldn't resist reading it after watching...

I can't believe I have taken this long to read this book. The Secret Garden is one of my all time favourite films from when I was younger, I can always remember it being on the TV of a Sunday afternoon so I had a feeling I would love the book just as much. We follow the young Mary L...

? ???????? ????? ????? ??? ?????? ????????, ???? ??? ????? ??????????? ??? ????. ????? ??? ?????????? ??????? ??? ?????? ??? ??? ????, ??? ???? ??? ?????? ???...

1 star for a classic? What a scandal. Well, it is the first classic that I'm giving 1 star for so it?s fairly a big deal. Although I did not finish this, I already know how the book wraps up. (view spoiler)[Take a guess. Bratty kid. Mean uncle. Sick kid. (hide spoiler)] Here'...

Love love love Also: counting this as my first BookTubeAThon read even if I read only 2 pages during the actual readathon, I NEED ALL THE BOOKS I CAN GET ...

This is a lot of people's favourite children's classic, and for that reason I was very intrigued to read it. Having now finished it, I'm convinced that had I grown up with this story as a child, I would've been even more enchanted by it than I was now, reading it for the first time as ...

The Secret Garden is a "lovely" story in every sense of the word. Primarily, it's about three kids: Mistress Mary, Dickon, and Master Colin--and how just thinking a little differently can change a person completely. There's a lot of subtle things Frances Hodgson Burnett does right: ...

Mary whose nickname is fitting, she is spoiled and disagreeable, the death of her mother and father still leaves her the same, neglected. She is sent to Misselthwaite Manor a 100 room mansion that is surrounded by the gloomy moors to live with her uncle. Mary encounters many odd thin...

?Two worst things as can happen to a child is never to have his own way - or always to have it.? As a child, I read this book at least four or five times, along with Frances Hodgson Burnett's other childhood stories about Sarah Crewe (Little Princess) and Cedric (Lord Fauntlero...

Re-read this, after many years, as part of my children books experiment. Several revelations so far: One, the plot is basically JANE EYRE, with an asexual Rochester who keeps, not his wife, but his son, in the attic. Two, it's surprisingly easy to read the characters of both Mary and C...

La ricerca del proprio giardino "Uno degli aspetti più strani della vita è che solo di tanto in tanto siamo sicuri di vivere a lungo, molto a lungo, forse per sempre." La vita è troppo breve per serbare rancori, arrendersi, costruire dei muri intorno a sé. "Il giardino seg...

Actual rating 4.5/5 stars. I have vivid memories of reading this renowned children's classic when I was very young. I can distinctly recall my shock at reading a book with such an initially dislikable protagonist, the likes of which I had not yet discovered during my few years of re...