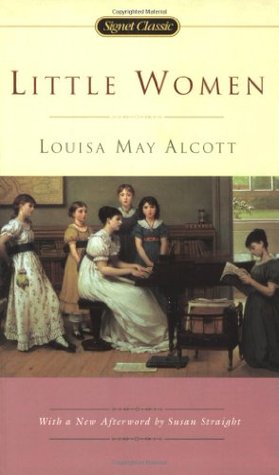 Generations of readers young and old, male and female, have fallen in love with the March sisters of Louisa May Alcott?s most popular and enduring novel, Little Women. Here are talented tomboy and author-to-be Jo, tragically frail Beth, beautiful Meg, and romantic, spoiled Amy, united in their devotion to each other and their struggles to survive in New England during the Generations of readers young and old, male and female, have fallen in love with the March sisters of Louisa May Alcott?...
Title
:
Little Women
Author
:
Louisa May Alcott
Rating
:
Genres
:
Classics
ISBN
:
Little Women
Edition Language
:

English

Format Type
:

Paperback

Number of Pages
:

449 pages

pages
Little Women Reviews
I hated this book. I can't even begin to go into all the reasons I dislike this novel. It's dull and preachy through out most of it--aside from Jo who is a truly inspired character. But everyone else seems one note, most of the chapters come off as morality plays than solid scenes o...

There will be spoilers. Now, if she had been the heroine of a moral story-book, she ought at this period of her life to have become quite saintly, renounced the world, and gone about doing good in a mortified bonnet, with tracts in her pocket. But, you see, Jo wasn't a heroine; she ...

My copy of this is probably 55 years old -- I've probably read it at least twenty-five times. One of my all-time favorite books. One of my favorite authors ever. Yes, it is old-fashioned -- it was old-fashioned fifty-five years ago. But that is the point pretty much in my opinion. This...

Someone I know claimed this no longer has value, that she would never recommend it because it's saccharine, has a religious agenda, and sends a bad message to girls that they should all be little domestic homebodies. I say she's wrong on all counts. This is high on my reread list along...

I'm definitely a victim of modern society when I find this book slow. Had I read it in its day (or even as a youth) it would probably be fantastic, but as it is I'm finding the life lessons saturated in every chapter a little much, not sweet. Which brings me to Beth. Back in the day sw...

863. Little Women (Little Women #1), Louisa May Alcott Little Women is a novel by American author Louisa May Alcott (1832?1888), which was originally published in two volumes in 1868 and 1869. Alcott wrote the books over several months at the request of her publisher. Following the ...

The book begins: "Christmas won't be Christmas without any presents, grumbled Jo, lying on the rug. It's so dreadful to be poor! sighed Meg, looking down at her old dress. I don't think it's fair for some girls to have plenty of pretty things, and other girls nothing at all,...

Yes, yes! I AM a grownass man reading this, but I'm not ashamed. I also read the "Twilight" sa(ha-ha!)ga & a bunch of Charlaine Harris as well, remember? Some rules simply do not apply. What I tried to do here was dispel the extra melodrama and embrace the cut-outs (fat trimmed ...

I was given this more than 30 years ago, and it never appealed, but I gave it a go when it was selected by my book group. As most people know, it's Louisa May Alcott's semi-autobiographical account of four teenage sisters growing up in slight poverty, while their father is away at w...

I only ended up reading Part One, as Part Two (aka Good Wives) doesn?t interest me one bit. Similarly to the Anne of Green Gables series, I enjoy reading the beginning bits where the girls are young, but I don?t much care for the rest. As for what I DID read, it was entertaining at...

Never liked this one. I read Alcott back around the time I was first reading the Brontes and Dickens, and her books always struck me as incredibly dull in comparison. I was probably about 12, though, so I suppose I should try it again someday. ...

So in keeping with my recent attempts to write reviews for all my five star reads here's one for my absolute favourite book from my childhood, Little Women. This was the first hardback I ever read that had no pictures or any such things to tempt a child. I remember feeling quite gro...

Read as part of The Infinite Variety Reading Challenge, based on the BBC's Big Read Poll of 2003. The one thing I'm not going to do is apologise for not liking this. I hold no truck with that: stop apologising for having an opinion that is different to the majority. Little Women ...

Look, I'm going to be brutally honest here: I read this when I was about 10 and I quite enjoyed it. But reading it at the age of 33? OH MY GOD, THIS WAS THE MOST SACCHARINE SWEET, INTOLERABLE TWADDLE I'VE EVER HAD THE MISFORTUNE OF READING. All four of the girls are so ridiculously...

Little Women remains to this day one of the books I have, curiously, read the most. And I'm not ashamed to state this. Why should I be? The notion that certain films or books are 'chick-lit' is one so alien to my mind. They may be geared at specific audiences mostly, but any strong w...

???? ??? ??????? ?? ?? ??????? ??? ?????? ??? ????? ????? ?????? ?????? ??? ??????? ?? ???? ???????? ?? ????? ???????? ??? ???????? ?????? ???????? ?? ?...

2017 update: I reread this as it was the Austentatious book for June and July! I didn't love it as much as I did the first time I read it, but I am glad I got to revisit the story. (Also, this time I Amy was my favorite character?) Book 12/100 for 2015 I had to read this book for m...

Updated 8/26/2016 - Update at end So, this is going to be my most confusing review to date and I am going to need some help from people who read this, so please reply if you know! (see below) I read this for my Completest Book Club. I am glad I did because it is a classic I hear ...

I have owned this book forever! I have the movie and have always loved it. Thanks to several group challenges on here, I have finally gotten to this little gem. Happy Reading! Mel ???? ...

Two years ago, I read the first part of this novel and quite liked it. The March family consists of the most endearing characters, and I had fun reading about the four sisters and their growing up. However, it wasn't until recently that I realized that I had yet to read the second pa...

I have read 18 of Louisa May Alcott's books, so I guess I can safely say that I am very familiar with her work. Some of them were very good, some not quite as good. All had that 19th century down home feeling with wonderful, memorable characters. But only one of her novels reached the ...

When I was 11 years old, I used to watch its anime show on a channel, that time I didn't know its name. I was merely interested in the show. But thankfully, I remembered the names of the characters so that when I was in my higher secondary school, I saw this book in school library ...

i can tell this become my favorite classic book besides all classics books of the queen of classics books Jane Austin , and u can see a lot of classic word here :D ...

cozy: ? comforted: ? joy: ? review to come!!! --------- currently-reading updates I am ready to feel COZY. I am ready to feel COMFORTED. I am ready to feel JOY. ...

To me this book is just a big neon highlighted literary exclamation mark defining how incredibly different I am from my mother. She loves this book. Really, really loves it....a lot. She always used to tell me how great she thought it was although, as a kid I somehow avoided reading it...

Whilst I do recall reading this as a young child I could remember little about the characters and the story-line so felt I was revisiting both something beloved and viewing it with fresh and excited eyes. This felt like a series of short stories involving the March sisters, bound in...

This really is one of my top 5 favorite books of all time... it never gets old. I just love every single character and the entire story SO much that I don't even know what else to say. It's perfect. That is all. And I know the movie is way different, but I still love that as...

i've never witnessed a ship of mine get sunk so tragically, how dare you ms. alcott (? ?_?)? RTC ~~~~~~~~~~~~~~~~~~~~~~~~ probably the first classic that i'm //choosing// to read so let's hope this goes well bc it'll probs determine whether i keep this charade up or no...

Awesome book!! I love Amy and Laurance ...

A timeless classic that I enjoyed just as much now as I did when I first read it at school. ...